Swedish embassy offers to 'inform' Donald Trump on country's immigration and integration policies
The US President's comments received a bemused response from the Scandinavian country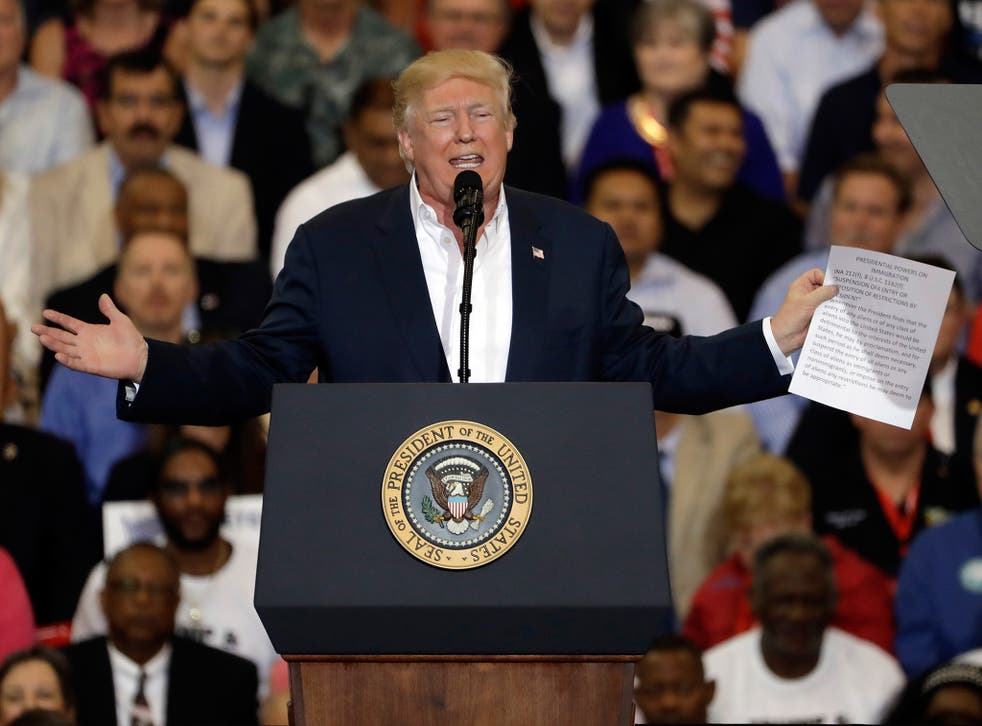 Sweden's American embassy has taken to Twitter to poke fun at Donald Trump, after the US leader appeared to invent a terrorist attack in the country during a campaign-style rally in Florida.
"We've got to keep our country safe," the President told supporters in Melbourne, Florida. "You look at what's happening in Germany, you look at what's happening last night in Sweden."
The comment was met with confusion by Swedes, who quickly took to social media to query the claim. Taking to Twitter, the country's former Prime Minister Carl Bildt asked: "What has he been smoking?"
Donald Trump: Sweden baffled by reference to unknown terror incident
Mr Trump later attempted to clarify his remarks and said they were a reference to a Fox news story "concerning immigrants and Sweden".
The Swedish embassy replied: "We look forward to informing the US administration about Swedish immigration and integration policies."
It is believed the President was referring to a story on Fox News', Tucker Carlson Tonight, which featured an interview with controversial filmmaker Ami Horowitz.
Mr Horowitz claimed that Sweden had become the "rape capital of Europe" and said he had been investigating a surge of refugee related violence in Sweden.
But Swedish officials told The New York Times that their country had a higher number of reported sexual assaults compared to other European countries, not actual incidents.
Trump admits 'Sweden attack' comment based on debunked Fox report
Reacting to Mr Trump's original remarks, Sweden's foreign ministry spokeswoman Catarina Axelsson said the government was not aware of any "terror-linked major incidents".
Sweden's Security Police said it had no reason to change the terror threat level.
"Nothing has occurred which would cause us to raise that level," agency spokesman Karl Melin said.
Swedish tabloid Aftonbladet also published a list of incidents in the country, under the headline: "This happened in Sweden Friday night, Mr President."
Published in both Swedish and English it included a man being treated for severe burns, an avalanche warning and police chasing a drunken driver.
Sweden, which has a long reputation for welcoming refugees and migrants, had a record 163,000 asylum applications in 2015. The country has since cut back on the number it annually accepts.
Its most recent attack linked to extremism happened in the capital, Stockholm, in December 2010.
World news in pictures

Show all 50
An Iraqi-born Swede detonated two explosive devices, including one that killed him but no-one else.
Throughout his month long presidency, some of Mr Trump's remarks and those of his staff have been questioned for their accuracy.
The President's senior adviser, Kellyanne Conway, was also widely ridiculed after she referred to the "Bowling Green Massacre" - an incident that had not taken place.
Join our new commenting forum
Join thought-provoking conversations, follow other Independent readers and see their replies