Russia is 'complicit' and should be held accountable for Syrian 'atrocities', says US National Security Adviser HR McMaster
This is the seventh anniversary of the ongoing conflict that has seen over 400,000 people die and millions more displaced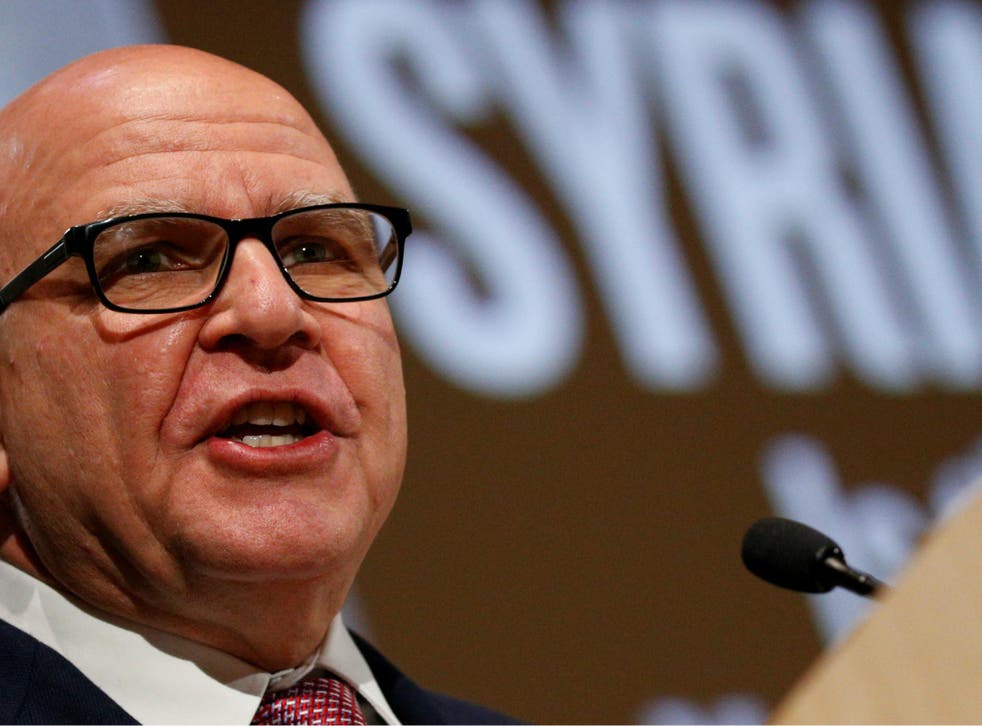 On the seventh anniversary of the Syrian conflict, National Security Adviser HR McMaster said Russia is "complicit" in the violence in Syria and should be held responsible for "providing political cover" for the "atrocities" of President Bashar al-Assad's regime.
Speaking at the Holocaust Museum in Washington DC, Mr McMaster's fiery address also held Iran accountable for its role in the bloody conflict that has resulted in over 400,000 people dead and up to 13 million Syrians displaced within and outside of the country.
His comments about Russia come during a tense time when rumours have swirled about his possible sacking by President Donald Trump and a new round of sanctions placed on Russian nationals for suspected meddling in the 2016 US election.
He also noted that Moscow has carried out a hundred bombing missions in the besieged eastern Ghouta area near the capital of Damascus.
He also cited the recent poisoning of former Russian Sergei Skripal and his daughter Yulia in Salisbury as a sign of an increasingly aggressive Kremlin.
"If Iran and Russia do not stop enabling the regime's atrocities and adhere to [United Nations] Security Council resolutions, all nations must respond more forcibly than simply issuing strong statements," he said.
Mr McMaster called for "serious political and economic consequences" on both countries. He noted that Mr Assad "should not have impunity for his crimes, and neither should his sponsors".
He invoked the venue as a plea for action to end the conflict in Syria and also listed the ways the US has helped Syrian refugees, but left out Mr Trump's travel ban.
UN Security Council unanimously backs ceasefire in Syria
"We know that these horrors can happen again..but remembrance is only the first step. We cannot stop at remembrance alone. If we are to fulfill our promise — 'Never again' — we must also act to protect victims and hold all responsible parties accountable. Unfortunately, today, in Syria, we are confronted once more with some of the worst atrocities known to man," he said.
However, whether Mr McMaster has any sway in the administration remains to be seen as another member of the Cabinet who had been at odds with the President over a number of issues, Rex Tillerson, was recently fired via Twitter.
The latest issue was Russia's involvement in the poisoning of the former spy in the UK.
While UK Prime Minister Theresa May was quick to blame the Russians for the incident, calling it a "brazen" act, expelling 23 Russian diplomats, and cutting high-level contact with Moscow for the attack on UK soil - Mr Trump was more cautious initially.
Turkish attack on Afrin, northern Syria – in pictures

Show all 9
He said on Tuesday that "as soon as we get the facts straight, if we agree with them, we will condemn Russia or whoever it may be".
However, Mr Tillerson joined in supporting the US ally and called the poisoning "a really egregious act" that appears to have "clearly" come from Russia. He had called President Vladimir Putin's country "an irresponsible force of instability in the world, acting with open disregard for the sovereignty of other states and the life of their citizens".
It was not until after US Ambassador to the United Nations Nikki Haley said during a Security Council meeting that the US "stands in absolute solidarity" with the UK, that the White House issued a statement echoing the sentiment.
Press Secretary Sarah Huckabee Sanders said in the late Wednesday evening statement that "Russia is responsible for the reckless nerve agent attack".
The statement read: "the latest action by Russia fits into a pattern of behaviour in which Russia disregards the international rules-based order, undermines the sovereignty and security of countries worldwide, and attempts to subvert and discredit Western democratic institutions and processes. The US is working together with our allies and partners to ensure that this kind of abhorrent attack does not happen again".
Register for free to continue reading
Registration is a free and easy way to support our truly independent journalism
By registering, you will also enjoy limited access to Premium articles, exclusive newsletters, commenting, and virtual events with our leading journalists
Already have an account? sign in
Register for free to continue reading
Registration is a free and easy way to support our truly independent journalism
By registering, you will also enjoy limited access to Premium articles, exclusive newsletters, commenting, and virtual events with our leading journalists
Already have an account? sign in
Join our new commenting forum
Join thought-provoking conversations, follow other Independent readers and see their replies