US Secretary of State says 'Syria's fate is in Russian hands now'
Rex Tillerson spoke with the UN Secretary General in a private meeting
Mythili Sampathkumar
New York
Monday 03 July 2017 21:45 Comments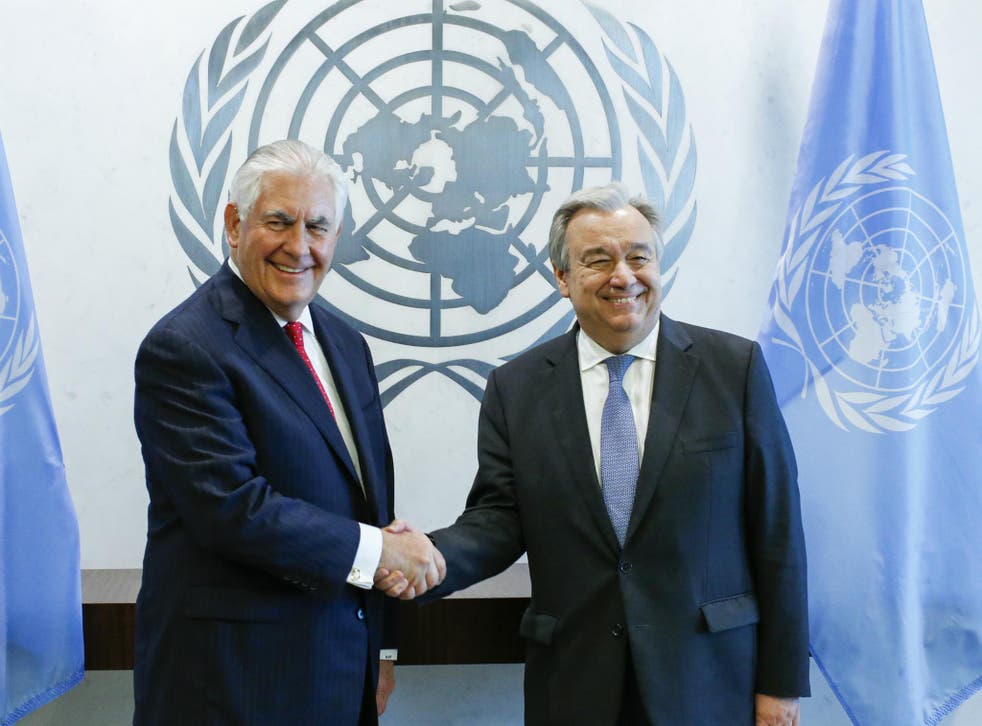 The US Secretary of State has reportedly told the United Nations Secretary General that he thinks the fate of Syria and its leader is now up to Russia.
Rex Tillerson held a private meeting with Antonio Guterres at the State Department when he said the US was limiting its mission to defeating terror group Isis, according to Foreign Policy.
Citing three diplomatic sources with knowledge of the exchange, Mr Tillerson said that though the US is committed to the 2012 Geneva Process that stated it, Russia, and other western countries would put a transition government in place, the fate of Syrian President Bashar al-Assad would be in Russia's purview.
The US has "limited tactical goals–deterring future chemical weapons attacks and protecting U.S. backed-forces fighting the Islamic State in Syria–not weakening the Assad government or strengthening the opposition's negotiating leverage".
One official told the news outlet that "the Syrian people should determine their country's political future through a political process" and that a ""credible political process" would answer the questions looming about the country's future.
The UN Security Council has tried several times to put forth resolutions to bring an end to the conflict and open humanitarian corridors to get medical treatment to civilians caught in the fighting, however Russia has used its veto power no less than eight times.
However, Mr Tillerson said in April 2017 that Mr Assad would have "no role" in Syria after his use of chemical weapons, which had prompted Donald Trump to launch nearly 60 missiles into the Idlib province after one particular attack that resulted in nearly 100 dead, many of them children according to a video of the aftermath of the attack.
White House Press Secretary Sean Spicer said last month that the US has "identified potential preparation" for another chemical attack by Mr Assad as well.
The Secretary of State's message to the UN comes after Russia and the US have had a "war of words," as Newsweek called it.
The two have a line of communication that is supposed to be used to allow US and Russian troops to avoid being struck during attacks on Isis however, in June 2017 a US Navy fighter jet shot down a Syrian war plane without communicating with Russian forces about it ahead of time per normal procedure.
Russia, which has been one of few allies to Mr Assad, responded by saying that any US war planes in the vicinity of the incident would be treated as "targets".
The Russian Defence Ministry called it "a cynical violation of the sovereignty of the Syrian Arab Republic".
Foreign Minister Sergei Lavrov said the US "should not create excuses for more attacks against the Syrian army that is fighting terrorists".
Mr Spicer then responded that "the escalation of hostilities among the many factions that are operating in this region doesn't help anybody. And the Syrian regime and others in the regime need to understand that we will retain the right of self-defence, of coalition forces aligned against Isis".
Mr Trump and Russian President Vladimir Putin are set to meet at some point during a meeting of the G20 this week in Hamburg, Germany. No agenda has been made public, but Syria is likely to be one topic of discussion.
Register for free to continue reading
Registration is a free and easy way to support our truly independent journalism
By registering, you will also enjoy limited access to Premium articles, exclusive newsletters, commenting, and virtual events with our leading journalists
Already have an account? sign in
Join our new commenting forum
Join thought-provoking conversations, follow other Independent readers and see their replies