Syrian refugee family prospers in Texas despite hostile election: 'We feel like it's our country'
In an exclusive interview with The Independent, Bassam Al Abbas describes life after fleeing Syria and the arduous process of gaining refugee status in the US – amid an increasingly negative political atmosphere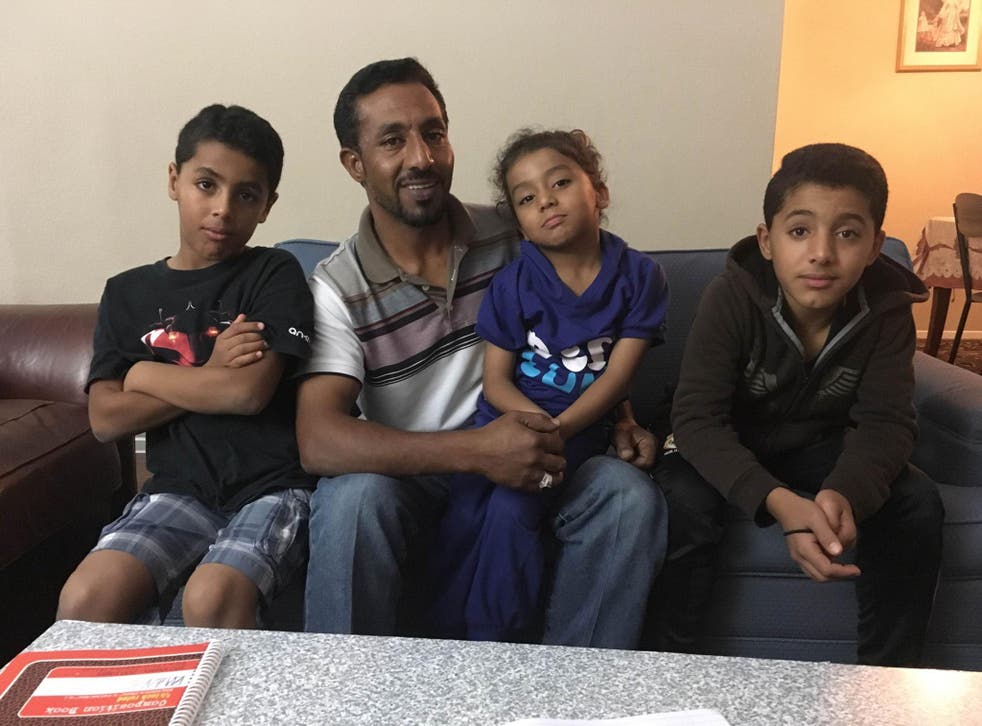 Bassam Al Abbas has only lived in Austin, Texas, for five months – and he is thriving.
But the outlook did not always appear so positive for Mr Al Abbas, his wife, Manal Hamid, and their three boys. They fled their home in Damascus, Syria, three years ago, as the country descended into a massive civil war that sparked the largest refugee crisis in modern history.
Mr Al Abbas considers himself lucky to be in Texas despite the current furious debate over allowing Syrian refugees into the country. The topic has ensnared the presidential race and taken shape in state politics amid the popular nervousness that Isis sympathisers will enter the US, propogated by Donald Trump's candidacy.
"It's the most difficult thing in the world to see your kids hungry," Mr Al Abbas told The Independent, speaking through an interpreter in the office of his sponsorship organisation, Refugee Services of Texas.
His home became too dangerous as the civil war progressed. The government instituted curfews throughout the country. If Mr Al Abbas left his house, he could have been imprisoned or killed.
"It was like a war zone. When we say 'problems', when we say 'events', we talk about war," he explained. "How could someone send their kids to school in conditions like this?"
He added: "The Syrian government would see anybody between 18 and 40 who did not wear the Syrian military uniform, that they are going to be the enemy. Every party, every group, they had one policy: If you are not with me, you are against me."
Mr Al Abbas said he and his family fled to Az-Zarqa, Jordan, in 2013. He began taking up construction work through a friend's company, but still there were too few professional opportunities for Manal and himself – and little in the way of education for their sons Amjad, Yaman, and Aman – now aged 5, 10, and 13.
"Life was difficult [in Jordan]. Very few job opportunities," he said. "When I was told I could go to America, finally I see the hope."
In pictures: Syrian refugees send their plea for help to the West as part of the 'Dear World Project'

Show all 11
Donald Trump has campaigned on the specific promise of banning the admittance of all immigrants from predominantly Muslim countries. With specific focus placed on Syria, Mr Trump has proposed a policy of "extreme vetting" of people seeking refugee status from the country, while warning of a "Trojan Horse" attack from Isis hidden in the migrant population.
Mr Trump's language mirrors that of Texas Gov Greg Abbott and Attorney General Ken Paxton, who have put forth significant opposition to Syrian resettlement in the state.
In September, Mr Abbott announced that the Texas government no longer accept funding from the US Office of Refugee Resettlement (ORR) on the condition that the federal department "unconditionally approve" exhaustive screening procedures for Syrian refugees and only accept people who "are fully vetted and do not present a security threat".
Mr Paxton quietly dropped a 10-month lawsuit early October that sought to bar Syrian settlement in Texas, after federal courts rejected similar lawsuits in other states – including Indiana, home of Mr Trump's running mate, Gov Mike Pence.
USA: Trump calls for Muslims to be banned from entering US
Texas received 7,802 refugees between October 2015 and 2016, according to State Department figures. Approximately 1000 settled in Austin between two organisations, RST and Caritas, who supported about 500 each. Seventy-five per cent of refugees admitted to the state have been women and children.
Now, the ORR must allocate funding to a yet-to-be-determined nonprofit organisation after Mr Abbott effectively ended 40 years of the state's participation in the federal programme.
Still, reality does not reflect what conservative lawmakers suggest about the admittance process for refugees coming to the US.
"It was really difficult to apply. It's kind of random, actually," Mr Al Abbas said. He explained that when he applied through the United Nations in 2014, seven different US agencies had to review the family's application.
Over 20 months, the Al Abbas family went through seven layers of security screenings throughout their application requesting refugee status in the US.
The existing screening process is rather extensive, too. First, refugee applicants must supply identifiable information to the United Nations High Commissioner for Refugees (UNHCR) – which, for Syrian and other Middle Eastern applicants includes biometrics like iris scans.
Through the UNHCR, applicants are directed to a Resettlement Support Centre. In the case of the Al Abbas family, the International Organisation for Migration served as the RSC, which helped assemble their application portfolio to send to four US security agencies (National Counterterrorism Centre, the FBI, Department of Homeland Security, and the State Department). Syrian refugees require additional screening from United States Citizenship and Immigration Services Fraud Detection and the National Security Directorate.
If any one of these agencies declined Mr Al Abbas and his family, they would likely still be in Jordan.
The screening process for refugee entry to the US

Show all 5
"There are some people I know – they applied since 2014 – and they are still there. They have not made it," he said. "And many other people were denied to come to the US. They tell them that their case was not accepted because probably six security agencies said yes, and one said no. That's enough for denial."
Despite the overt hostility of conservative lawmakers in Texas, Mr Al Abbas says he has found a new home and community in the sprawling state capital. Amid the oppositional climate, the population of Austin has risen up to support the influx of refugees.
"We've seen an extreme increase in support from the community in response to the governor's announcement, which has been very positive for us and the families that we're serving," said Erica Schmidt-Portnoy, the area director for Refugee Services of Texas - Austin. "They have even more support than they've ever had."
Ms Schmidt-Portnoy said that the organisation has seen the number of volunteers increase from about 100 to more than 1,250 over the past year.
"We see that impact immediately with the refugees that we're serving," she explained. "Because instead of saying, 'We'll try to secure a volunteer to help you with that', we've got five volunteers who are ready right now. …
"Every announcement that's made nationally or statewide that may contradict the work that we do or the populations that we serve, actually just pushes [the number of volunteers] even higher than it was before."
The first few weeks in Austin proved difficult for Mr Al Abbas and his family. But as they gain their footing in their apartment, at school, and at work, they feel more at home and part of a larger community.
"Life has become more normal. We started to know our neighbours, the city we live in," he said. "We found jobs, the kids go to school. Now we just feel like any other normal people here.
"We feel like it's our country."