School says it will ban student athletes from playing if they take a knee during national anthem
Principal embraces Donald Trump's call for punishing protesting athletes
Jeremy B. White
San Francisco
Thursday 28 September 2017 21:47 Comments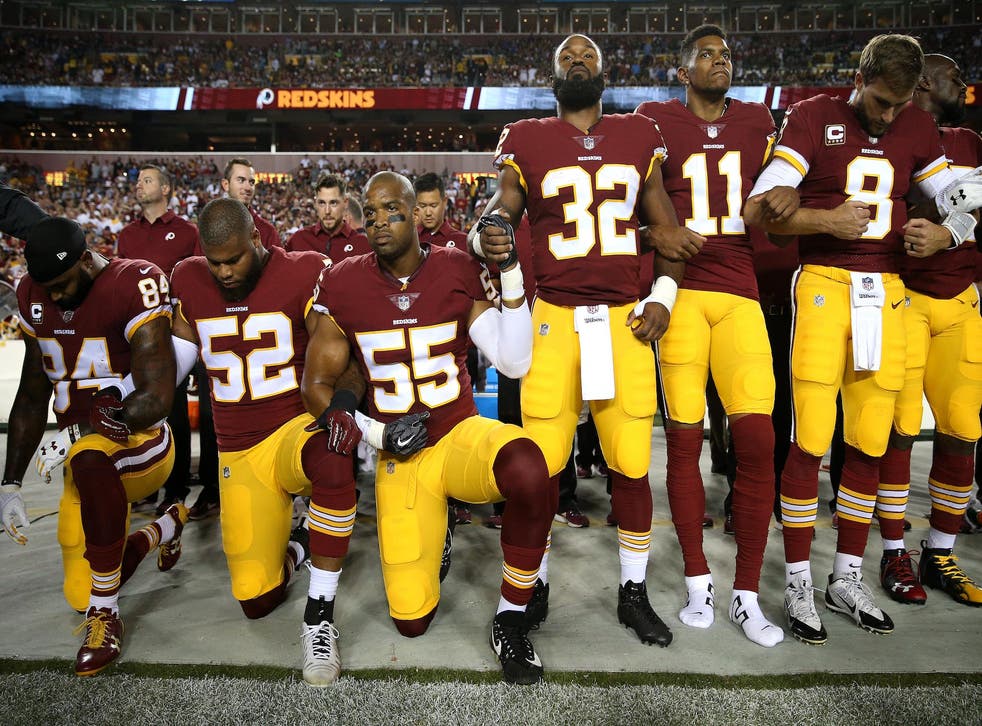 A Louisiana high school is ordering student athletes to stand during the national anthem, echoing Donald Trump's calls to prohibit athletes from standing or kneeling in protest.
In a letter to students and parents, Parkway High School Principal Waylon Bates said that the school "requires student athletes to stand in a respectful manner" and warned students who don't bend to the rule would be punished with a loss of playing time or "removal from the team".
By mandating athletes rise for the anthem, Mr Bates thrust his high school into a national furor provoked by Mr Trump's comments. The president used a profanity to call for athletes who kneel during the national anthem - a recurring sight in the NFL which started after quarterback Colin Kaepernick sought to protest police violence - to lose their jobs.
Even as players around the NFL kneeled, locker arms or remained in their locker rooms in shows of solidarity against Mr Trump's statements, the president continued calling for players to be punished and advocated a boycott of the league.
Mr Bates was also following the lead set by his school district. In a statement to the media, Bossier School District Superintendent Scott Smith wrote that "freedom isn't free" and said the district officials "expect our student athletes to stand in solidarity when the National Anthem is played". A spokeswoman for the district said Mr Bates was reacting to that guidance, saying "this is not a 'Parkway issue'".
"Our principals and their coaching staffs have sole discretion in determining consequences should a student athlete elect not to stand during the National Anthem and they are making their expectations known to players and their families this week", Mr Smith added. "As Superintendent, my administration will be in full support of these school-based decisions".
American sportspeople kneel in protest

Show all 14
The Louisiana principal said his local athletic association allows individual schools to dictate how students react to the pledge. A statement from Louisiana High School Athletic Association Executive Director Eddie Bonine endorsed that stance, citing a letter circulated last year in response to "multiple protests" by high school players taking a knee.
Some members of the community took to social media to denounce the stance. Brandon Boone, who said he played basketball for four years at Parkway High School before graduating in 2008, said in a message to The Independent that "you can not stop students or people in general from expressing their First Amendment rights". He added that his father spent decades in the military and that his brother is currently serving.
"For Superintendent Scott Smith to insinuate that it's disrespectful for students not to stand during the National Anthem is unacceptable", Mr Boone said. "As my brother says it best, 'as a soldier we defend the Constitution and not a song or flag'".
But this was not the first time a high school principal has sought to bar students from emulating NFL players who use the pledge as a protest platform. Last year, the principal of a Florida high school reportedly told students that during the pledge, "You are to stand and you are to be quiet".
Donald Trump says NFL kneeling row " has nothing to do with race"
Legal precedent backs students' right to refuse to rise for the pledge. A 1943 Supreme Court ruling sided with students who were Jehova's Witnesses and did not want to recite the Pledge of Allegiance, saying forcing them to join the display of patriotism violated their free speech rights.
The school's new policy would be unlikely to survive a legal challenge, said Alexandra Mora, a civil rights attorney based in New Orleans.
"There's just no safety concerns there, and the free speech rights are so strong that I don't see how a court could uphold what the high school is doing", Ms Mora said. "If they went ahead and punished children for silently protesting by standing or kneeling, I think the school would probably lose in court".
Register for free to continue reading
Registration is a free and easy way to support our truly independent journalism
By registering, you will also enjoy limited access to Premium articles, exclusive newsletters, commenting, and virtual events with our leading journalists
Already have an account? sign in
Join our new commenting forum
Join thought-provoking conversations, follow other Independent readers and see their replies