Ted Cruz refuses reporter's request that he wear a mask during press conference
CDC guidelines recommend vaccinated people continue to wear masks to prevent the spread of the disease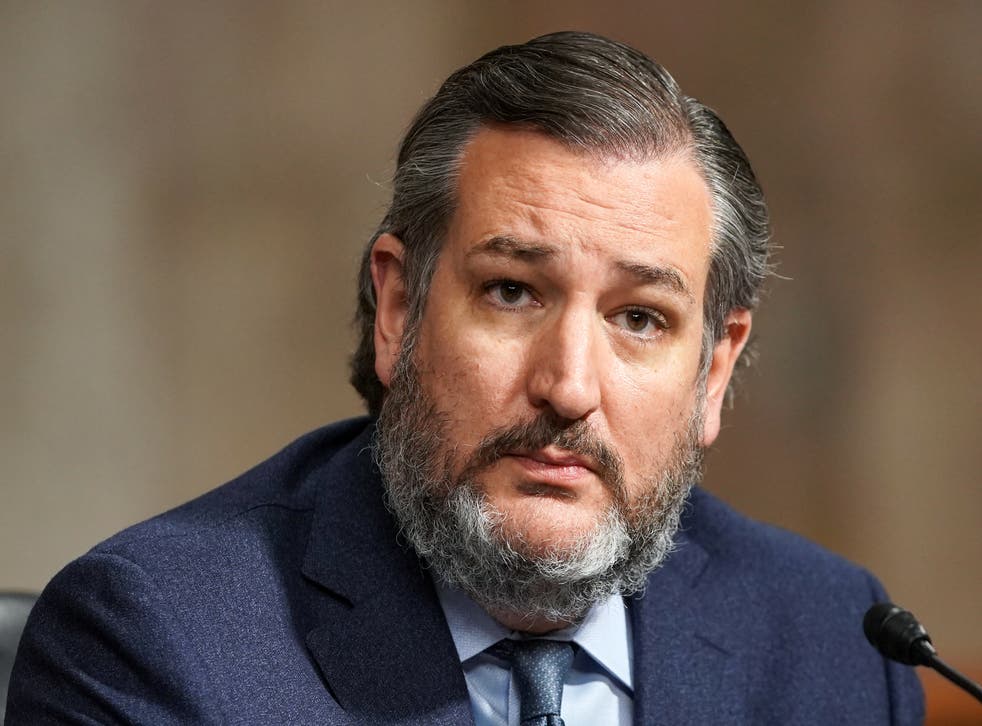 Senator Ted Cruz refused to wear a facemask during a television interview even after a reporter asked if he would put one on.
During a press conference, a reporter asked Mr Cruz if he would put a mask on while addressing the press.
Mr Cruz said he would not wear a mask while he was doing interviews.
"Uh, when I'm talking to the TV camera I'm not going to wear a mask," Mr Cruz said motioning around his face, "and all of us have been immunised, so."
The reporter said "it would make us feel better," but Mr Cruz still refused.
Read more
"You're welcome to step away if you like," Mr Cruz said, although this would have involved the reporters not doing their job.
Mr Cruz then grinned and said it was "the whole point of the vaccine".
"CDC guidance is what we're following," he said.
Mr Cruz was wrong.
CDC guidance suggests that those with vaccinations continue to wear masks because the vaccine only protects people from contracting Covid-19, not catching the coronavirus. The vaccine is not 100 per cent effective, and health experts are not certain if the virus can still be spread by individuals who are vaccinated.
"Take precautions in public like wearing a well-fitted mask and physical distancing," CDC guidance states for those with vaccines. "Wear masks, practice physical distancing, and adhere to other prevention measures when visiting with unvaccinated people who are at increased risk for severe Covid-19 disease or who have an unvaccinated household member who is at increased risk for severe Covid-19 disease."
Further, Joe Biden issued an executive order mandating anyone working in or visiting federal buildings or federal lands to wear masks, maintain physical distance, and adhere to other public health measures, as provided in CDC guidelines."
During his speech at the Conservative Political Action Conference earlier this year, Mr Cruz mocked face mask rules.
"Now they're saying, everybody can get immunised, we can have herd immunity everywhere, and we're going to wear masks for the next 300 years," Mr Cruz said. "And by the way, not just one mask, two, three, four. You can't have too many masks. How much virtue do you want to signal? This is just dumb."
More than 500,000 people have died from the coronavirus since the pandemic began to spread in the US last year.
Register for free to continue reading
Registration is a free and easy way to support our truly independent journalism
By registering, you will also enjoy limited access to Premium articles, exclusive newsletters, commenting, and virtual events with our leading journalists
Already have an account? sign in
Register for free to continue reading
Registration is a free and easy way to support our truly independent journalism
By registering, you will also enjoy limited access to Premium articles, exclusive newsletters, commenting, and virtual events with our leading journalists
Already have an account? sign in
Join our new commenting forum
Join thought-provoking conversations, follow other Independent readers and see their replies