Texan politicians almost brawl over sanctuary cities after Republican calls immigration agents on protestors
Protesters were reportedly holding signs announcing their status as undocumented immigrants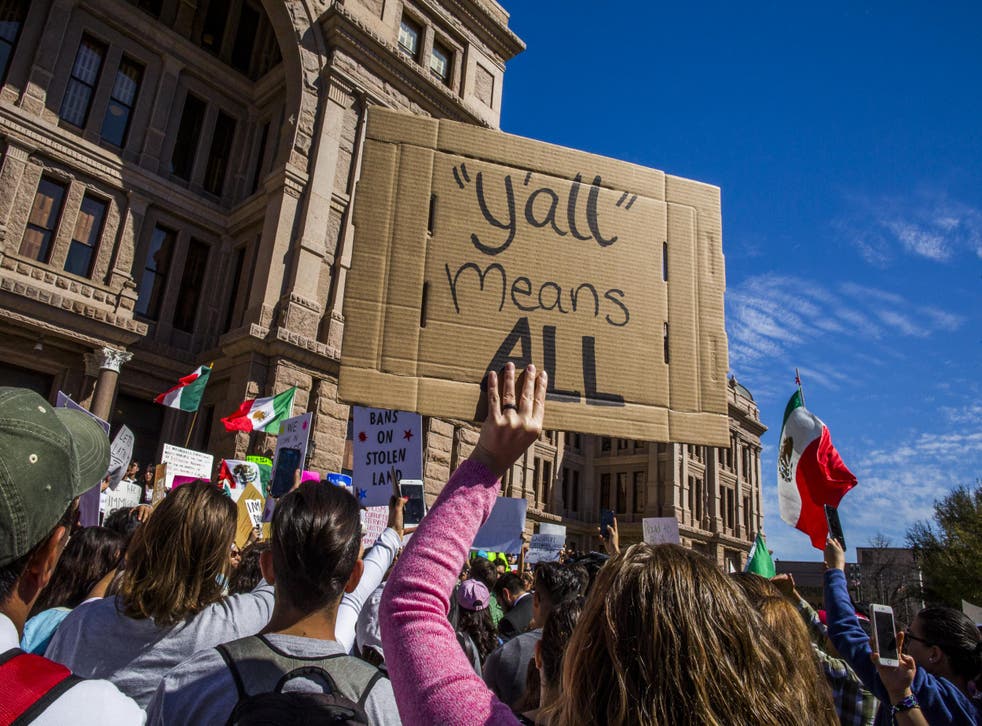 Texas state representatives have nearly come to blows on the House floor after a divided legislative session that had led to an increasingly tense atmosphere — and the threat of gun violence.
Protesters had reportedly stormed the capitol in opposition to the state's ban on sanctuary cities. As chants of "no justice, no peace" echoed through the House chamber, state Republican Representative Matt Rinaldi told his colleagues that he had called Immigration and Customs Enforcement officials after he saw a sign from one defiant protester saying that they were an undocumented immigrant and didn't plan on leaving any time soon.
"The guy made a comment, a very stupid comment, he's a racist," State Representative Alfonso Nevarez, a Democrat who was allegedly in the middle of the altercation, told local news outlets. "We're not going to allow people like that to get away with saying comments like that."
Mr Rinaldi later wrote that several Democrats had encouraged protesters to disobey law enforcement, and that Democrat Representative Ramon Romero had physically assaulted him and repeatedly threatened to harm him on his way to his car.
"I made it clear that if he attempted to, in his words, 'get me,'" Mr Rinaldi wrote, "I would shoot him in self defence."
Mr Rinaldi said that he is currently receiving law enforcement protection after the threats.
Protestors rally at JFK Airport against Muslim immigration ban

Show all 20
The legislative session in Texas has been deeply divided, mirroring national tensions seen in Washington with President Donald Trump in the White House. Democrats have been dismayed that Republicans pushed through a bill — signed by Governor Greg Abbott — that banned sanctuary cities in the state.
Republicans may carve out a larger divide as well. Although the legislative session is technically wrapped up, Mr Abbott could call the legislature back for as many as 30 days of overtime to work through unfinished business. There are two issues that Mr Abbott may want to resolve, including property tax reforms and bathroom restrictions that could impact which restrooms transgender Texans can choose to use.
Register for free to continue reading
Registration is a free and easy way to support our truly independent journalism
By registering, you will also enjoy limited access to Premium articles, exclusive newsletters, commenting, and virtual events with our leading journalists
Already have an account? sign in
Register for free to continue reading
Registration is a free and easy way to support our truly independent journalism
By registering, you will also enjoy limited access to Premium articles, exclusive newsletters, commenting, and virtual events with our leading journalists
Already have an account? sign in
Join our new commenting forum
Join thought-provoking conversations, follow other Independent readers and see their replies