Texas Senate passes bill allowing people to carry guns for week after natural disasters to deter looting
NRA-backed initiative comes after gun-owners plead with local politicians to relax licensing rules after Hurricane Harvey .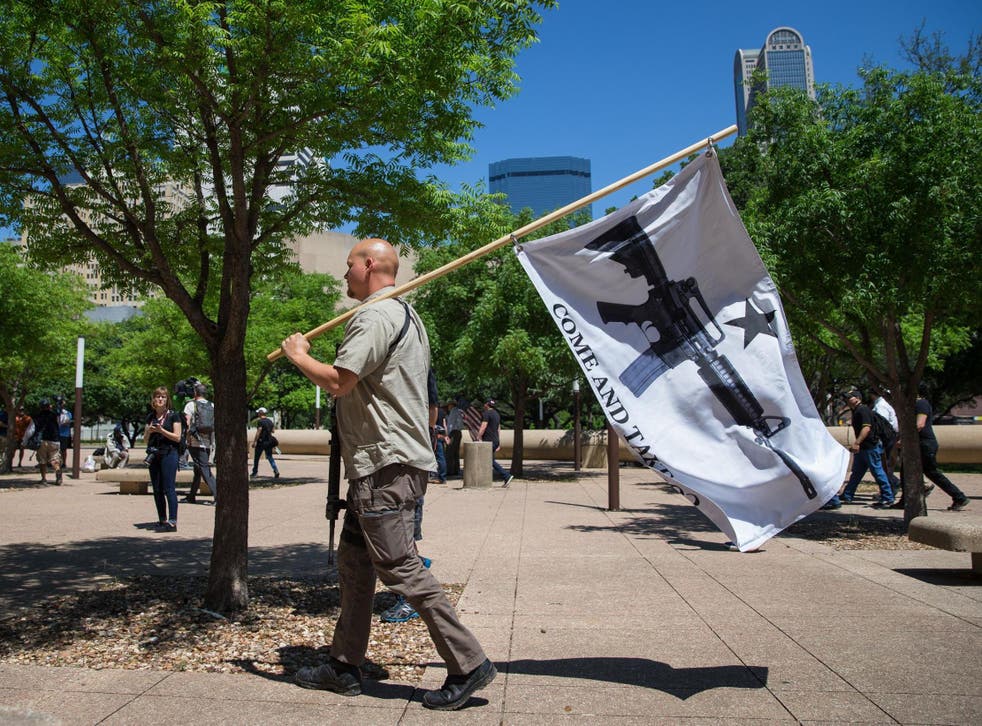 The Texas Senate has passed a bill that allows gun-owning Texans to have both open- and concealed-carry handguns during the week after a natural disaster in a bid to deter looters.
House bill 1177, which must pass the House and be signed into law by Governor Greg Abbott, narrowly passed the state Senate 16 to 15.
Current law in Texas does not permit gun owners without a license to carry to carry a handgun openly or concealed, but permits the open carry of long-arm guns like the AR-15.
The bill aims to deter looting and was supported by the National Rifle Association, who claimed it "would offer temporary protection to honest Texans whose licenses are lost or damaged due to flood, wind or fire, and to those who don't have a license because they never envisioned a need to transport or carry their handguns outside the home".
HB 1177 drew criticism from gun control groups like Moms Demand Action for Gun Sense in America, who said: "HB 1177 would weaken Texas gun safety laws in already sensitive situations by removing key safety requirements to carry hidden, loaded guns during a state of emergency."
The aftermath of Hurricane Harvey

Show all 19
The initiative came after gun-owners pleaded with local politicians to relax licensing rules after Hurricane Harvey affected the area in 2017.
The bill's two sponsors, Representative Dade Phelan and state Senator Brandon Creighton, were torn between allowing owners to carry non-permitted handguns for 48 hours or one week after a natural disaster, but a committee ultimately decided to push forward with the one week option.
Senator Joan Huffman, one of the three Republicans who voted against it, said she was concerned about the effect the bill could have on law enforcement during a natural disaster.
Support free-thinking journalism and attend Independent events
Ms Huffman said: "It's really, really poor public policy that is not well thought out.
"It is not solving a problem. It is creating a problem."
Ms Huffman was joined in her dissent by all 12 Senate democrats.
Join our new commenting forum
Join thought-provoking conversations, follow other Independent readers and see their replies