The problem is poor people don't vote, says Bernie Sanders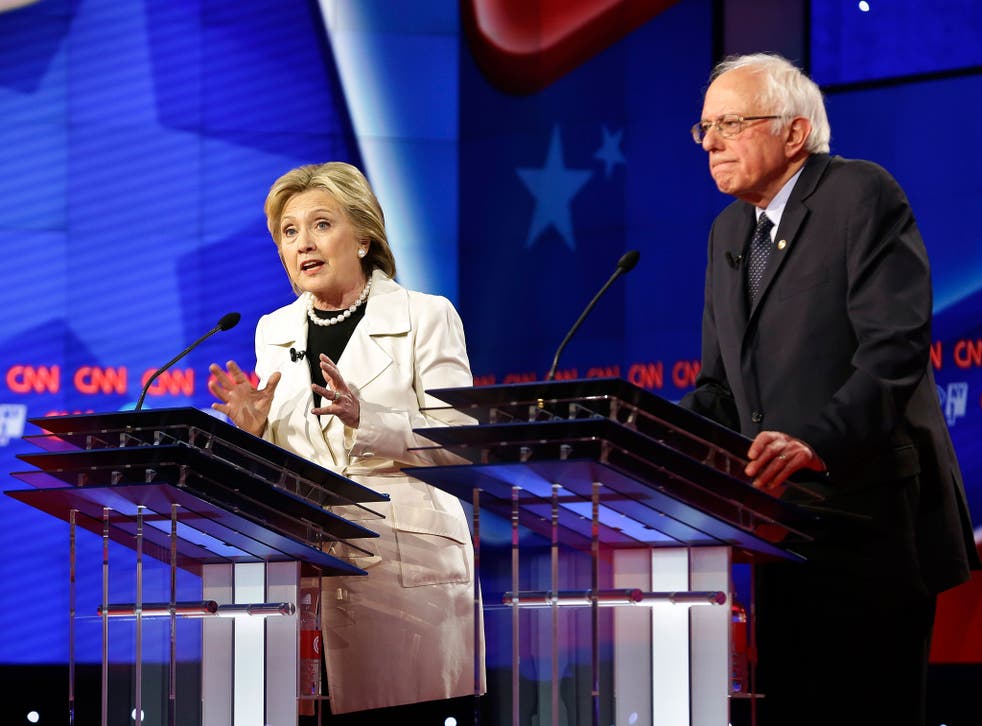 Bernie Sanders has said many of his losses to Hillary Clinton in Democratic primaries were because "poor people don't vote."
The senator from Vermont, who has made fighting income inequality the rallying cry of his campaign, was asked during a taping of NBC's "Meet the Press" why Clinton had prevailed in 16 of 17 states so far with the highest levels of income inequalilty.
"Well, because poor people don't vote," Sanders told host Chuck Todd. "I mean, that's just a fact. That's a sad reality of American society."
Sanders said that while his campaign has done a good job of attracting young voters, he's had less success driving up turnout of lower-income people. In the 2014 election, he said, "80 percent of poor people did not vote."
"If we can significantly increase voter turnout so that low-income people and working people and young people participated in the political process, if we got a voter turnout of 75 percent, this country would be radically transformed," Sanders said during the taping of the segment, which is scheduled to air Sunday morning.
It's not clear that larger turnout among poor voters would have actually helped Sanders against Clinton, however.
Sanders has lost Democratic voters with household incomes below $50,000 by 55 percent to 44 percent to Clinton across primaries where network exit polls have been conducted. (He has lost by a wider 21 percentage-point margin among voters with incomes above $100,000, and by 9 points among middle income voters.)
Sanders's comments were released by NBC on Saturday while he was campaigning here in Delaware, one of five states that hold primaries on Tuesday. Sanders started his day in Maryland, another of those states. During a stop in Baltimore, he argued that "poverty is a death sentence," citing figures showing a discrepancy between the life expectancies of people born in rich and poor neighborhoods in that city.
During his campaign, Sanders has put forward a variety of measures aimed at helping poorer voters, including raising the minimum wage, guaranteeing paid family leave and making tuition free at public colleges and universities.
Meanwhile Hillary Clinton spent Saturday campaigning in the two states voting Tuesday – Connecticut and Rhode Island – where Sanders is considered to have the best chance.
In Rhode Island, where Sanders will campaign on Sunday, Clinton held a lively rally in Central Falls, a small city that is about 70 percent Hispanic and poor. Median household income is estimated at roughly $28,000. The crowd was largely white however, with a big turnout from organized labor.
Clinton said little about Sanders, but said her plan to make college more affordable is more practical than his free-tuition proposal. "Were going to put the money where it's most needed, so everyone who wants to go to college can afford to do so," she said.
The Clinton campaign told top donors at a briefing Wednesday, the day after her big victory in New York, that Clinton could well lose in Rhode Island, a person familiar with the briefing said on condition of anonymity because the session was confidential.
If Sanders does win in Rhode Island, the loss would be offset by the support of the state's 9 superdelegates, all of whom are supporting Clinton.
At the same briefing for donors, campaign representatives said they are backing off direct attacks on Sanders somewhat after the New York victory, although Clinton surrogates have continued to criticize him this week.
Sanders has continued to aggressively lay out his differences with Clinton in recent days, citing the Iraq war, trade policy, fracking and other issues.
Copyright: Washington Post
Register for free to continue reading
Registration is a free and easy way to support our truly independent journalism
By registering, you will also enjoy limited access to Premium articles, exclusive newsletters, commenting, and virtual events with our leading journalists
Already have an account? sign in
Register for free to continue reading
Registration is a free and easy way to support our truly independent journalism
By registering, you will also enjoy limited access to Premium articles, exclusive newsletters, commenting, and virtual events with our leading journalists
Already have an account? sign in
Join our new commenting forum
Join thought-provoking conversations, follow other Independent readers and see their replies