US Navy Secretary's visit to Guam to attack coronavirus captain cost taxpayers more than $240,000
Thomas Modly has now been forced to resign
Gino Spocchia
Thursday 09 April 2020 14:13 Comments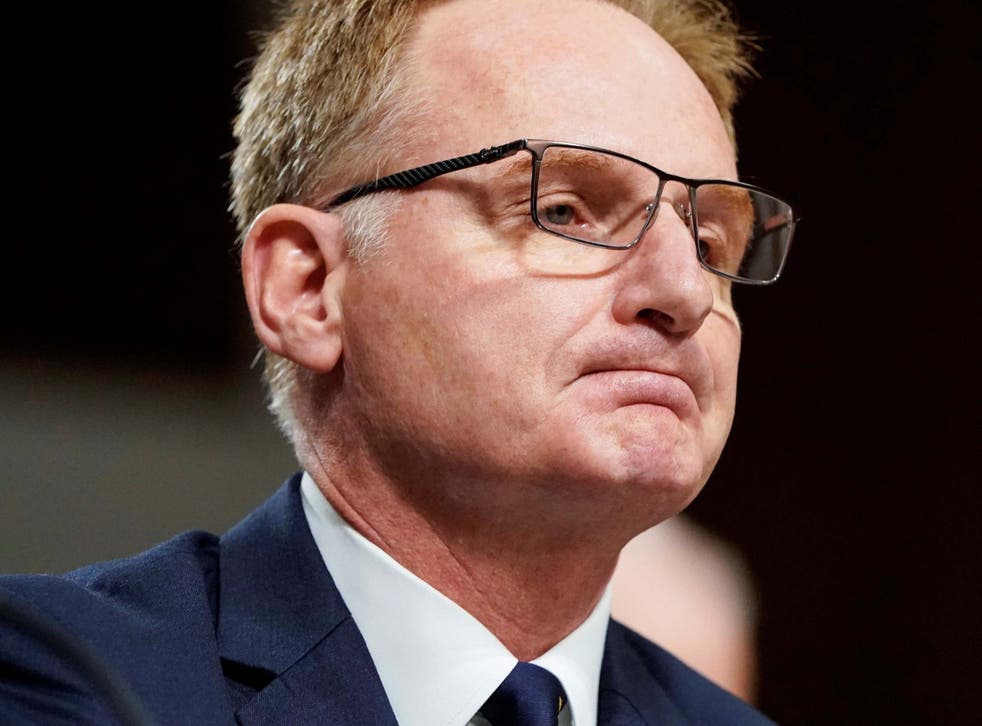 The former US secretary of the navy spent more than $240,000 (£196,000) on a trip to lecture sailors about why he sacked their captain for warning of the dangers of coronavirus, according to American officials.
Thomas Modly took a 35-hour military flight to Guam on Monday after dismissing Captain Brett Crozier, who had written to senior US Navy officials setting out the stricter measures he believed were necessary to protect the thousands of personnel under his command.
Capt Crozier pleaded with the navy to allow sailors who had contracted Covid-19 to be quarantined on land. The missive was leaked to the press, provoking a furious response from Mr Modly in Washington.
A recording of the Trump appointee's foul-mouthed rant has already leaked, in which he is heard to tell the crew of the USS Theodore Roosevelt their skipper had been "too stupid" to command the aircraft carrier.
It came after video showed sailors cheering Capt Crozier during a rousing sendoff as he departed the Roosevelt on Friday.
Now, officials estimate Mr Modly's voyage to have cost the US taxpayer $243,151.65, based on a 35-hour flight time aboard a C-37B jet and a refuelling stop in Hawaii.
During his lecture Mr Modly denigrated Capt Crozier's leadership, saying: "If he didn't think that information was going to get out into the public in this information age that we live in, then he was too naive or too stupid to be the commanding officer of a ship like this."
According to one video recording of the address, a sailor was heard saying "What the f**k?" as the navy secretary continued to issue a warning to the crew. Another can be heard shouting: "[Crozier] was trying to help us."
Mr Modly told them: "Everyone's scared about this thing. Let me tell you something – if this ship was in combat and there were hypersonic missiles coming at it, you'd be pretty f*****g scared too. But you do your jobs. And that's what I expect you to do, and that's what I expect every officer on this ship to do."
Mr Modly defended his position on Monday night by saying: "I stand by every word I said, even, regrettably, any profanity that may have been used for emphasis." But later he performed a full about-face, denying he had ever considered Capt Crozier either stupid or naive.
"The whole thing was very unfortunate," said Donald Trump at the White House on Tuesday. "The captain should not have written a letter. He didn't have to be Ernest Hemingway. He made a mistake, but he had a bad day."
Widespread outcry forced Mr Modly to resign on Tuesday.
Additional reporting by Reuters
Register for free to continue reading
Registration is a free and easy way to support our truly independent journalism
By registering, you will also enjoy limited access to Premium articles, exclusive newsletters, commenting, and virtual events with our leading journalists
Already have an account? sign in
Join our new commenting forum
Join thought-provoking conversations, follow other Independent readers and see their replies