Tom Steyer: Pro-impeachment billionaire launches 2020 presidential bid
The California hedge fund founder had previously considered a 2020 run, but had decided to concentrate his efforts on promoting Donald Trump's impeachment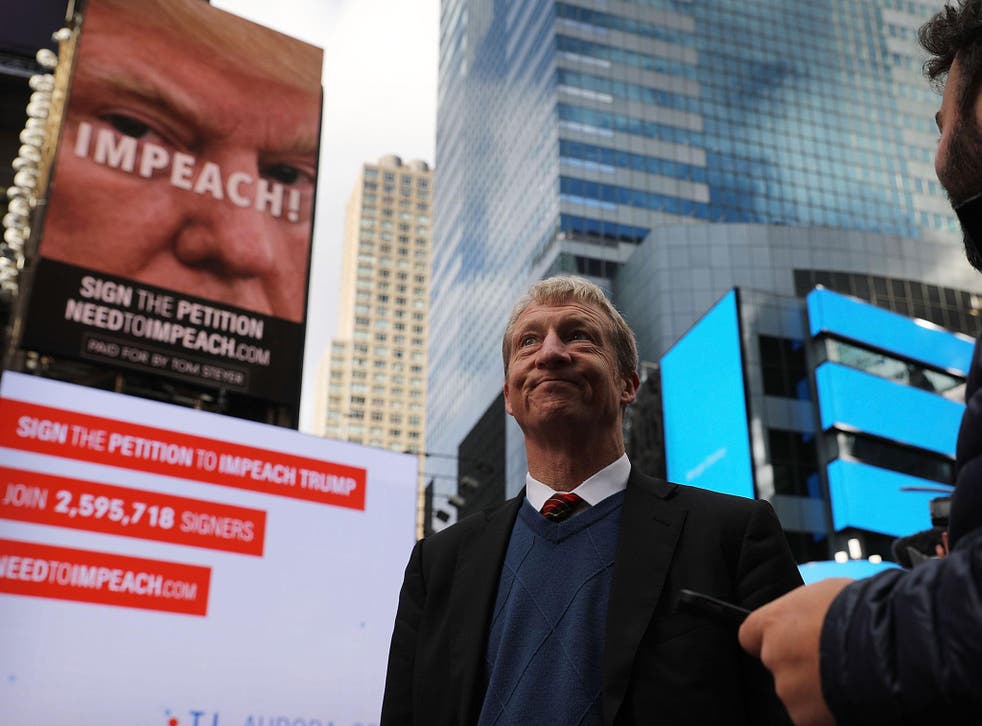 Billionaire Tom Steyer has launched a bid for the 2020 Democratic nomination after previously deciding against running for president.
Running as a pro-impeachment Democrat, the hedge fund founder announced his candidacy via Twitter on July 9 with a campaign video and a series of Tweets.
In his announcement, Mr Steyer said: "There's a breakdown in Washington DC, and I don't mean just Donald Trump. I'm talking about corporate money and our broken political system."
He said he supported impeachment proceedings against Mr Trump: "Through the important work of NextGen America and Need To Impeach, which I will continue to support, I've focused on registering & turning out the youth vote, and pressuring Congress to hold this president accountable by beginning impeachment proceedings. But it's not enough."
Mr Steyer joins presidential candidates Elizabeth Warren, Julian Castro and Beto O'Rourke in calling for Mr Trump to be impeached.
In a statement released with his campaign video, Mr Steyer said: "The other Democratic candidates for president have many great ideas that will absolutely move our country forward, but we won't be able to get any of those done until we end the hostile corporate takeover of our democracy.
"As an outsider, I've led grassroots efforts that have taken on big corporations and won results for people. That's not something you see a lot of from Washington these days. That's why I'm running for president."
Trump 2020 launch: Fascist Proud Boys, baby blimps and Uncle Sam

Show all 30
While Mr Steyer isn't the most high profile Democrat running, he is one of the richest. He has promised to spend at least $100 million of his own money on the campaign. He also has an advantage with his group Need To Impeach's email list, which NBC News claims has over 8.3 million subscribers.
He is also known for being a large political donor — he and his wife have donated over $238 million to political campaigns and groups.
Support free-thinking journalism and attend Independent events
Mr Steyer finished his announcement by saying: "Let's take our democracy back from corporations and special interests, and give it to the people –– the way it was always intended."
Join our new commenting forum
Join thought-provoking conversations, follow other Independent readers and see their replies