Trump calls for ban to late-term abortion during State of the Union address
Trump calls for ban to 'late-term' abortion during State of the Union address
The president says people of all political beliefs must 'agree that every human life is a sacred gift from God'
Donald Trump has said he will ask Congress to pass legislation to ban what he called "late-term" abortions.
During his State of the Union address on Capitol Hill, he addressed one of his guests, two-year-old Ellie Schneider, who survived despite being born at just 21 weeks and six days.
The president said: "Ellie reminds us that every child is a miracle of life. Thanks to modern medical wonders, 50 per cent of very premature babies delivered at the hospital where Ellie was born now survive.
"Our goal should be to ensure that every baby has the best chance to thrive and grow just like Ellie. That is why I am asking the Congress to provide an additional $50 million to fund neo-natal research for America's youngest patients.
"That is also why I am calling upon the members of Congress here tonight to pass legislation finally banning the late-term abortion of babies."
Donald Trump celebrity president: A decade in two halves

Show all 29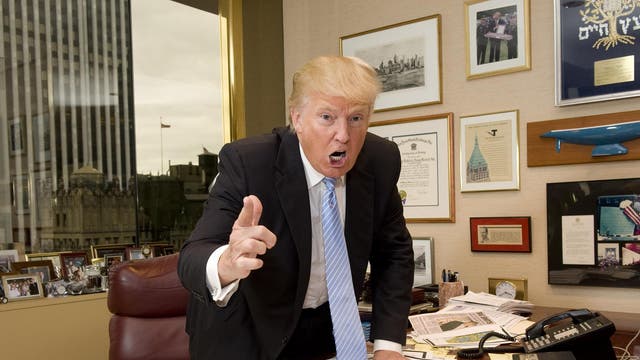 Mr Trump added: "Whether we are Republican, Democrat, or Independent, surely we must all agree that every human life is a sacred gift from God!"
Late-term abortion is a political and not medical term, but broadly refers to abortions in the later stages of a pregnancy.
Those abortions are among the most contentious, with Republicans accusing Democrats in recent years of advocating for abortions right up until birth (which Democrats have not done).
During Mr Trump's presidency, the United States has seen a renewed effort to ban abortions across the country, raising the potential that an abortion ban might make it to the Supreme Court, which has seen two conservative justices added to the nine member bench. Many of those state-level bans are known as "heartbeat" abortion bans, as they would effectively ban abortions at any point after a fetal heartbeat can be detected.
Most states do regulate abortions later during pregnancies, however most of those also provide exceptions during certain circumstances.
Join our new commenting forum
Join thought-provoking conversations, follow other Independent readers and see their replies