Trump administration pulls out of Cold War-era nuclear weapons treaty with Russia
Trump administration publishes then deletes document outlining 'disturbing' nuclear weapons doctrine
'What we're seeing here is a shift back to the language of the Cold War,' international security expert says
The Trump administration published – then swiftly deleted – a new document outlining a "disturbing" nuclear weapons doctrine adopted by the US Joint Chiefs of Staff.
Titled Nuclear Operations, the 60-page document is the first of its kind in 14 years, and appears to mark a shift in US military thinking towards more offensive use of nuclear weapons, experts said.
"Using nuclear weapons could create conditions for decisive results and the restoration of strategic stability," the document stated, within a chapter titled Planning and Targeting.
"Specifically, the use of a nuclear weapon will fundamentally change the scope of a battle and create conditions that affect how commanders will prevail in conflict."
Dr Patricia Lewis, a research director in International Security at Chatham House, said the passage indicates a more offensive approach in which the US could consider using nuclear weapons on the battlefield, as opposed to the Obama administration's more defensive posture.
Iran parliament reacts after Trump's withdrawal from nuclear deal

Show all 10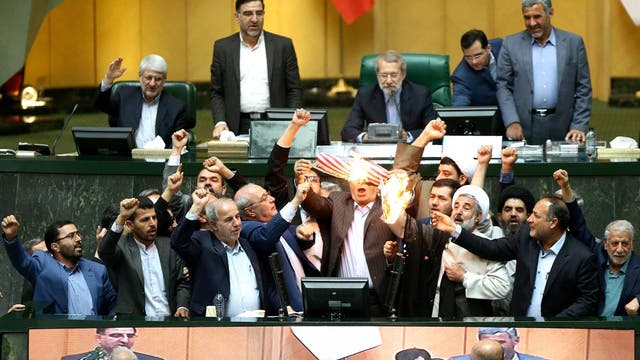 She said the Trump administration had already turned away from the Obama's philosophy, but that this document "underlines that shift".
"What we're seeing here is a shift back to the language of the Cold War, and that's very disturbing, because where is the nuclear threat coming from?" Dr Lewis said, adding: "We're not in an ideological stand-off with Russia."
Adding to fears over a more aggressive approach, the chapter begins by quoting controversial cold war theorist Herman Kahn – reportedly one of three historical inspirations for the title character of Stanley Kubrick's satirical nuclear weapons comedy Dr Strangelove.
"My guess is that nuclear weapons will be used sometime in the next hundred years, but that their use is much more likely to be small and limited than widespread and unconstrained," the quote read.
"This is an imagined world in which the use of nuclear weapons will be a single, perhaps a double event in which everyone would pause, go 'Oh my God what have we done? We'd better stop', And everything would return to normal," Dr Lewis said. "Except it won't."
The document, which was published on the Pentagon's website, was removed from public access earlier this week, but not before it was downloaded and again made publicly available by the Federation of American Scientists.
Dome covering nuclear waste in Marshall Islands is beginning to crack, UN warns
The Joint Chiefs of Staff suggested publication of the document had been a mistake when a spokesperson said it was determined it "should be for official use only".
Stephen Schwartz, a senior fellow at Bulleting of the Atomic Scientists, said the few versions of the document published by previous administrations featured no similar language about fighting and winning a nuclear war.
"Why is Trump's Department of Defense talking about making nuclear war great again (and then restricting access to the unclassified document)?" he later tweeted.
The updated nuclear doctrine comes on the heels of Donald Trump's withdrawal of the US from two nuclear treaties; the 2015 Iran nuclear deal and a 1987 treaty with Russia banning both countries deploying short and medium-range nuclear missiles.
Join our new commenting forum
Join thought-provoking conversations, follow other Independent readers and see their replies