20 million people are starving and the media only cares about Trump, says UN
The World Food Programme has made an urgent plea to large donor countries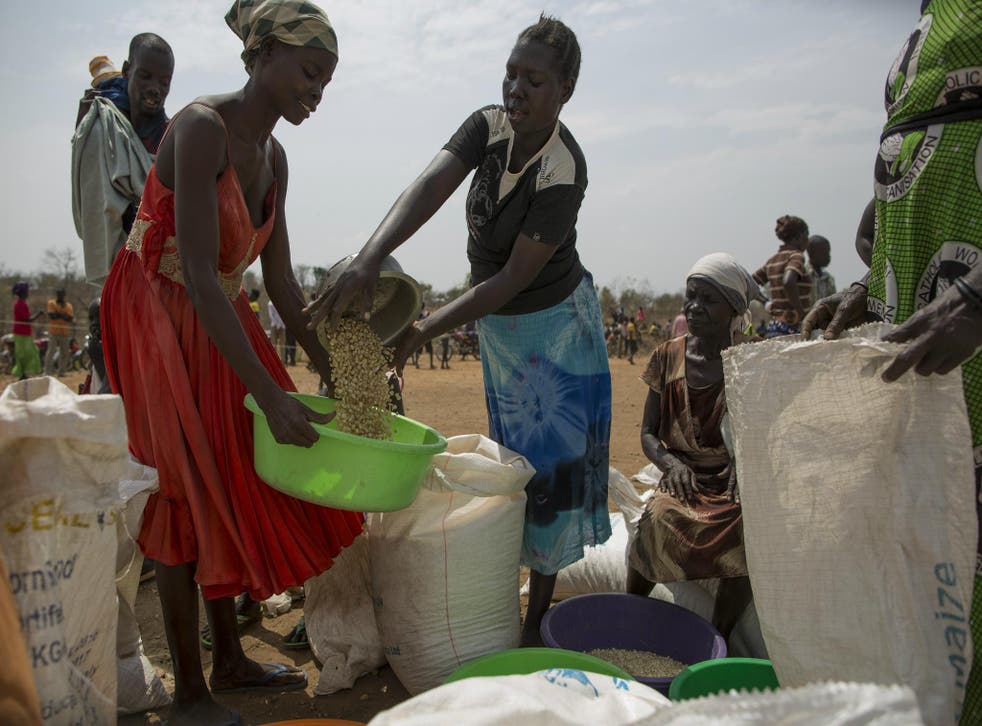 Twenty million people around the world are starving to death and the United Nations said the world is only paying attention to the latest scandal of Donald Trump.
"If you turn on ABC, CBS, NBC, Fox, CNN — it's nothing but Trump, Trump, Trump, Trump, Trump, Trump, Trump!," said the director of the UN's World Food Programme (WFP).
Director-General David Beasley, a former governor of South Carolina, said the famine affecting Yemen, South Sudan, Somalia, and Nigeria is "not fake news, this is reality."
The Republican, whose appointment was supported by the Trump administration, leads an organisation whose largest donor is the US.
Mr Trump has not been shy in his criticism of the UN, calling it "just a club for people to get together, talk and have a good time" in December 2016. After the appointment of US Ambassador to the UN Nikki Haley, Mr Trump hosted the UN Security Council at the White House and said the US would reform spending in the world body because he was "disappointed" with member countries lack of progress.
Republican leaders have followed Mr Trump's lead on calling for an end to US contributions to the organisation, which cover approximately 22 per cent of the overall budget and 28 per cent of the peacekeeping budget.
Steve Taravella, WFP's Washington DC-based communications cfficer, told The Independent that though Mr Trump's rhetoric is concerning, it will likely not negatively affect WFP's anti-famine efforts.
"There has always strong bipartisan support in Congress for food aid," he said.
In fact, Congress recently approved $990 million in this year's spending bill - valid until October 2017 - for general food aid.
Mr Taravella said though WFP is "extraordinarily grateful" for US support the problem is now how quickly the aid reaches the organisation.
"People are dying today not three months from now."
He explained that WFP is ready and able to deploy aid, in any form, as soon as they receive it.
South Sudan situation

Show all 7
Among other worries is if the aid will come in the form of cash or food rations, which agencies and programmes that aid will go to, and which countries will be designated as aid recipients.
Mr Taravella said the US Agency for International Development (USAID) will determine the details, but they have yet to do so.
A new head for the State Department sub-agency was only recently appointed by Mr Trump, amid talks of reorganisation and proposed cuts to the tune of nearly 28 to 31 per cent of the $50 billion budget.
Mr Taravella said the WFP has weathered storms like this before, however. "Even in the best of times, the US budget can be unpredictable," Mr Taravella said, adding that the US is not the only country the agency has appealed to for increased funds.
The $990 million is only a temporary stop-gap to a problem that requires $2bn this year alone, let alone additional funds to make sure famine conditions do not return and persist. But, Mr Taravella explains, food aid discussions are cannot be "in the abstract. This is very real...and dire."
"We're focused on on trying to get the job done, not the political" circumstances, he said.
In 2014, WFP was faced with another urgent plea for funds to help millions of refugees and internally displaced people.
The organisation was forced to place nearly half a million people on meager 850-calorie "diets" in UN-run camps in South Sudan, Central African Republic, and Chad due to funding shortages.
"None of us like to do this," Mr Taravella said but it has become a new norm for the agency as numbers of refugees and internally displaced people surge due to increased conflicts in Yemen, Nigeria, South Sudan, and Somalia in particular.
The intense heat and impending rainy season will likely make matters worse.
WFP also has to limit the number of people it can support because of limited food rations.
Mr Beasley said that before agreeing to take the job, he had canvassed Congressional leaders to gauge their commitment to WFP, and found it "tremendous." However, he said he expects the plea for funds in Mr Trump's 2018 budget "to be a dogfight."
Register for free to continue reading
Registration is a free and easy way to support our truly independent journalism
By registering, you will also enjoy limited access to Premium articles, exclusive newsletters, commenting, and virtual events with our leading journalists
Already have an account? sign in
Register for free to continue reading
Registration is a free and easy way to support our truly independent journalism
By registering, you will also enjoy limited access to Premium articles, exclusive newsletters, commenting, and virtual events with our leading journalists
Already have an account? sign in
Join our new commenting forum
Join thought-provoking conversations, follow other Independent readers and see their replies