Trump's approval rating reaches over 40% in wake of hurricanes and bipartisan deals
The President had previously hit a historically low approval rating following his response to the violence in Charlottesville, Virginia 
Mythili Sampathkumar
New York
Friday 22 September 2017 15:34 Comments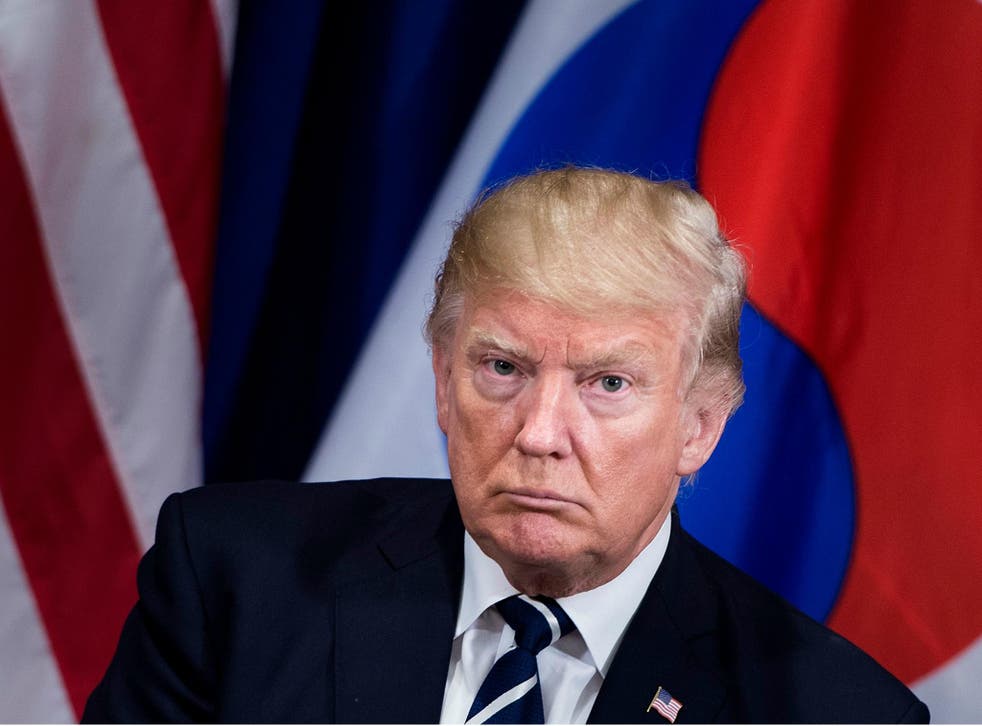 Donald Trump's rating has jumped above 40 per cent - an approval bump he apparently earned in the wake of his handling of recent hurricanes and his securing of bipartisan deals.
An NBC/Wall Street Journal poll suggests the President has a job approval rating of 43 per cent, three points higher than the previous month.
An overwhelming majority of Americans - to the tune of 71 per cent - approved of Mr Trump's deal with Congressional Democrats Nancy Pelosi and Chuck Schumer to provide hurricane relief to Texas and Florida as well as avoiding a government shutdown for at least three more months.
Mr Trump recently took trips to storm ravaged areas of Texas and Florida, expressed his willingness to use the US military against North Korea, and vowed to end the Deferred Action on Childhood Arrivals programme that protects people who were brought to the US illegally as minors from deportation.
After a dinner with Ms Pelosi and Mr Schumer, Mr Trump appeared to at least soften his stance on the Obama-era immigration programme and angered some of his base.
That suggests at least some of his support in this latest poll is from people not traditionally labeled as Trump supporters.
However, the good news for the Trump team was limited to that.
Arnold Schwarzenegger launches scathing attack on Donald Trump approval ratings
Mr Trump appears to be unable to shake the negative perception of his response to the violence in Charlottesville that left a yuong woman dead, with only 20 per cent of Americans approving of it.
Two-thirds of respondents felt the President has accomplished "very little" or "only some," with 33 per cent saying they felt he got "great deal" or a "fair amount" done while in office these last nine months.
For reference, at this point in his presidency in 2009, Barack Obama's splits were 40 per cent and 59 per cent, respectively.
World news in pictures

Show all 50
While his base of supporters and others appreciate the bipartisan deals, Mr Trump blaming his Republican colleagues for inaction has had a negative impact on their ratings.
House Speaker Paul Ryan has a 40 per cent unfavourability rating, while Senate Majority Leader Mitch McConnell - who has received much of Mr Trump's ire on the Obamacare replacement bill - has just an 11 per cent favourability rating.
For Mr McConnell, just 13 per cent of Republican Trump supporters view him favourably.
The numbers for Mr McConnell and Mr Ryan point to an overall Republican dissatisfaction with their own party, just 36 per cent happy with the job their elected leaders are doing.
A Senate vote is scheduled for early next week and the poll showed that the country appears to be fairly evenly split on the issue of a single-payer system: 47 per cent favour it, while 46 per cent oppose it.
The real test for GOP voters and the party leadership will be when the tax reform proposal is presented soon.
Of those polled, 37 per cent say that American business do not pay a "fair share" of taxes and 42 per cent say they do not want taxes raised.
However, 40 per cent of people said they felt they pay more than their share of individual taxes.
A Politico/Morning Consult poll also released earlier this week gave Mr Trump a 43 per cent approval rating.
Register for free to continue reading
Registration is a free and easy way to support our truly independent journalism
By registering, you will also enjoy limited access to Premium articles, exclusive newsletters, commenting, and virtual events with our leading journalists
Already have an account? sign in
Join our new commenting forum
Join thought-provoking conversations, follow other Independent readers and see their replies