Donald Trump to open up offshore drilling in Arctic, Atlantic and Pacific
The president could allow drilling in the Atlantic, Pacific and Arctic oceans
Clark Mindock
New York
Friday 28 April 2017 14:36 Comments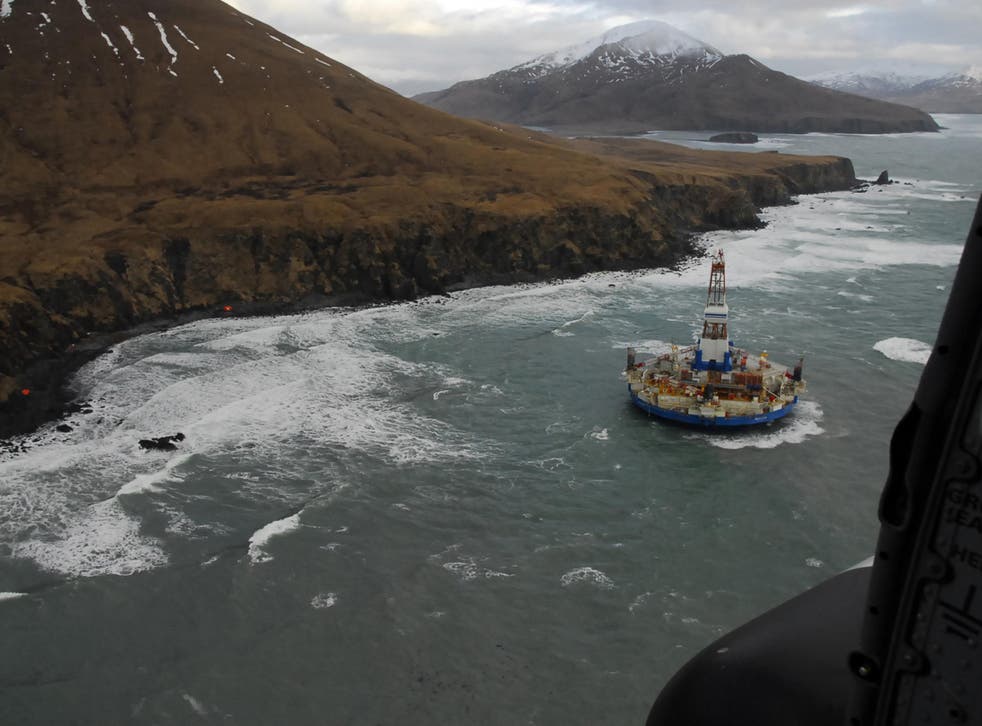 President Donald Trump is expected to sign another executive order to greatly expand offshore drilling in parts of the Atlantic, Arctic, and Pacific oceans just before his first 100 days in the White House come to a close.
The expected action would essentially set the course for a reversal of restrictions put into place by former President Barack Obama, a move that has already angered environmentalists and cheered the oil and gas industry up.
"Past administrations have been overly restrictive of offshore energy exploration," a White House official said. The order "directs a review of the locations available for offshore oil and gas exploration and of certain regulations governing offshore oil and gas exploration."
The executive order will instruct the Interior Department to take a look at the policies put into place by Mr Obama, who signed off on the most recent drilling lease period that ends in 2022 in November, restricting offshore drilling on the entire Atlantic and much of the Arctic Ocean.
The expected order is just the latest in several attacks on Mr Obama's climate change and environmental policies. He signed an executive order asking the Interior to consider whether it should eliminate or modify dozens of national monuments made by Mr Obama to protect the environment. Mr Trump has also ordered the Environmental Protection Agency to review Mr Obama's Clean Power Plan, which was a major component of his effort to curb American greenhouse gases.
"We're going to look at everything," Interior Secretary Ryan Zinke told reporters earlier this week. "A new administration should look at the policies and make sure the policies are appropriate."
The controversial orders Donald Trump has already issued

Show all 9
Environmentalists said that the risks involved in offshore drilling, which were put on full display by the 2010 Deepwater Horizon oil spill in the Gulf of Mexico, weren't worth the risk of further exploration.
"It is very clear that the communities on the Atlantic and Pacific coasts don't want and don't need offshore leasing or drilling," Mike LeVine, a senior Pacific counsel for the conservation group Oceana, told Bloomberg. "It is equally clear that President Trump is prioritising politics and corporate interests ahead of our coastal communities and good stewardship of our ocean resources."
But the oil and gas industry is ready and willing to drill in new areas. Oil prices are at a relatively low point right now, at $50 a barrel, but rising prices could make new exploration profitable again. "We've been advocating for expanded access to domestic energy resources for years," Erik Milito, the upstream director at the American Petroleum Institute, told the Hill. "When you want to pursue an effective, long-term energy strategy, it's important to make sure that you're creating opportunities through a predictable, long-term schedule so that the industry can determine whether we have the additional resources that can help fuel our economy."
Register for free to continue reading
Registration is a free and easy way to support our truly independent journalism
By registering, you will also enjoy limited access to Premium articles, exclusive newsletters, commenting, and virtual events with our leading journalists
Already have an account? sign in
Join our new commenting forum
Join thought-provoking conversations, follow other Independent readers and see their replies