Trump supporter stabs and deflates giant baby balloon at protest so 'our beloved president didn't have to see this disrespect'
'It is rare to get that kind of anger,' says demonstrator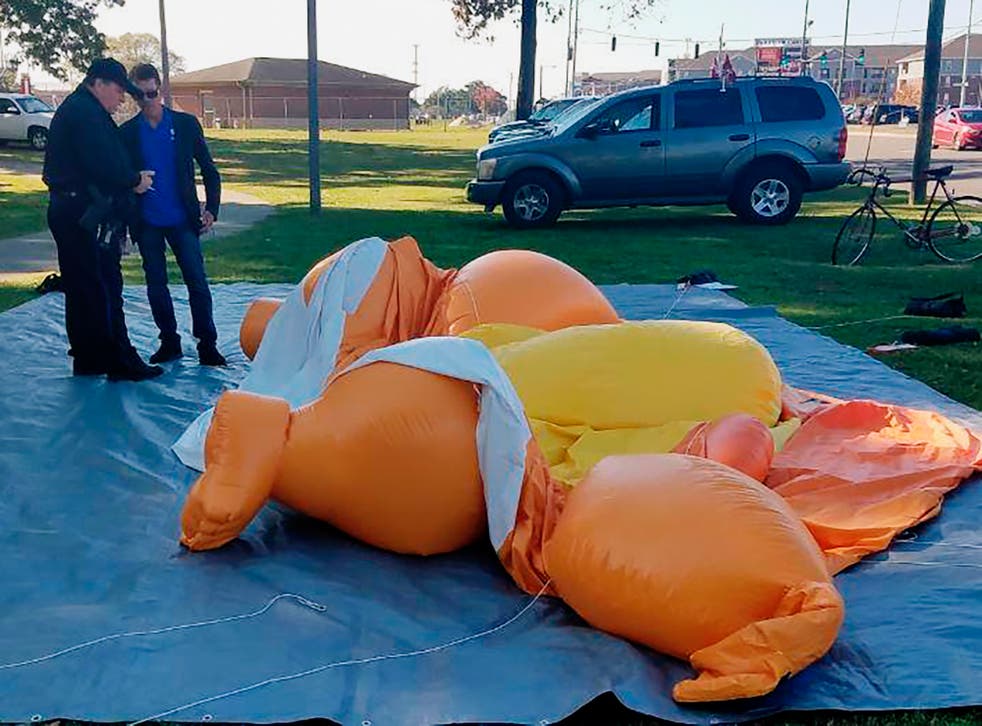 A baby Trump protest balloon was stabbed and deflated by a man thought to be a supporter of the president during his visit to Alabama.
The man ran at the inflatable and cut a 2-metre gash in its back, said Jim Garvin, an organiser for the protest movement.
Hoyt Deau Hutchinson has been charged with criminal mischief, Tuscaloosa Police Department said.
The large balloon depicting an angry-looking and orange Mr Trump wearing a nappy, often flown by anti-Trump demonstrators during visits, was flying in a nearby park while the president was watching a University of Alabama football game.
Mr Hutchinson had posted a video on Facebook beforehand saying he intended to pop the balloon, according to local media.
Trump toilet paper, baby blimb and Corbyn - UK protests Trump

Show all 23
He has also posted a link to an online fundraising page on the GoFundMe website titled "Restitutions for Baby Trump Stabber", which has raised over $16,000 (12,500) for "legal fees and restitutions for Hoyt".
"Hoyt made sure our beloved president didn't have to see this disrespectful balloon on the streets," the appeal said.
Baby Trump first rose over London when local activists brainstormed a way to troll Mr Trump. Now several groups raise money to bring balloon replicas around the US.
Robert Kennedy, a volunteer "baby sitter" who brought the balloon to Tuscaloosa, Alabama, said the balloon immediately started to sag when cut.
The day had been going mostly smoothly, Mr Kennedy said. Some people yelled "Trump 2020" as they passed while others posed for selfies with the balloon.
He said a man sidled up on the back of the balloon and attacked it with a knife.
The man attempted to flee but was arrested and held on a $2,500 (£2,000) bond, police said.
Mr Kennedy said he has accompanied Baby Trump to many appearances and never witnessed an attack on the balloon, although someone did stab a Baby Trump balloon in London earlier this year.
"It is rare to get that kind of anger," he said.
Thousands of pounds were raised to bring the mocking balloon to Alabama and set it up for the president's visit, organisers said.
Associated Press contributed to this report
Register for free to continue reading
Registration is a free and easy way to support our truly independent journalism
By registering, you will also enjoy limited access to Premium articles, exclusive newsletters, commenting, and virtual events with our leading journalists
Already have an account? sign in
Register for free to continue reading
Registration is a free and easy way to support our truly independent journalism
By registering, you will also enjoy limited access to Premium articles, exclusive newsletters, commenting, and virtual events with our leading journalists
Already have an account? sign in
Join our new commenting forum
Join thought-provoking conversations, follow other Independent readers and see their replies