'No one really knows where their children are': Migrant families struggle to reunite after Trump border order ending separations
Advocates say no policy is in place to bring together families separated under 'zero tolerance' policy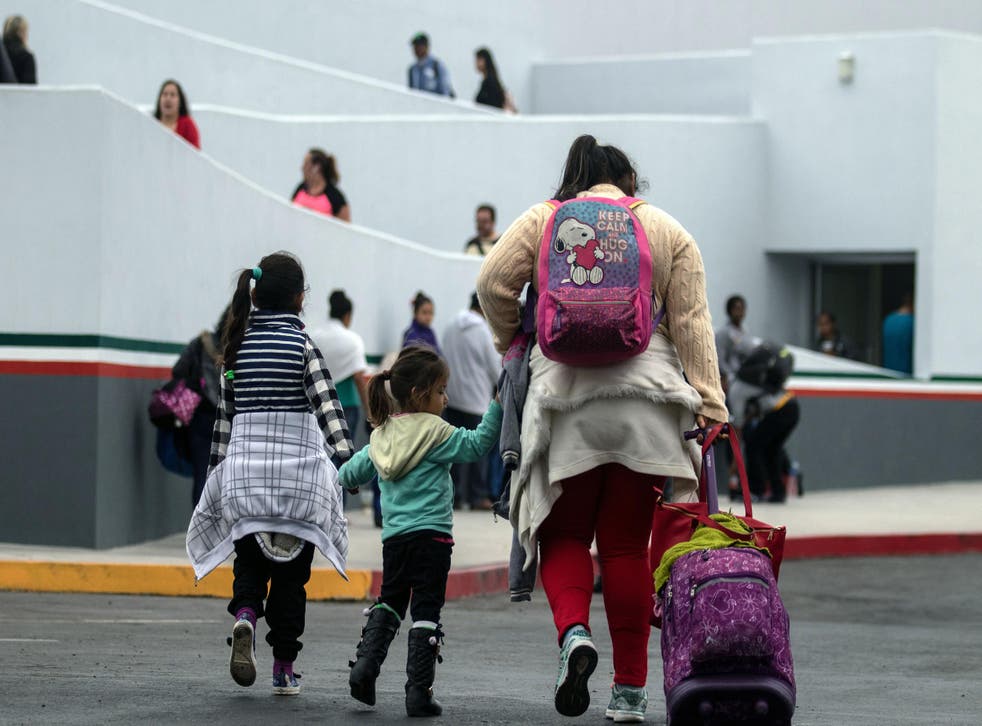 Even after President Donald Trump signed an executive order proclaiming the end of family separations at the border, the migrant parents detained under his administration's "zero tolerance" immigration policy say they are still struggling to find their children.
The Department of Homeland Security (DHS) said this weekend that about 522 of the more than 2,000 children separated from their parents in recent weeks had been reunited with their families. The Department of Health and Human Services (HHS) was also creating an "unaccompanied children reunification task force" to aid in the effort, Politico reported on Monday.
But immigrants' rights organisations said they were still struggling to locate the children who were placed in HHS's care while their parents faced charges for crossing the border illegally. Texas charity Annunciation House told local news outlets they had taken in 32 migrant parents whose charges had been dropped in recent days. According to the charity, the parents were given only given a 1-800 number to assist in locating the children taken from them at the border.
"We do not know exactly the people that are coming to us [and] we do not know where their children are," Taylor Levy, the organisation's legal coordinator, told local news station KVIA. "No one really knows where their children are necessarily, except for the government, somehow."
The confusion for families has been compounded by President Trump stepping up his rhetoric against immigrants. Over the weekend he said that immigrants should be deported without "judges or court cases" to stop people being able to "invade" the US.
The White House on Monday defended the president from accusations of trying to get rid of legal process. White House press secretary Sarah Sanders said removing illegal immigrants from the United States without giving them an opportunity to go before a judge does not mean they would not be afforded due process rights.
"Thousands of illegal aliens are removed every month without seeing an immigration judge as a result of procedures in current law, including voluntary removal and expedited removal," Ms Sanders said at a news briefing.
Immigrations and Customs Enforcement (ICE) said on Saturday that it had dedicated the Port Isabel Service Processing Centre as a reunification centre for separated families. But Senator Elizabeth Warren, who spent 2.5 hours at the detention facility on Sunday night, told reporters that ICE officials could not identify a plan for reunifying families. In fact, she said, officials told her the facility was not a reunification centre at all.
"The [immigration] officials made clear … there will be no children brought here. There will be no families brought together in this place," Ms Warren said. "All that's happening here is the detention of mothers and fathers who lost their children."
Trump's US immigration policy explained
Ali Rahnama, an immigration attorney helping families at the border, told NBC that ICE had no database of information on where the separated children had been sent, and were instead asking advocacy groups for that information.
Leah Chavla, a policy adviser at the Women's Refugee Commission, said she, too had heard of little being done to reunite families, despite the government's claim that it was working to bring them together.
"I still don't see any policies or procedures outlined that describes how it will happen on a systematic basis," she told The Independent, adding: "The onus is still on the separated persons themselves to find the other person."
Ms Chavla said she had also heard reports of migrant parents abandoning their asylum claims in the US in order to be released and reunited with their children sooner – even if it meant being deported. The reunification process, she said, "is singularly focused on removal – unification to remove, not so that they can pursue their immigration case".
HHS said in a fact sheet released on Saturday that "the United States government knows the location of all children in its custody and is working to reunite them with their families".
'Families belong together' protests over Trump immigration policy

Show all 8
Family separations spiked under the Trump administration's "zero tolerance" policy, which required all adults caught crossing the border illegally to be detained for prosecution. Children caught travelling with these adults were placed in the care of HHS, and either sent to one of their "tender age" shelters or placed with sponsor families across the country.
Mr Trump declared the end of family separations in an executive order last week, ordering migrants facing prosecution to be detained with their family members. DHS officials said the order effectively killed the zero tolerance policy. The American Civil Liberties Union has since filed a lawsuit claiming the separation of migrant children from their families is unconstitutional, and claiming Mr Trump's executive order on the matter contains "explicit loopholes". The organisation is seeking a preliminary injunction requiring migrant families to be kept together.
Screaming children heard crying for parents at US detention centre after being separated at border under Trump policy, in distressing audio recording
On Monday, the head of US Customs and Border Protection said he has stopped referring cases involving children for prosecution. But at her White House press briefing, Ms Sanders said stopping the referrals is a temporary solution. She says it will only last a short amount of time because: "We're going to run out of space, we're going to run out of resources to keep people together." Ms Sanders called on Congress to change immigration laws.
Congressional Republicans are considering legislative fixes to the separation problem on Monday, after failing to pass several broader immigration bills last week. Representative Mark Meadows told Fox News that Republicans were still divided on the larger issues, but were eager to present narrower legislation ending family separations.
Representative Michael McCaul, however, said Mr Trump was "100 per cent" behind Republican efforts to pass a broader immigration bill in the House. Mr McCaul said on "Fox News Sunday" that he had spoken to the White House, which confirmed its support for the bill. Mr Trump had said days earlier that Republicans should "stop wasting their time on Immigration until after we elect more Senators and Congressmen/women in November".
On Monday, the president suggested immigrants should be deported at the border without ever seeing an immigration judge. "If this is done, illegal immigration will be stopped in it's[sic] tracks – and at very little, by comparison, cost," he tweeted.
Meanwhile, well-wishers sent so many care packages to migrants at an asylum-seeker rest center in McAllen, Texas that the facility had to rent additional storage space, according to the Associated Press.
One note included in one of the packages read: "As someone who has a dad who would do anything for their child I hope this helps a few of the dads that come through your doors with the same ideas."
Join our new commenting forum
Join thought-provoking conversations, follow other Independent readers and see their replies