Trump administration scraps Obama's campus sexual assault rules
Education Secretary Betsy DeVos wants to 'treat all students fairly' under a new policy 
Mythili Sampathkumar
New York
Friday 22 September 2017 17:27 Comments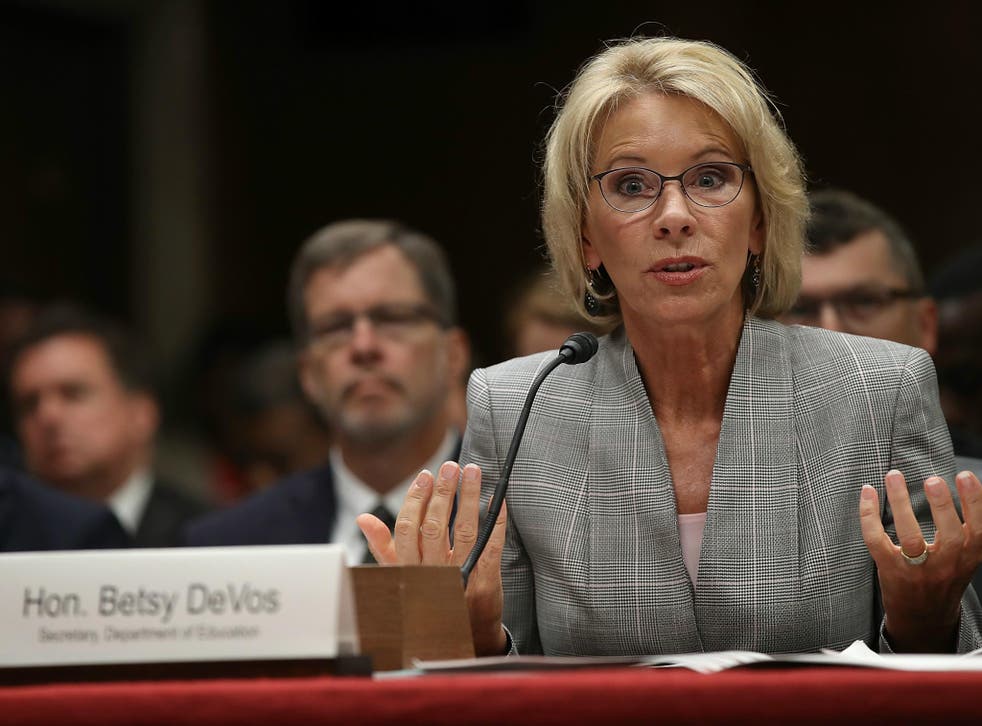 Trump administration Education Secretary Betsy DeVos has rescinded an Obama-era policy on campus sexual assault - a move campaigners say may make it harder for victims to report attacks.
"As I said earlier this month, the era of rule by letter is over," Ms DeVos said, adding that rights of the accused should be balanced with victims' rights.
The Obama administration's policies essentially put Title IX, the federal law banning gender discrimination in education, at the centre and prompted schools to take responsibility for sexual assault cases.
It also lowered the standards victims needed to meet in order to prove sexual assault as well as increased reporting requirements for schools.
Ms DeVos had indicated this would be her decision last week when speaking at George Mason University's Law School when she said that "through intimidation and coercion, the failed system has clearly pushed schools to overreach."
"Lady Justice is not blind on campuses today," added Ms DeVos, adding controversy to the issue. Ms DeVos had met with men's rights activists and accused rapists in Washington this past July.
The US Department of Education has opened a "notice-and-comment" period while a formal review of campus adjudication processes is under way.
Ms DeVos claimed, in a statement issued by the agency, that the Obama administration "ignored" the legal procedure of taking into account "comments from stakeholders and the public during the rulemaking process" in its emphasis on campus obligations under Title IX.
The comments will be collected in a new question-and-answer format and in the interim the agency will revert back to a policy established in 2001 under the George W Bush administration as well as a "Dear Colleague" letter in 2006, a mechanism by which a member of a legislative body explains a policy and asks for support.
Betsy DeVos refuses to say if federally funded schools will be punished for LGBTQ discrimination
Activists said the move will hurt people who seek to report attacks.
Michael Dolce, a lawyer who specialises in representing victims of school sexual assaults, told The Independent: "The administration's actions today will discourage victims to report sex crimes, already the most under-reported crime in our society, while encouraging serial rapists, specifically date rapists".
Mr Dolce also said the policy change would "encourage colleges and universities to reduce, rather than increase, efforts to combat sex crimes," efforts he said were currently "substandard and ineffective on numerous campuses across the country".
Under Mr Obama, the Education Department's Office for Civil Rights issued a 'Dear Colleague' letter in 2011 outlining Title IX obligations.
Though, the 2006 letter to which Ms DeVos referred also said that there is a "longstanding legal authority establishes that harassment of students can be a form of sex discrimination covered by Title IX."
Her objections appear to be that the 2011 letter were not accompanied by the question-and-answer from "stakeholders," but the 2006 letter did open up a comment period.
She said in the statement that the 2011 letter and even a 2014 comment period "created a system that lacked basic elements of due process and failed to ensure fundamental fairness," however failed to describe what "fairness" entails in this situation.
According to the agency's statement, "stakeholders" includes "survivors, campus administrators, parents, students and experts on sexual misconduct."
Whether Ms DeVos earlier comments will be swayed by these stakeholders remains to be seen.
According to the Rape, Abuse & Incest National Network (RAINN), approximately 11.2 per cent of female undergraduate and graduate students on US campuses "experience rape or sexual assault through physical force, violence, or incapacitation".
Among undergraduates 23.1 per cent of females and 5.4 per cent of males experience the same. Only 20 per cent of female victims actually report the crime to law enforcement, but rules on campus security reporting to local police are murky in many places.
Register for free to continue reading
Registration is a free and easy way to support our truly independent journalism
By registering, you will also enjoy limited access to Premium articles, exclusive newsletters, commenting, and virtual events with our leading journalists
Already have an account? sign in
Join our new commenting forum
Join thought-provoking conversations, follow other Independent readers and see their replies