National Guard authorised to use lethal force at Capitol as they prepare for potential inauguration protests
Thousands of troops with lethal weapons will be guarding the inauguration as threats of pro-Trump demonstration and attacks intensify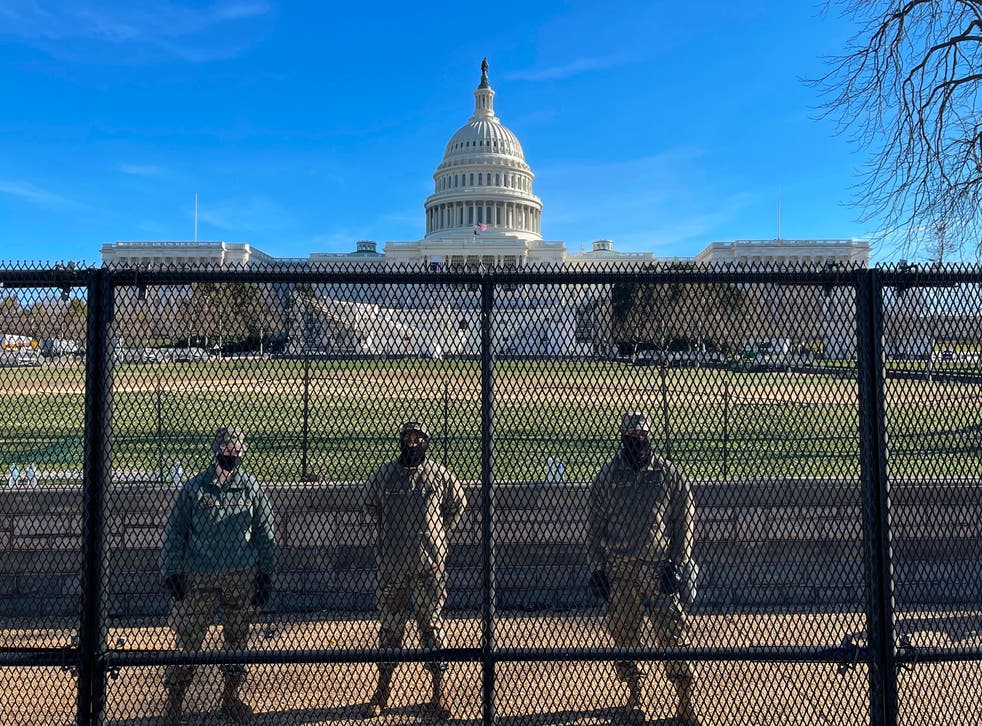 Troops deployed in Washington DC ahead of possible pro-Trump demonstrations during the inauguration week have been permitted to use lethal weapons, the national guard headquarter has said in a statement.
"On January 12, 2021, National Guardsmen were given the authorisation to be armed in support of the US Capitol Police to protect the US Capitol and individual members of Congress and their staff," the statement read.  
CNN quoted a statement from Captain Chelsi Johnson, spokesperson for the DC National Guard, who confirmed that the request for armed guards came from federal authorities and was approved by army secretary Ryan McCarthy, who oversees DC Guard deployments since the district is not a state.
"National Guard members are postured to meet the requirements of the supported civil authorities, up to and including protective equipment and being armed if necessary," Mr Johnson told CNN.
Earlier, a troop of 15,000 national guards was deployed in the DC to ensure the security around the Biden-Harris inauguration on 20 January, the chief of the National Guard Bureau, General Daniel Hokanson, told media on Monday. According to media reports, an additional 5000 troops will be added before the inauguration.
Security has been bolstered after intelligence agencies alerted that several pro-Trump demonstrations could again take place before the inauguration. A social media analysis by NBC News shows more than a dozen flyers are circulating online, advertising pro-Trump rallies at state capitols. "Freedom is a right," one flyer read; "Refuse to be silenced," said another.
Earlier, ABC News reported a memo sent by FBI to law enforcement agencies across the country warning about possible armed protests at all 50 state capitols starting from Saturday and at US Capitol from Sunday.
There are also reports that the units have been told to prepare for the potential use of improvised explosive devices (IEDs) by people plotting to attack the Capitol in the days around the inauguration.
Politico cited two guardsmen briefed this week, who were told that IEDs planted last week at the Republican National Committee and the Democratic National Committee headquarters were not thought to be an isolated incident.
The security in the Capitol was also ramped up with metal detectors and fencing around the walls. The response to the violence on 6 January was highly criticised as several pictures showed protestors roaming around the Capitol in presence of the 2,300 strong police guarding the building. The Capitol police department said it got overpowered by the number of protestors. An investigation has now been lodged to understand the security lapses.
According to Reuters quoting congressional aides, US Congressional Intelligence and Homeland Security oversight committees are going to be looking into why federal and local law enforcement agencies did not pay closer attention to a warning the day before pro-Trump rioters stormed the Capitol.
Join our new commenting forum
Join thought-provoking conversations, follow other Independent readers and see their replies