Trump appointee told official told not to condemn white nationalists after Charlottesville riots, emails show
Trump blamed 'both sides' for violence at rally organised by far-right groups, which saw white supremacist kill counter-protestor with a car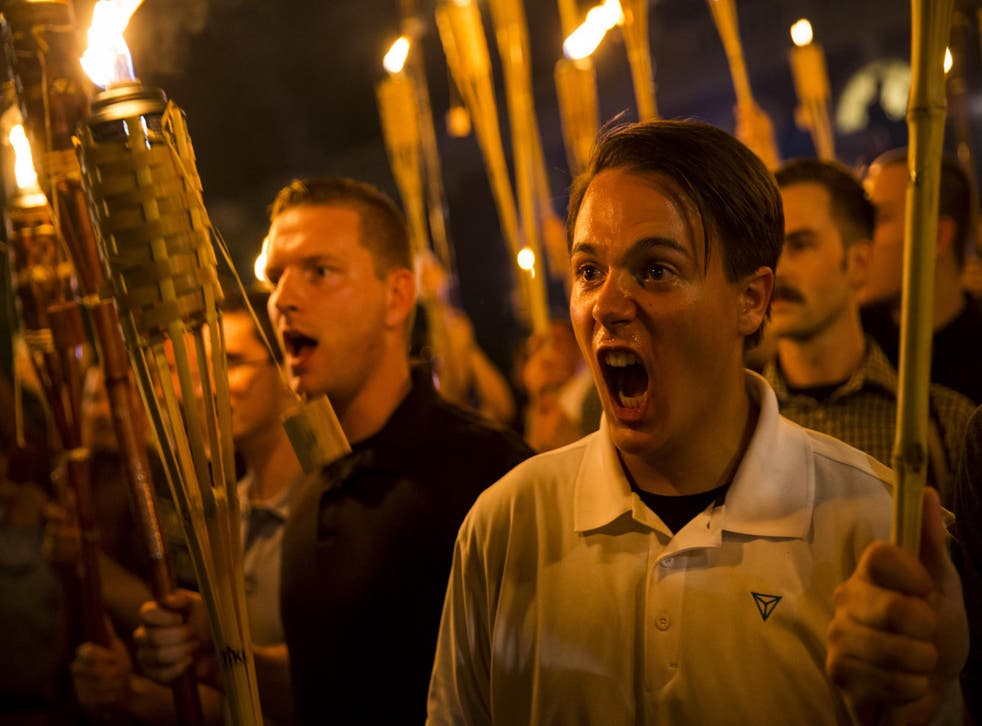 A top Donald Trump appointee at the Department of Veterans Affairs (VA) reportedly told the agency's chief diversity officer not to condemn white supremacists after the violent rally in Charlottesville, according to new emails obtained by the Washington Post.
The exchange between Georgia Coffey, a nationally recognised expert in workplace diversity and race relations, and John Ullyot, who remains VA's chief communications official, occurred after Mr Trump blamed "many sides" for the violence.
The president did not single out the white nationalists and neo-Nazis who rallied there.
One woman was killed and dozens were injured in the August 2017 protest, which began over the city's plan to remove a statue of Confederate General Robert E Lee from a local park and ended when a car plowed into a crowd of anti-racism protesters.
VA's secretary at the time, David Shulkin, made headlines that week when he appeared to break with Mr Trump, telling reporters the violence in Charlottesville "outraged" him.
Ms Coffey, a career senior executive at VA, pressed the agency's leaders to issue a statement making it clear that VA stood against such a "repugnant display of hate and bigotry by white supremacists, neo-Nazis, and the Ku Klux Klan," according to the emails.
The emails were provided to the Washington Post by the nonprofit watchdog group American Oversight, which obtained them via the Freedom of Information Act.
The correspondence sheds new light on the politically delicate decisions federal agencies faced as officials sought to balance the need to address employee concerns with a desire not to upset the White House.
A statement from VA leaders was necessary, Ms Coffey wrote in one email to Mr Ullyot, because the agency's workforce was unsettled by the uproar caused by the Charlottesville violence.
Minorities make up more than 40 per cent of VA's 380,000 employees, the federal government's second-largest agency.
World news in pictures

Show all 50
Mr Ullyot told Ms Coffey to stand down, the emails show. A person familiar with their dispute, who spoke on the condition of anonymity, told the Washington Post that Mr Ullyot was enforcing a directive from the White House.
At the time officials were scrambling to contain the fallout from Mr Trump's comments. They said the White House did not want government officials to call further attention to the controversy.
VA spokesman Curt Cashour said the agency received no such guidance from the White House.
Ms Coffey, who declined to comment, retired from VA shortly after the incident, frustrated with what she felt was a lack of support from the Trump administration, according to her former colleagues. She now works as senior manager for diversity and inclusion at Lockheed Martin.
Mr Ullyot, a seasoned media professional who worked on Mr Trump's campaign, is VA's assistant secretary for public and intergovernmental affairs. His exchange with Ms Coffey was respectful, and he noted that he was acting at Mr Shulkin's direction, according to his emails.
Mr Shulkin, who Trump forced out of the Cabinet post in March, and other officials were copied on the messages.
In response to a request seeking comment for this report, VA's current secretary, Robert Wilkie, issued a statement, which said: "John Ullyot is on VA team because he is committed to veterans and has spent a lifetime of exceptional service as a Marine and public servant."
Mr Ullyot referred questions to VA's public affairs office.
On 17 August, days after the Charlottesville violence, Ms Coffey - then deputy assistant secretary for diversity and inclusion - emailed public affairs.
She shared a draft of her statement and accompanying remarks, and requested help disseminating it to employees and the public.
Her remarks said the incident served "as a tragic reminder that our work in civil rights and inclusion is not finished". She called on VA employees to be mindful of federal anti-discrimination policies and the agency's commitment to diversity and inclusion.
The response from a staffer in public affairs said: "John Ullyot does not want to post the message, as the Secretary previously made statements in the news media on this topic earlier this week."
In an emotional statement the day before, at Mr Trump's private golf club in Bedminster, New Jersey, Mr Shulkin said he gave "my personal opinions as an American and as a Jewish American".
"And for me in particular, I think in learning history, that we know that staying silent on these issues is simply not acceptable," he added.
Other top administration officials echoed his sentiments.
Ms Coffey urged expediency, telling Mr Ullyot that she had sent the statement to Mr Shulkin and his chief of staff for their review, according to their email exchange.
Mr Ullyot then indicated that after consulting with Mr Shulkin, the secretary said that "we should all feel free to share our own personal views on the recent events... as he did''.
Charlottesville one year on

Show all 15
Mr Ullyot wanted to remove the statement's more incendiary language but told Ms Coffey she could keep the part that reminded employees of VA's "strong commitment" to equal employment opportunity and diversity, their emails show.
Ms Coffey told Mr Ullyot that she worried his edits would "dilute my message and fail to convey the sense of condemnation that I hope we all feel," the emails show.
She offered to remove Mr Shulkin's name from the statement, but Mr Ullyot told her that he and Mr Shulkin had agreed not to use it.
Mr Shulkin said in an interview that he does not recall his conversations with Mr Ullyot about how VA should respond to the incident.
"I've been pretty public about my opinions on the Charlottesville events . . . and of course I think all Americans should express their views," he said.
Ms Coffey's staff worried that she would get in trouble if she disregarded Mr Ullyot's guidance, according to other emails obtained through the Freedom of Information Act by the Project on Government Oversight, a watchdog group that first publicised the episode last year.
The staff suggested that she should tone down her remarks, but Ms Coffey declined. She posted the full remarks under her name in the monthly newsletter posted online by VA's diversity office. Agency officials removed it and reprimanded her. She retired soon after.
Mr Cashour said Shulkin had "dictated explicitly to John how he wanted this particular issue handled".
The secretary, Mr Cashour said, was "adamant that VA employees keep their personal views on the Charlottesville issue out of official VA communications, as Shulkin had done himself in public comments two days beforehand".
"John was simply ensuring that Coffey understood and followed Shulkin's guidance," he added.
The agency has grappled with issues surrounding race in recent years.
VA has long had an Office on Diversity and Inclusion to help improve race relations internally, and during the Obama administration appointed a senior official to travel around the country to set up conversations on race.
Support free-thinking journalism and attend Independent events
The official, John Fuller, retired last year, citing a lack of support from the Trump administration.
In October, a senior official in VA's Office of Small and Disadvantaged Business Utilisation was forced to remove a portrait of Nathan Bedford Forrest, a Confederate general and the Ku Klux Klan's first grand wizard, from his office in Washington after offending employees.
The official said he was unaware of Mr Forrest's affiliation with the hate group.
The same month, VA took down a placard outside a conference room in the same office that employees had named for Stonewall Jackson, another Confederate general.
Mr Cashour said officials were unaware the room had been named for Jackson and blamed a contractor employed by VA and the contractor's supervisor.
The contractor was instructed to take down the placard but had failed to do so, Mr Cashour said.
Washington Post
Register for free to continue reading
Registration is a free and easy way to support our truly independent journalism
By registering, you will also enjoy limited access to Premium articles, exclusive newsletters, commenting, and virtual events with our leading journalists
Already have an account? sign in
Register for free to continue reading
Registration is a free and easy way to support our truly independent journalism
By registering, you will also enjoy limited access to Premium articles, exclusive newsletters, commenting, and virtual events with our leading journalists
Already have an account? sign in
Join our new commenting forum
Join thought-provoking conversations, follow other Independent readers and see their replies