Trump accuses China of influencing elections amid escalating trade war
President lashes out after slapping tariffs on $200bn worth of Chinese goods
Emily Shugerman
New York
Tuesday 18 September 2018 20:47 Comments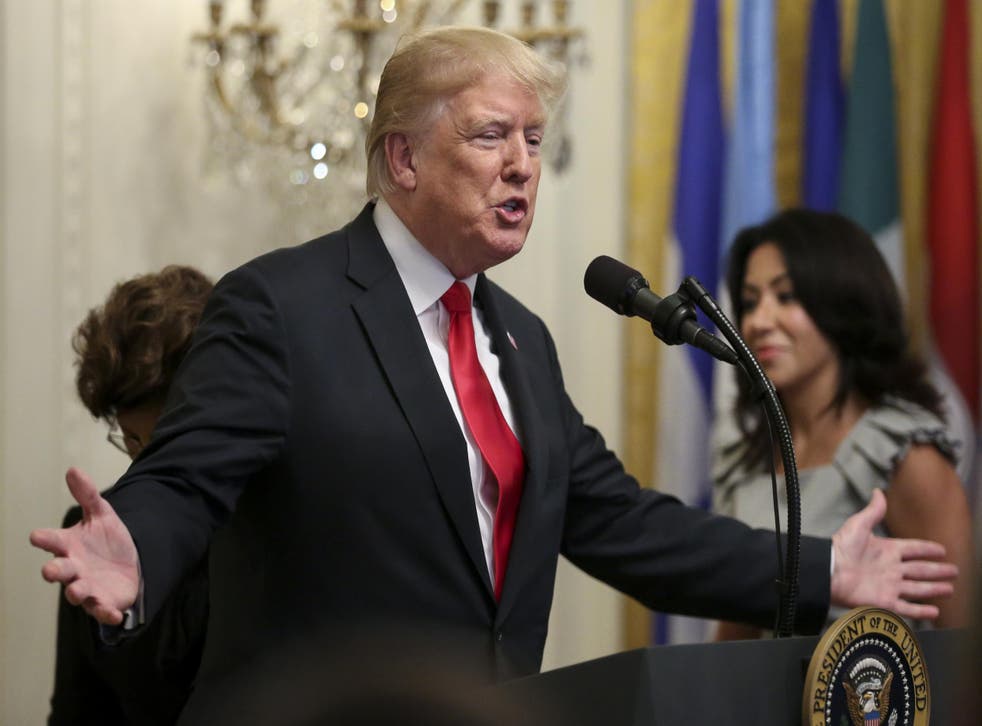 President Donald Trump has accused China of trying to influence US elections, just hours after slapping tariffs on $200bn worth of Chinese goods in an escalating trade war between the two countries.
"China has openly stated that they are actively trying to impact and change our election by attacking our farmers, ranchers and industrial workers because of their loyalty to me," the president tweeted.
He followed up with a threat of additional tariffs, adding: "There will be great and fast economic retaliation against China if our farmers, ranchers and/or industrial workers are targeted!"
The White House announced a 10 per cent tariff on $200bn worth of Chinese goods on Monday – in addition to the $50bn worth of Chinese imports the US sanctioned in July – as punishment for alleged intellectual property theft.
The tariffs now cover nearly half of all Chinese imports into the country, and are set to increase to 25 per cent next year.
Donald Trump says he's 'ready to go to 500' in tariff battle with China
As it it has done before, China responded to the latest announcement by hiking tariffs on $60bn worth of US imports. The more than 5,000 products affected include coffee, honey, and industrial chemicals, according to the Associated Press.
Beijing has previously targeted American agricultural products such as soybeans, wheat, and beef, which are produced primarily in Trump-supporting farm states. If the tariffs make residents of these states unhappy enough, experts say, voters could revolt against Mr Trump's party in the upcoming midterm elections.
While the long-term effects of the tariffs remain to be seen, a recent NBC News poll found that a plurality of registered voters in crucial midterm states like Illinois, Indiana, Missouri, Pennsylvania, Tennessee and Texas believe tariffs will increase the costs of products and harm the US economy.
Donald Trump's international Presidential trips

Show all 22
Some farmers had already started expressing their displeasure about the trade war this summer, even before the latest tariffs were announced. Iowa Agriculture Secretary Michael Naig said in July that China has already cancelled orders for products it usually imported from the state, such as soybeans.
"[Farmers] have spent a lot of time and energy to build this market, particularly China and soybean, and we'd like to see that effort pay dividends, not be wasted," he said at the time.
Mr Trump, however, seemed unconcerned by the situation this week.
"What China does not understand is that these people are great patriots and fully understand that China has been taking advantage of the United States on Trade for many years," he tweeted on Tuesday, referring to American farmers.
"They also know that I am the one that knows how to stop it," he added.
Register for free to continue reading
Registration is a free and easy way to support our truly independent journalism
By registering, you will also enjoy limited access to Premium articles, exclusive newsletters, commenting, and virtual events with our leading journalists
Already have an account? sign in
Join our new commenting forum
Join thought-provoking conversations, follow other Independent readers and see their replies