Trump says there has been 'no folding' in China trade negotiations after ZTE reversal
Mr Trump says that his comments about Chinese phone manufacturer ZTE were part of larger trade negotiations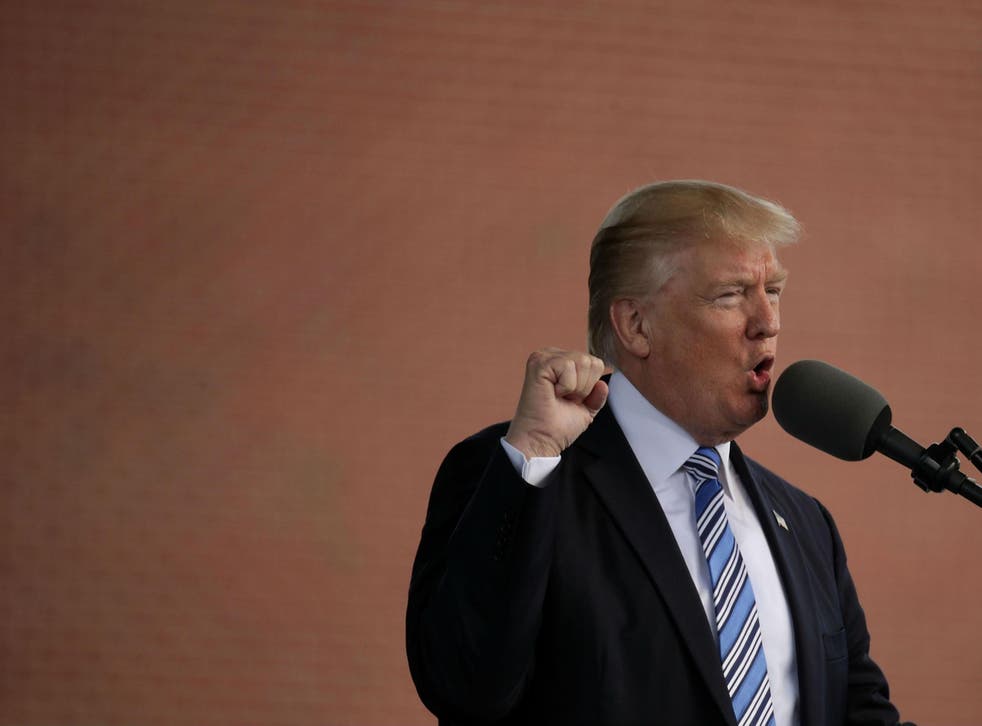 President Donald Trump says that there has been "no folding" in his trade negotiations with China after recently indicating his administration had reversed course on punitive measures it took against Chinese company ZTE just last month.
Mr Trump said that his ZTE comments were only a part of "the larger trade deal", and reasserted his frequent claim that China is taking advantage of the US economically.
"Nothing has happened with ZTE except as it pertains to the larger trade deal. Our country has been losing hundreds of billions of dollars a year with China," Mr Trump tweeted Wednesday. "We have not seen China's demands yet, which should be few in that previous US administrations have done so poorly in negotiating. Chin has seen our demands. There has been no folding as the media would love people to believe, the meetings haven't even started yet!"
"The US has every little to give, because it has given so much over the years. China has much to give!" Mr Trump continued.
Mr Trump's administration last month barred American companies from selling to ZTE for seven years after it was discovered that the company had been shipping American goods into Iran and North Korea in violation of economic sanctions. That move effectively crippled ZTE.
The president on Sunday tweeted about that situation, instructing the US Department of Commerce to find a way to help ZTE "get back into business, fast". Mr Trump then said that "too many jobs" were lost in China.
Donald Trump's first year: in pictures

Show all 29
"President Xi [Jinping] of China, and I, are working together to give massive Chinese phone company, ZTE, a way to get back into business, fast. Too many jobs in China lost. Commerce Department has been instructed to get it done!" Mr Trump tweeted Sunday.
Mr Trump followed up on Monday, noting that American manufactures sell parts to ZTE.
"ZTE, the large Chinese phone company, buys a big percentage of individual parts from U.S. companies," Mr Trump wrote. "This is also reflective of the larger trade deal we are negotiating with China and my personal relationship with President Xi."
Mr Trump's comments on ZTE caught Republican politicians in Congress off guard, who said that the president did not consult congressional leadership, nor the heads of the Senate Finance and Foreign Relations committees before floating the idea of lifting restictions.
"I'm kind of surprised, considering the decisions that were made previously on national security; it kind of surprises me, and I haven't figured it out," Senator Charles Grassley, a senior member on the Finance Committee, said. "The two opinions are kind of in conflict with each other."
Register for free to continue reading
Registration is a free and easy way to support our truly independent journalism
By registering, you will also enjoy limited access to Premium articles, exclusive newsletters, commenting, and virtual events with our leading journalists
Already have an account? sign in
Register for free to continue reading
Registration is a free and easy way to support our truly independent journalism
By registering, you will also enjoy limited access to Premium articles, exclusive newsletters, commenting, and virtual events with our leading journalists
Already have an account? sign in
Join our new commenting forum
Join thought-provoking conversations, follow other Independent readers and see their replies