Trump in China: US President does not take reporter questions at Xi Jinping 'news briefing'
Censors scrub social media posts about billionaire's visit as leaders dodge scrutiny 'at Chinese insistence'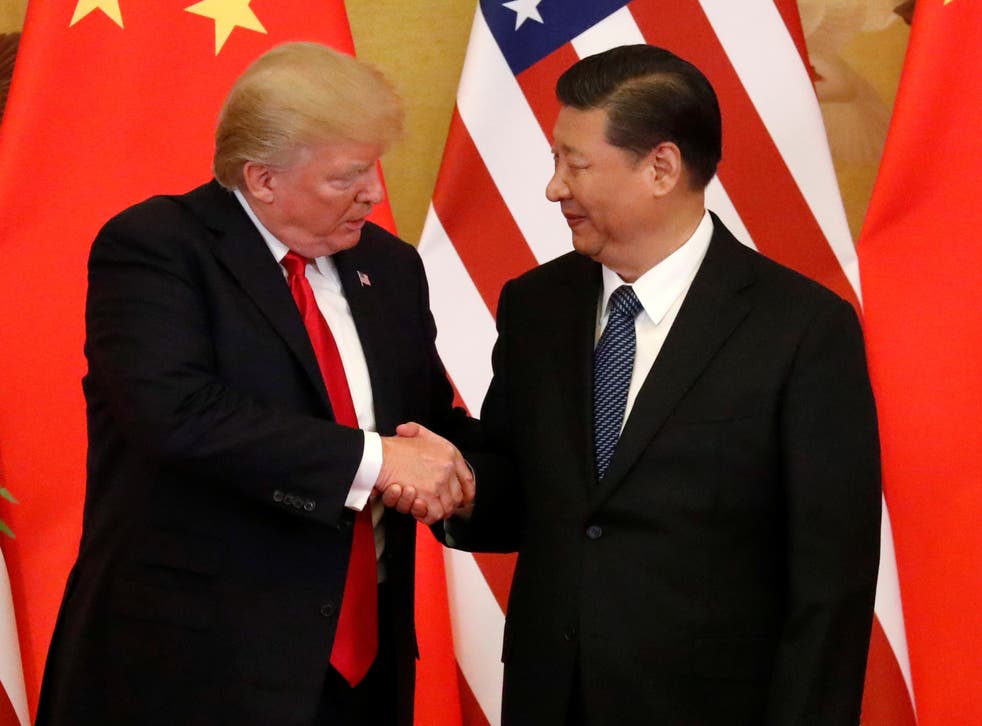 Donald Trump did not to take questions from reporters during a key press conference on his first state visit to China.
"It was at the Chinese insistence there were no questions today," Sarah Huckabee Sanders, the White House press secretary, later said.
Most of Mr Trump's predecessors – including Bill Clinton and George W Bush – agreed with their Chinese counterparts to take questions at official press conferences, according to CNN.
While he also did not take questions on his first China trip, Barack Obama's 2014 conference with Xi Jinping became particularly awkward when a US reporter asked the leaders about press freedom – a thorny issue in China's atmosphere of censorship.
Thursday's appearance by Mr Trump and Mr Xi was billed as a news briefing, and constituted a reduction of already minimal press interaction during previous visits by American leaders.
At the event Chinese companies signed contracts to buy American jetliners, soybeans and other goods.
The visit comes at a time when Mr Trump faces uncomfortable questions at home about Russia and possible gun control following deadly mass shootings.
Donald Trump says he doesn't blame China for 'taking advantage of America'
Mr Xi almost never takes questions from reporters.
Meanwhile, as Chinese television showed Mr Trump and Mr Xi visiting the imperial palace in Beijing, censors scrubbed comments about Mr Trump's visit from China's lively internet forums.
Reports by propaganda outlets including the ruling Communist Party's main newspaper, the People's Daily, dominated posts on the popular Twitter-like microblog service, Sina Weibo.
Donald Trump's least presidential moments so far...

Show all 30
The comments function on most posts, which can attract witty remarks from Chinese internet users, appeared to have been disabled or limited. Only a few dozen "carefully chosen" comments with positive messages were allowed.
According to Free Weibo, a site that tracks online censorship, posts that were deleted include humorous comments about the remarkable lack of traffic congestion in Beijing as Trump's motorcade passed Tiananmen Square.
Additional reporting by agencies
Join our new commenting forum
Join thought-provoking conversations, follow other Independent readers and see their replies