Trump breaks from White House line and says he was going to fire Comey 'regardless'
'The FBI has been in turmoil,' Mr Trump claims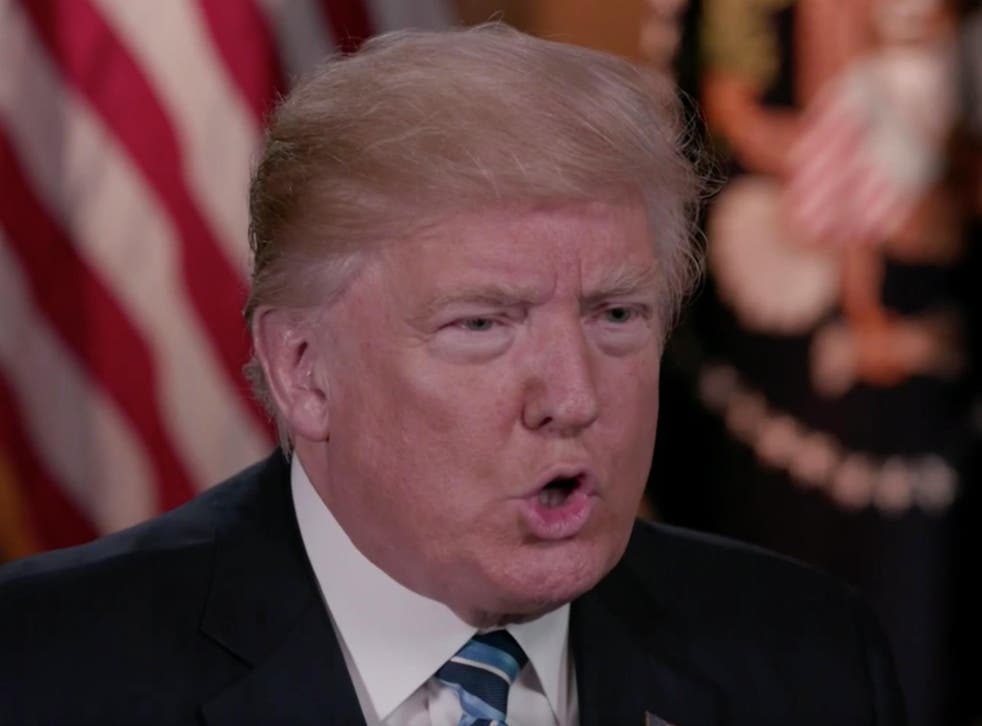 Donald Trump has said that he "was going to fire" former FBI Director James Comey regardless of input from the Department of Justice – contradicting claims from his own White House staff.
"Regardless of recommendation, I was going to fire Comey," Mr Trump, said in an interview that marked the president's most extensive comments since the firing of the former FBI Director, whom he referred to as a "showboat" and a "grandstander".
"The FBI has been in turmoil," Mr Trump claimed. "You know that, I know that, everyone knows that."
The comments, in an interview with NBC's Lester Holt, departed from the White House line: that a meeting with the Justice Department convinced Mr Trump to dismiss Mr Comey. Deputy White House Press Secretary Sarah Huckabee Sanders had claimed that advice and letters from two Justice Department officials swayed Mr Trump's hand.
"I think also having a letter like the one he received and having that conversation that outlined the basic, just, atrocities in circumventing the chain of command in the Department of Justice ... When he saw that, he had to speak up on that action, and I think that was the final catalyst," Ms Huckabee Sanders said earlier this week.
The letters, from Attorney General Jeff Sessions and Deputy Attorney General Rod Rosenstein, faulted Mr Comey for his handling of the investigation into former Secretary of State Hillary Clinton's private email server. In his letter, Mr Rosenstein said he "cannot defend" Mr Comey's handling of the situation, citing a "nearly universal judgment that he was mistaken."
In his dismissal letter to Mr Comey, the president said he had "accepted the recommendation" of Mr Rosenstein and Mr Sessions. A timeline of the decision compiled by the White House said Mr Trump was "strongly inclined" to dismiss Mr Comey before the Justice Department meeting, but not that he had already made the decision.
In the interview on Wednesday, however, Mr Trump said he was going to fire Mr Comey "regardless of recomendation." He emphasised that the director's firing was "my decision".
Democrats – and some Republicans – have accused Mr Trump of making his decision first, and going to the Justice Department for a justification second. Democratic senator Dianne Feinstein called the Justice Department letters a "political document" used to "justify a preordained outcome".
At a press conference on Wednesday, Ms Huckabee Sanders was asked whether Mr Trump had "already decided to fire James Comey" and "asked the Justice Department to put together the rationale".
"No," she replied simply.
Register for free to continue reading
Registration is a free and easy way to support our truly independent journalism
By registering, you will also enjoy limited access to Premium articles, exclusive newsletters, commenting, and virtual events with our leading journalists
Already have an account? sign in
Register for free to continue reading
Registration is a free and easy way to support our truly independent journalism
By registering, you will also enjoy limited access to Premium articles, exclusive newsletters, commenting, and virtual events with our leading journalists
Already have an account? sign in
Join our new commenting forum
Join thought-provoking conversations, follow other Independent readers and see their replies