Trump firing Comey is the beginning of a Nixon-like cover up, says editor who covered Watergate
Nixon resigned nine months after he fired a special prosecutor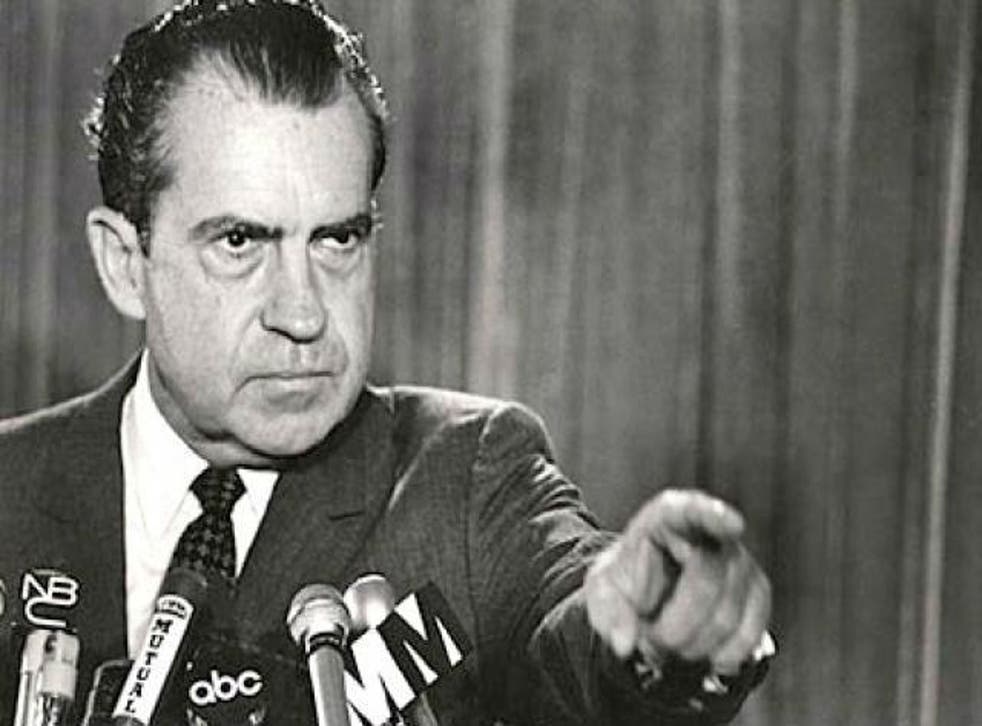 It is hard to keep up with the number of people likening what has played out in Washington to events more than four decades ago during the term of America's most notorious president.
One of them, Jeffrey Frank, a former senior editor of the New Yorker who had a close-up view of Richard Nixon's downfall and eventual resignation 44 years ago, believes the parallels are strong, and has said he believes that as with Nixon, Donald Trump's action in firing FBI Director James Comey carries the odour of "something being covered up".
The occasion Mr Frank has in mind is the so-called Saturday Night Massacre, carried out on October 20 1973, when Nixon fired Archibald Cox, a special prosecutor who was looking into the burglary that would build into the Watergate scandal. Until Mr Trump dispatched a four-line letter to Mr Comey informing him he had been fired, the four decades ago episode was the last occasion that a president had fired somebody who was investigating him.
"It is natural to compare the dismissal of Cox…to do the deed, to the firing of James Comey, the FBI director, carried out by Trump's Attorney General, the all-too-willing Jeff Sessions," he wrote.
"If only because the dismissals, in both cases, were accompanied by a powerful odour: of something being covered up, along with a fear that what Americans treasure most, the values contained in the Constitution, the idea that America is indeed a nation of laws, were being undermined by the very people entrusted with protecting those values."
Mr Frank pointed out that there were some differences. Whereas Mr Trump's action involved Mr Sessions and his deputy, Rod Rosenstein, as accomplices, Nixon's officials chose to fall on their swords rather than carry out his order to fire Mr Cox.
Why did Donald Trump fire James Comey?
In 1973, the then Attorney General, Elliot Richardson, resigned when he was informed that Mr Cox - whom he had appointed - was to be ousted. His deputy, William Ruckelshaus, also quit. Nixon's chief of staff, Alexander Haig, then ordered Robert Bork, the Solicitor General, to fire him.
World news in pictures

Show all 50
"In the Nixon era, the corruption, encouraged by the White House, was aimed at perceived enemies of the administration," wrote Mr Frank.
"In a time so short that it doesn't quite deserve to be called the Trump era, the current corruption includes possible attempts by a foreign power, Russia, to influence and subvert an American election. The odour this time includes the curious behaviour of Trump and others in reacting to reliable information that General Michael Flynn, Trump's national-security adviser, had lied about his pre-election contacts with the Russians."
He added: "Was Comey getting close to something more? That's a natural suspicion in a time when conspiracy theories, many of them promoted by Trump and his followers, have become so commonplace."
Register for free to continue reading
Registration is a free and easy way to support our truly independent journalism
By registering, you will also enjoy limited access to Premium articles, exclusive newsletters, commenting, and virtual events with our leading journalists
Already have an account? sign in
Register for free to continue reading
Registration is a free and easy way to support our truly independent journalism
By registering, you will also enjoy limited access to Premium articles, exclusive newsletters, commenting, and virtual events with our leading journalists
Already have an account? sign in
Join our new commenting forum
Join thought-provoking conversations, follow other Independent readers and see their replies