Donald Trump not under investigation by FBI over Russia ties, James Comey's testimony to reveal
Mr Trump had repeatedly said he was not the target of the probe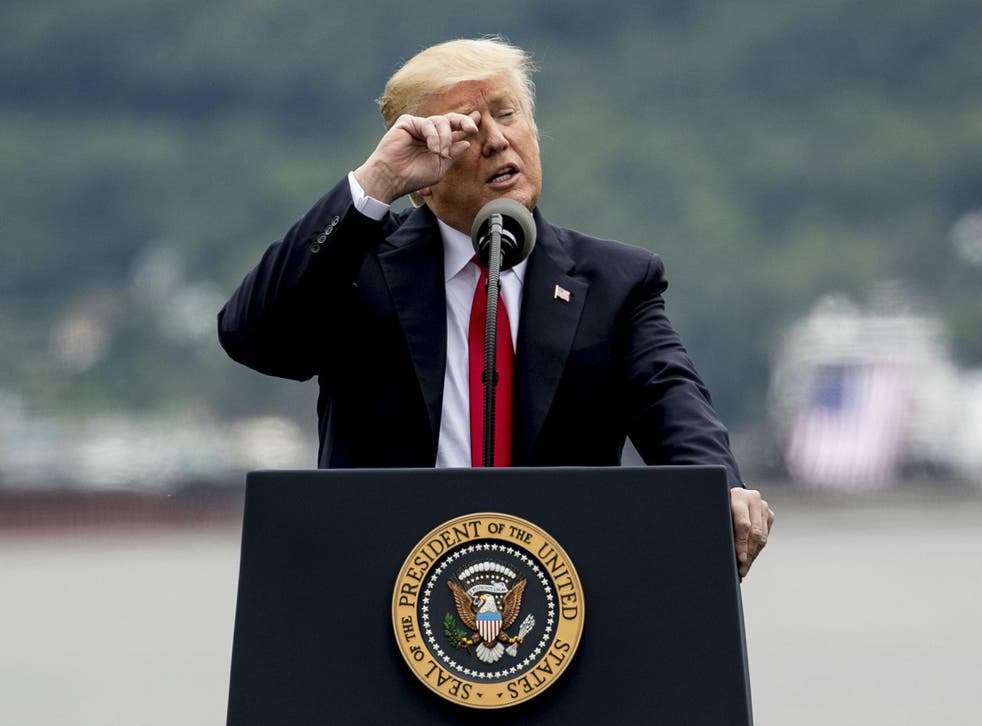 Former FBI Director James Comey has confirmed something that Donald Trump has repeatedly claimed - that he is not personally under investigation.
In a statement prepared ahead of testimony on Capitol Hill, Mr Comey said that at an intelligence briefing with the President-elect on January 6, he discussed with the FBI leadership team whether he could assure him "that we were not investigating him personally".
"That was true; we did not have an open counter-terrorism case on him," wrote Mr Comey. "During my one-on-one meeting at Trump Tower, based on President-elect Trump's reaction to the briefing and without him asking the question, we offered that assurance."
Mr Trump had raised the eyebrows of many when he fired Mr Comey as FBI Director and claimed at the time, that the 56-year-old had told him three times he was not the target of federal investigators looking into possible collusion between the Trump campaign and Russia's alleged interference in the 2016 US election.
"While I greatly appreciate you informing me, on three separate occasions, that I am not under investigation, I nevertheless concur with the judgment of the Department of Justice that you are not able to effectively lead the Bureau," Mr Trump wrote in a letter confirming the firing.
Later, in an interview with NBC, he said Mr Comey had made this clear to him once over dinner, and twice in phone calls.
"During the phone call, he said it. And during the other phone call, he said it," Mr Trump said. "So, he said it once at dinner, and then he said it twice during phone calls."
Trump denies that he urged Comey to close Flynn investigation
Reports at the time, quoting unidentified sources said to be close to Mr Comey, dismissed Mr Trump's claims, saying that the FBI Director would never have given such an undertaking.
However, Mr Comey's statement, ahead of testimony before the Senate Intelligence Committee, confirms he did indeed tell Mr Trump he was not personally under investigation, on not three occasions, but four.
Mr Comey said that at dinner with Mr Trump on January 27, the President brought up the dossier of salacious material that had been collected by former British intelligence official Christopher Steele and which he and Barack Obama had been informed of.
"He said he was considering ordering me to investigate the alleged incident to prove it didn't happen. I replied that he should give that careful thought because it might create a narrative that we were investigating him personally, which we weren't, and because it was very difficult to prove a negative," he said.
The biggest names involved in the Trump-Russia investigation

Show all 17
The third instance when Mr Comey told Mr Trump he was not personally the target of investigators, was a March 30 phone call.
Mr Comey said he had "explained that we had briefed the leadership of Congress on exactly which individuals we were investigating and that we had told those Congressional leaders that we were not personally investigating President Trump".
"I reminded him I had previously told him that. He repeatedly told me, 'We need to get that fact out'," wrote Mr Comey.
The fourth instance was on April 11. "The President called me and asked what I had done about his request that I 'get out' that he is not personally under investigation," wrote Mr Comey.
"I replied that I had passed his request to the Acting Deputy Attorney General, but I had not heard back. He replied that 'the cloud' was getting in the way of his ability to do his job. He said that perhaps he would have his people reach out to the Acting Deputy Attorney General. I said that was the way his request should be handled."
Mr Comey's prepared also make clear that Mr Trump asked him to stop investigating his former national security advisor, Michael Flynn. The former general was forced to resign after lying about his contacts with Russian officials. The former FBI Director also says that Mr Trump repeatedly sought his "loyalty" and asked what could be done to "lift the cloud" of investigation shadowing his administration.
"The President then returned to the topic of Mike Flynn, saying, 'He is a good guy and has been through a lot'. He repeated that Flynn hadn't done anything wrong on his calls with the Russians, but had misled the Vice President," said Mr Comey.
"He then said, 'I hope you can see your way clear to letting this go, to letting Flynn go. He is a good guy. I hope you can let this go'. I replied only that 'he is a good guy'."
Join our new commenting forum
Join thought-provoking conversations, follow other Independent readers and see their replies