Donald Trump says he is 'absolutely' considering breaking up 9th Circuit court after blocked executive orders
Attack comes as two of US President's executive orders are overruled by the judiciary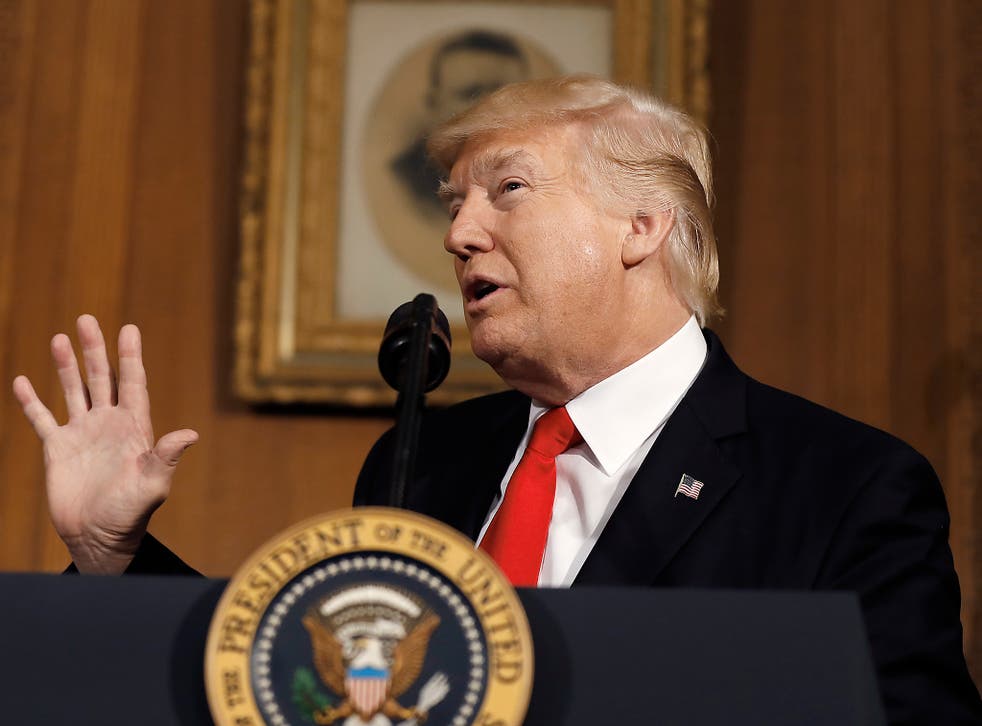 Donald Trump is reportedly considering disbanding the US Ninth Circuit Court of Appeals after judges blocked two of his executive orders.
Mr Trump said he was "absolutely" considering proposals to breakup the "outrageous" court.
"Absolutely, I have," Mr Trump told the Washington Examiner of considering breakup proposals. "There are many people that want to break up the 9th Circuit. It's outrageous."
"Everybody immediately runs to the 9th Circuit. And we have a big country. We have lots of other locations. But they immediately run to the 9th Circuit. Because they know that's like, semi-automatic."
The US President also took to Twitter to criticise the body earlier in the day, saying: "First the Ninth Circuit rules against the ban & now it hits again on sanctuary cities-both ridiculous rulings. See you in the Supreme Court!"
The attack comes after two of the former real estate mogul's executive orders were overruled by the judicial system.
Judges within the Ninth Circuit ruled in February against Mr Trump's travel ban that sought to block citizens from six Muslim-majority countries from entering the US temporarily. On Tuesday, a district judge in San Francisco ruled against a separate order that aimed to cut funding to so-called sanctuary cities.
The ruling came after San Francisco and Santa Clara County asked the courts to intervene, arguing that more than $1 billion was at stake for each of them.
World news in pictures

Show all 50
US District Judge William Orrick III said it was clear the Trump administration planned to use the order to block funding for more than just law enforcement, as federal lawyers had argued. Judge Orrick does not, in fact, sit in the Ninth Circuit Court of Appeals, although the Ninth Circuit would be responsible for hearing any appeal against his ruling. The distinction appeared to be lost on the President.
Meanwhile, press secretary Sean Spicer called the block an "egregious overreach by a single, unelected district judge".
Register for free to continue reading
Registration is a free and easy way to support our truly independent journalism
By registering, you will also enjoy limited access to Premium articles, exclusive newsletters, commenting, and virtual events with our leading journalists
Already have an account? sign in
Register for free to continue reading
Registration is a free and easy way to support our truly independent journalism
By registering, you will also enjoy limited access to Premium articles, exclusive newsletters, commenting, and virtual events with our leading journalists
Already have an account? sign in
Join our new commenting forum
Join thought-provoking conversations, follow other Independent readers and see their replies