Trump touts progress on DACA deal despite deadlock with Democrats over border wall
President expands demands to include visa lottery and 'chain migration'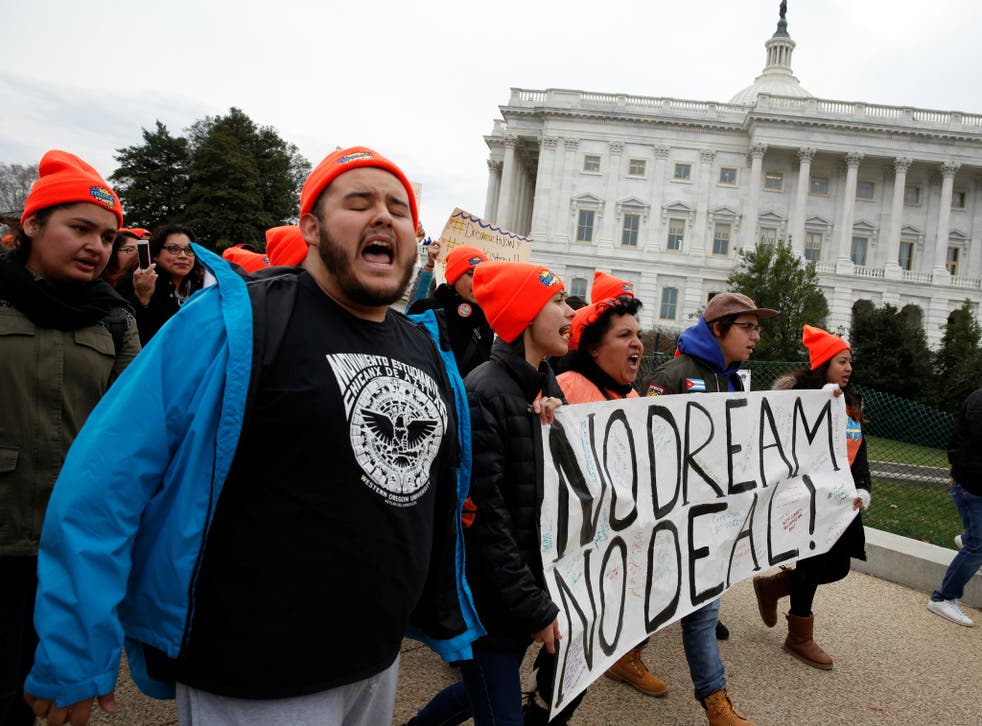 Donald Trump has touted progress towards a compromise on immigration between the Republicans and the Democrats, despite the latter's continued resistance to a border wall.
"Hopefully everything is going to work out well. We really want to work it out," Mr Trump said ahead of a meeting with Republican senators.
But the two sides remain at loggerheads on a key point: Democrats what a separate deal to save protections for young immigrants brought to the country illegally, while Republicans want it attached to a bill involving increased border security measures and Mr Trump's promised wall dividing America from Mexico.
And the President has expanded on that demand, now including an end to so-called "chain migration" — a term that refers to the process by which immigrants can eventually bring relatives to the country, part of the US immigration system's focus on family reunification — and to a diversity visa lottery that he has cast as a peril to national security.
Last year, Mr Trump said he would allow the expiration of a programme, known as Deferred Action for Childhood Arrivals (DACA), that protected unauthorised immigrants who arrived in the country as children from deportation, secured their rights to education and allowed them to obtain work permits. Those young people of which there are hundreds of thousands, are known as Dreamers.
"Any legislation on DACA must secure the border with a wall, it must give our immigration officers the resources they need to stop illegal immigration and also to stop visa overstays and, crucially, the legislation must end chain migration. It must end the visa lottery," Mr Trump said.
White House Press Secretary Sarah Huckabee Sanders said "responsible immigration reform" would cover "DACA as well as those priorities and principles".
Immigration resonates deeply with both parties' bases, increasing the pressure on elected officials to deliver, but Republicans and Democrats have shown little sign of breaking that impasse. They failed to reach an agreement during 11th-hour budget negotiations last month, agreeing to a funding stopgap without resolving the immigration issue.
Protestors rally at JFK Airport against Muslim immigration ban

Show all 20
While the President has floated renewing the programme in exchange if Democrats agree to fortified border security, potentially including advancing the border wall, liberal lawmakers have resisted those types of conditions. After suggesting they had struck a deal with Mr Trump on DACA last year, Democratic leaders said any pact that included the wall would be a nonstarter.
US rescinds DACA program for young immigrants
"If we have support from Democrats, DACA is going to be terrific," Mr Trump said, but "we need protection, we need the wall, we need all of these things".
"We have a great spirit going in the Republican party," the President added. "I think it can be bipartisan".
As a follow-up to the Republican-only talks Dreamers, Mr Trump is inviting senators from both major parties to the White House next week. Some senators told reporters the aim was to hold the meeting on Tuesday.
"Next week the president is inviting a bipartisan group of senators to the White House to discuss the next steps on responsible immigration reform," Ms Sanders told reporters.
While the government-contracted wall prototypes have risen near the border in San Diego, the Trump administration has so far not made significant progress on the much larger — and costlier — undertaking of funding and constructing a border wall.
Register for free to continue reading
Registration is a free and easy way to support our truly independent journalism
By registering, you will also enjoy limited access to Premium articles, exclusive newsletters, commenting, and virtual events with our leading journalists
Already have an account? sign in
Register for free to continue reading
Registration is a free and easy way to support our truly independent journalism
By registering, you will also enjoy limited access to Premium articles, exclusive newsletters, commenting, and virtual events with our leading journalists
Already have an account? sign in
Join our new commenting forum
Join thought-provoking conversations, follow other Independent readers and see their replies