DACA: Trump will cause 'civil war' in Republican party if he ends Obama-era amnesty
Mr Trump says that Congress must 'get ready to do its job' when he scraps the immigration programme
Andrew Buncombe
New York
Tuesday 05 September 2017 13:40 Comments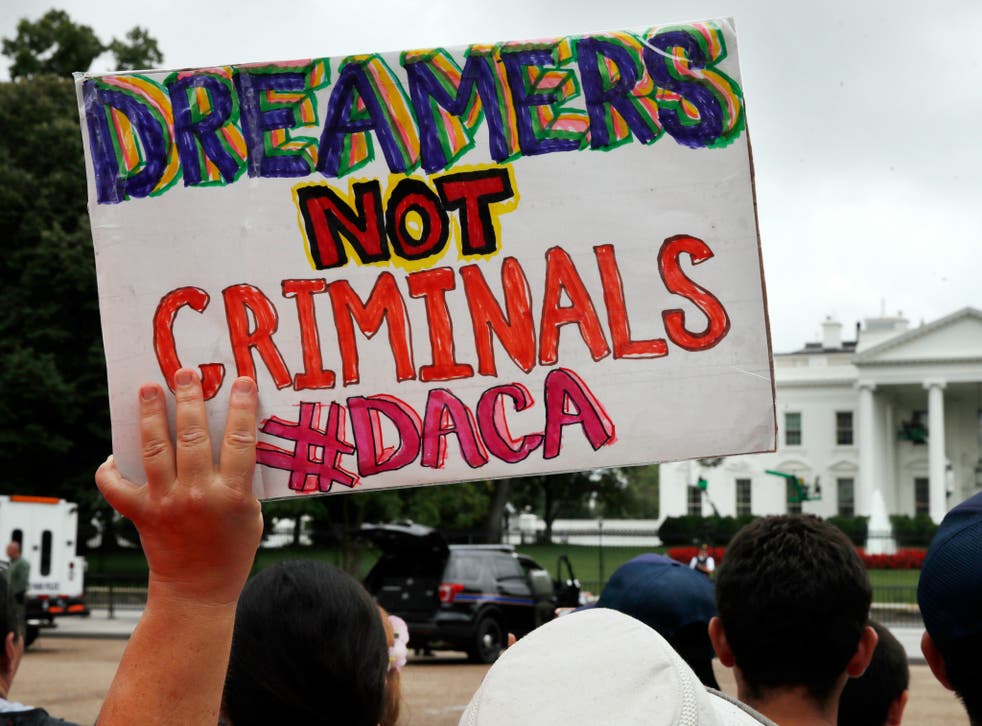 Donald Trump has given his clearest indication yet he plans to scrap the programme that has allowed up to 800,000 undocumented young people study and work in the US, a move that threatens to create "civil war" in the Republican party according to one Congressman.
Mr Trump's Attorney General Jeff Sessions is expected to announce the government is scrapping Deferred Action for Childhood Arrivals (DACA) scheme that was introduced by his predecessor in the White House. Commentators point out most of those benefiting are working or studying contributing.
Mr Sessions is expected to announce that he is terminating, but suspending the action for six months in order to politicians on Capitol Hill to come up with an alternative - effectively placing the responsibility on Congress to deal decisively with an issue on which Mr Trump previously spoke about vociferously.
Republicans have long struggled with the issue of immigration, with Democrat Representative Henry Cuellar of Texas warning of a potential "civil war" within the party if the buck is passed to Capitol Hill.
Mr Cuellar said during an interview on CNN's "New Day" that immigration reform one of the most emotional issues he's seen "on the side of the Republican Party."
"I think what's going to happen if the president delays this for six months, it's going to make it difficult," he said.
"But it's going to cause, in my opinion, a civil war within the Republican Party," he added
"Congress, get ready to do your job - DACA!" the Republican president said in a Twitter post.
Mr Trump followed that up with a tweet saying: Make no mistake, we are going to put the interest of AMERICAN CITIZENS FIRST!"
The controversial orders Donald Trump has already issued

Show all 9
In a sign of the difficulties facing Congress, Republican Florida representative Ileana Ros-Lehtinen tweeted: "After teasing £Dreamers for months with talk of his 'great heart,' POTUS slams door on them. Some 'heart'.."
It remains unclear exactly how a six-month delay would work in practice, including whether the government would continue to process applications under the programme, which has given nearly 800,000 young immigrants a reprieve from deportation and the ability to work legally in the country in the form of two-year, renewable permits.
The Obama administration created the DACA programme in 2012 as a stopgap as it pushed unsuccessfully for a broader immigration overhaul in Congress.
Many Republicans say they opposed the programme on the grounds that it was executive overreach.
House speaker Paul Ryan and a handful of other Republicans urged Mr Trump last week to hold off on scrapping DACA to give lawmakers time to come up with a legislative fix.
Associated Press contributed to this report
Register for free to continue reading
Registration is a free and easy way to support our truly independent journalism
By registering, you will also enjoy limited access to Premium articles, exclusive newsletters, commenting, and virtual events with our leading journalists
Already have an account? sign in
Join our new commenting forum
Join thought-provoking conversations, follow other Independent readers and see their replies