Dr Fauci says comments 'taken out of context' in Trump campaign ad touting president's coronavirus response
Dr Fauci tried to do a TV interview on Sunday but the White House reportedly blocked him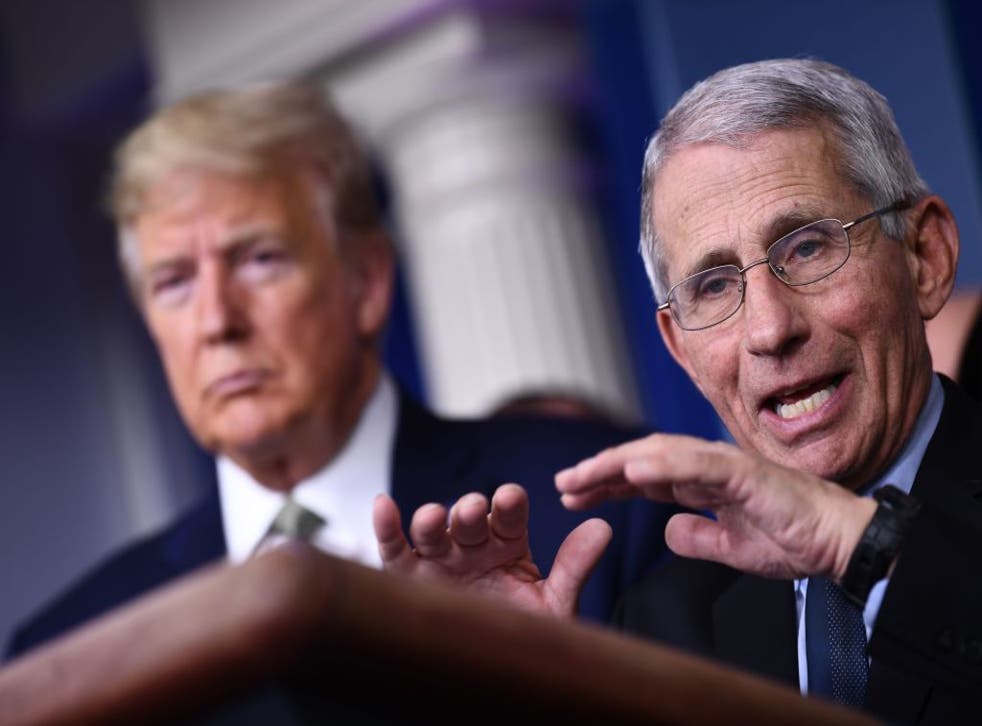 Dr Anthony Fauci, one of the most recognizable figures on the White House's coronavirus taskforce, says he was taken out of context in a new Trump campaign ad.
The Trump campaign commercial was released last week after the president was discharged from Walter Reed National Military Medical Center following treatment for Covid-19.
The 30-second ad, airing in Michigan, uses a quote from Dr Fauci which appears as if he is praising Mr Trump's response: "I can't imagine that anybody could be doing more."
However the full quote - from an interview back in March - provides more context: "We've never had a threat like this. The coordinated response has been... there are a number of adjectives to describe it - impressive, I think is one of them. We're talking about all hands on deck. I, as one of many people on a team, I'm not the only person.
"I'm down at the White House virtually every day with the task force. It's every single day. So, I can't imagine that under any circumstances that anybody could be doing more."
In a statement on Sunday to CNN, Dr Fauci said: "In my nearly five decades of public service, I have never publicly endorsed any political candidate.
"The comments attributed to me without my permission in the GOP campaign ad were taken out of context from a broad statement I made months ago about the efforts of federal public health officials."
On ABC News on Sunday, This Week host Jon Karl said he requested Dr Fauci for an interview, but the White House blocked the appearance.
Register for free to continue reading
Registration is a free and easy way to support our truly independent journalism
By registering, you will also enjoy limited access to Premium articles, exclusive newsletters, commenting, and virtual events with our leading journalists
Already have an account? sign in
Register for free to continue reading
Registration is a free and easy way to support our truly independent journalism
By registering, you will also enjoy limited access to Premium articles, exclusive newsletters, commenting, and virtual events with our leading journalists
Already have an account? sign in
Join our new commenting forum
Join thought-provoking conversations, follow other Independent readers and see their replies