Donald Trump breaks campaign promise and will not deport immigrant children known as 'Dreamers'
The fate of their parents, however, is still uncertain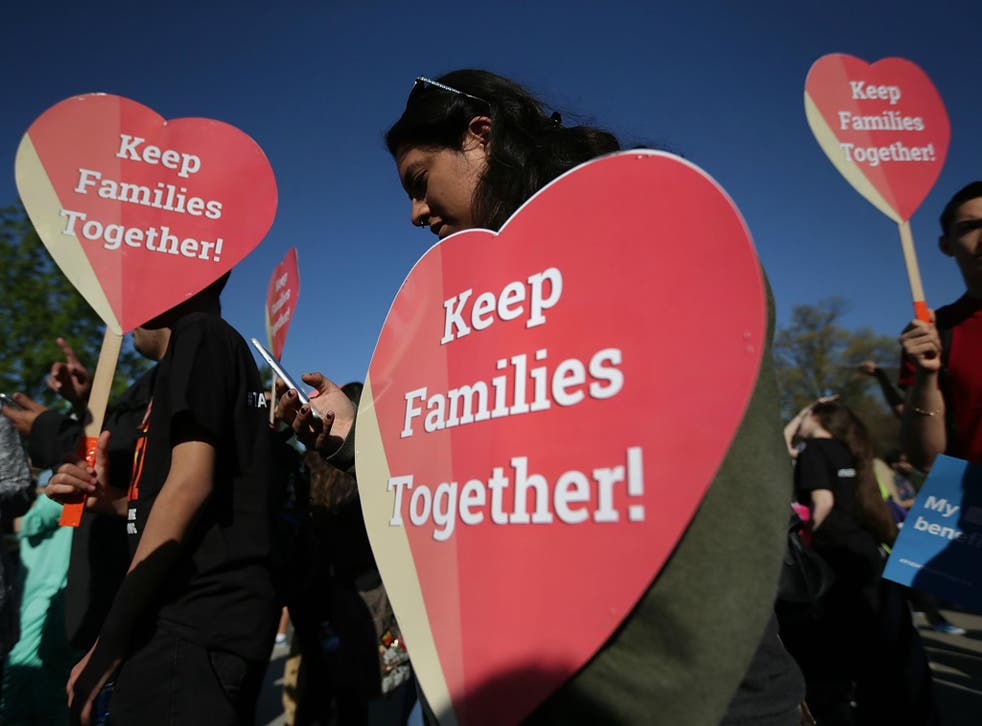 Donald Trump has reversed his position on deporting hundreds of thousands of immigrant children from deportation, but their parents could still be sent to their home countries.
Homeland Security Secretary John Kelly quietly announced the programme created to protect young people who came to the US as undocumented immigrants as children, known as the Deferred Action for Childhood Arrivals (DACA). will "remain in effect."
These children are often referred to as 'Dreamers.' The program was launched in 2012 by President Barack Obama and has protected about 787,000 young immigrants from deportation.
The program does not give them residency status, but temporarily protects them from deportation and allows them to work legally. The protection can be revoked at any time and some young immigrants have lost their DACA protections after being arrested for a crime.
A senior White House official said that though DACA is in place for now, it is unclear if the administration is still reviewing the programme.
The information about DACA was almost a footnote to the main announcement about the Deferred Action for Parents of Americans and Lawful Permanent Residents (DAPA) programme to protect parents of Dreamers from deportation as well.
DAPA was never implemented and the administration has said it would it will not do so.
That programme, like the one for Dreamers, was created with a policy memo and not legislation. Both require that participants meet certain conditions, including not having a history of serious crimes.
DAPA was blocked by a federal judge in Texas after 26 states sued. Republicans saw it as a "backdoor amnesty" and argued that Mr Obama overstepped his authority by protecting a specific class of immigrants living in the United States illegally.
As a candidate, Trump pledged to "immediately terminate" both programmes — what he called "President Obama's two illegal executive amnesties." Yet as president, he repeatedly expressed empathy with Dreamers.
Mr Trump has made immigration enforcement a top priority. Arrests of immigrants inside the U.S. have increased under the Trump administration, but deportations are slightly down as fewer people have been caught crossing the Mexican border into the United States illegally.
Mr Trump continues to push the now-infamous border wall with Mexico, which he repeatedly claimed would be paid by Mexico, in order to stem illegal immigration into the US from Central America.
The nearly 2,000 mile border currently has various fences, sections of walls, checkpoints, and guards. The administration has not recently a cost estimate for the entire wall but has included a request for $1bn for it in Mr Trump's proposed federal budget.
In an Associated Press interview in April, Trump said his administration is "not after the dreamers, we are after the criminals" and that "The dreamers should rest easy."
A senior White House official also said "quite frankly, immigration is something that needs to be resolved by Congress."
Register for free to continue reading
Registration is a free and easy way to support our truly independent journalism
By registering, you will also enjoy limited access to Premium articles, exclusive newsletters, commenting, and virtual events with our leading journalists
Already have an account? sign in
Register for free to continue reading
Registration is a free and easy way to support our truly independent journalism
By registering, you will also enjoy limited access to Premium articles, exclusive newsletters, commenting, and virtual events with our leading journalists
Already have an account? sign in
Join our new commenting forum
Join thought-provoking conversations, follow other Independent readers and see their replies