Video shows the moment a bomb hits a building in Syria as new onslaught new onslaught causes mass civilian casualties
Trump reverses Obama-era policy requiring US to report on civilian casualties in drone strikes
'A shameful decision that will shroud this administration's actions in even more secrecy'
Donald Trump has scrapped a policy requiring US intelligence officials to publish the number of civilians killed in drone strikes outside active war zones.
The rule was introduced by Barack Obama in 2016 in an attempt to improve transparency and minimise non-combatant casualties during operations against terrorist targets.
Human rights groups described President Trump's decision to revoke executive order 13732 as "shameful" and "deeply wrong", while security experts suggested it was an attempt to conceal deaths from drone strikes carried out by the CIA.
Other legislation still requires the secretary of defence to release an annual report on "civilian casualties caused as a result of United States military operations." Drone strikes can also be undertaken by the CIA.
Daphne Eviatar, Amnesty International USA's director of security with human rights, said: "This is a shameful decision that will shroud this administration's actions in even more secrecy with little accountability for its victims.
"The public deserves to know how many civilians are killed by US actions. This is an unconscionable decision and in complete disregard of fundamental human rights.
"It is incomprehensible that this vital work will be left only to human rights organisations such as ours."
Syria air strikes: US, UK and France joint military action

Show all 21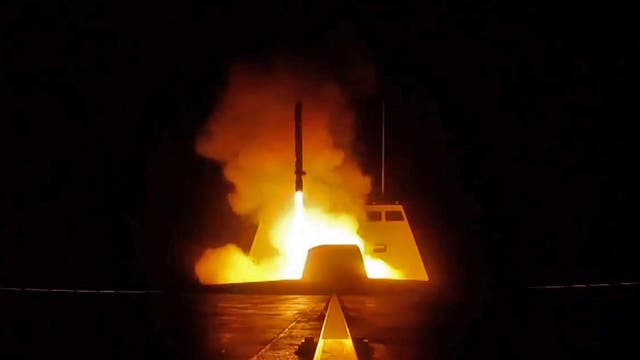 Hina Shamsi, director of the American Civil Liberties Union's National Security Project, said: "President Trump has already weakened rules that sought to limit civilian deaths caused by this country's illegal and immoral lethal force programme, in which it kills suspects in places where we are not at war. This order now shrouds those killings in even greater secrecy.
"Trump's decision to increase secrecy about the United States' killing of people abroad is deeply wrong and dangerous for public accountability.
"Trump revoked a transparency order that provided an imperfect but still important record of deaths caused by the military and, critically, the CIA. This decision will hide from the public the government's own tally of the total number of deaths it causes every year in its lethal force programme."
Adam Schiff, the Democrat chair of the House of Representatives Intelligence Committee, described the president's move as "a troubling retreat from transparency" and said there was "simply no justification" for cancelling it.
"Today's decision underscores the need for Congress to make this reporting mandatory, something I intend to pursue through the Intelligence Authorization Act this year," he added.
A White House official, speaking on condition of anonymity, claimed that Mr Trump's move "eliminates superfluous reporting requirements" that "distract our intelligence professionals from their primary mission."
"The United States government is fully committed to complying with its obligations under the law of armed conflict, minimising, to the greatest extent possible, civilian casualties, and acknowledging responsibility when they unfortunately occur during military operations," the official said.
Support free-thinking journalism and attend Independent events
Last year a Pentagon report, released a month after the deadline, concluded that approximately 499 civilians were killed and 169 were injured during US military operations in Syria, Iraq, Afghanistan and Yemen in 2017.
The watchdog group Airwars concluded between 3,923 and 6,102 non-combatants were "likely killed" in air and artillery strikes by the United States and its allies in Iraq and Syria alone that year.
Additional reporting by AP and Reuters
Join our new commenting forum
Join thought-provoking conversations, follow other Independent readers and see their replies