John McCain uses Trump's favourite insult against him after he fails to raise human rights with Duterte
The White House has insisted that the issue was brought up during their meeting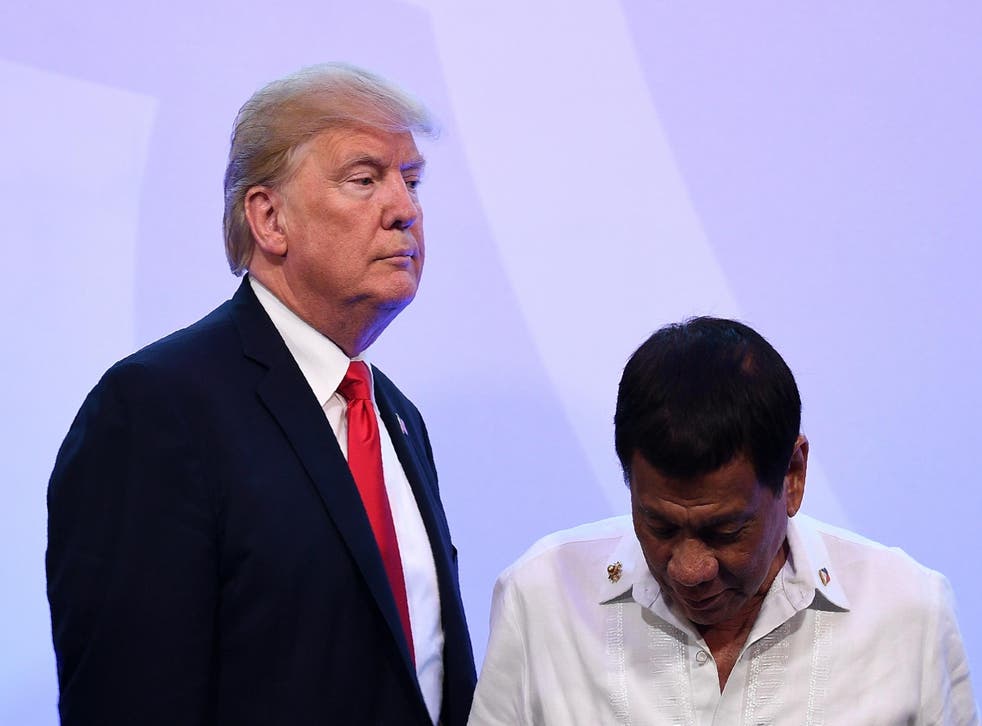 Senator John McCain has criticised President Donald Trump for sidelining human rights during his meeting with Philippines President Rodrigo Duterte.
"Human rights obviously not a priority in @POTUS's meeting with Duterte – again, sad," Mr McCain wrote on Twitter, coopting one of Mr Trump's favourite ways to express his frustration.
The tweet came after the White House indicated that the two world leaders had "briefly" discussed Mr Duterte's drug crackdown that has left thousands of people dead in the country, and elicited accusations of human rights abuses, which Mr Duterte has denied.
Mr Duterte's spokesman contradicted the White House, however, saying that the issue was not brought up. "There was no mention of human rights, no mention of extralegal killings," Harry Roque said.
Mr Trump, following the meeting, said that he has a "great relationship" with Mr Duterte, and chose to focus on his own style of transactional diplomacy to discuss other issues than human rights, a stark contrast to past presidents and their approach to the issue.
Mr Duterte's spokesman said that human rights had not come up during their meeting, even as Mr Duterte discussed the "drug menace" in the Philippines.
Mr Trump "appeared sympathetic and did not have any official position on the matter, and was merely nodding his head, indicating that he understood the domestic problem that we faced on drugs", Mr Roque, the spokesman, said.
Mr Trump's predecessor Barack Obama had taken a much tougher line over the drug policy of Mr Duterte and the two clashed verbally. Mr Duterte's spokesman Mr Roque keen to play up the difference. He described the relationship between between the two presidents as "warm, friendly and candid".
"It's very apparent that both of them have a person who they consider as not a best friend," he added. "They have similar feelings towards former US President Barack Obama."
Donald Trump's least presidential moments so far...

Show all 30
Since taking office Mr Duterte has overseen a massive and controversial "war on drugs" that have left thousands of suspected or alleged drug addicts and dealers dead in the streets. More than 3,900 people have been killed so far, although human rights group claim the number is much higher. Mr Duterte's government says the police act in self-defence, but critics say executions are taking place with no accountability. Mr Trump was criticised in April for praising Mr Duterte in a phone call in saying he was doing a "great job" in countering the illegal drug trade.
In a joint statement, the White House listed human rights as the third topic discussed, of 14 in total. "The two sides underscored that human rights and the dignity of human life are essential, and agreed to continue mainstreaming the human rights agenda in their national programmes to promote the welfare of all sectors, including the most vulnerable groups," the statement said.
Just last week, Mr Duterte boasted he had stabbed a person to death as a teenager, following similar admissions previously, including killing three men while mayor of the city of Davao.
Not everyone was happy with the meeting. As the two leaders met, hundreds of left-wing protesters clashed in central Manila with riot police, who used water cannons to disperse them. The demonstrators chanted slogans against the drugs crackdown and Mr Trump's escalating rhetoric on North Korea. They burnt an effigy of the US President that showed the billionaire developer with four arms, all bent into the shape of a swastika.
They were not the only concern of critics. Mr Trump has business interests in the financial district of Manila, where he is connected to a 57-storey, $150m luxury tower. One of his partners is Jose EB Antonio, a developer on the project, and also Mr Duterte's trade envoy to America.
As with much of the rest of his Asia trip – particularly in relation to China's President Xi Jinping – Mr Trump relied on his personal relationships to try and push ahead with his agenda. The lack of a concerted push on human rights can likely be placed in the same bracket as "not blaming" China over the trade relationship with the US while Mr Trump was in Beijing, despite his anger about the "one-sided" relationship on the campaign trail for the presidency.
A sense of that personal bond was highlighted on Sunday, when Mr Duterte sang a hit Filipino love song "Ikaw" ("You") at a gala dinner for summit leaders in Manila, saying it was on "the orders" of Mr Trump.
One of the song's verses, translated from Filipino, begins: "You are the light in my world, a half of this heart of mine".
"Ladies and gentlemen, I sang uninvited, upon the orders of the commander in chief of the United States," Mr Duterte said later, according to the ABS-CBN news channel.
Mr Duterte has expressed enthusiasm for closer ties with both Russia and China in recent months, leaving Mr Trump little wiggle room if he wanted to keep Mr Duterte on his side with the issues of the threat from North Korea and terrorism high on the agenda. Ahead of his final day in the region, Mr Trump seemed pleased with his efforts.
He met with Indian Prime Minister Narendra Modi on Monday and highlighted their two nations' "deeper and more comprehensive" ties, looking to strengthen a relationship that is vital to the US vision of an Indo-Pacific region that attempts to de-emphasise China's influence. He also jointly met with Australian Prime Minister Malcolm Turnbull and Japanese Prime Minister Shinzo Abe, who hosted the President in Tokyo earlier in the trip. Mr Trump was keen to play up progress on both trade and the issue of North Korea.
Mr Trump said he would wait until his return to Washington and elaborate with a "major statement" on those two topics on Wednesday. But he hinted at progress while in Manila.
"We've made some very big steps with regard to trade – far bigger than anything you know," Mr Trump said.
Join our new commenting forum
Join thought-provoking conversations, follow other Independent readers and see their replies