Trump during election campaign: "The truth is, our immigration system is worse than anyone ever realised"
Trump wades into illegal immigration row over killing of Colts linebacker Edwin Jackson
The American Football star was struck by car while standing standing on edge of highway
Donald Trump has waded into the controversy surrounding the death of American Football player, who was killed in an alleged drink driving crash involving a man who had reportedly twice been deported from the country.
Edwin Jackson, 26, a linebacker with the Indianapolis Colts, was killed along with Uber driver Jeffrey Monroe, after they were involved in a collision with a car being driven by Manuel Orrego-Savala, a 37-year-old Guatemalan citizen who is in the US illegally and who reportedly had a blood alcohol limit three times over the legal limit.
Mr Orrego-Savala is currently being held in custody following the incident in the early hours of Sunday. He's due to appear in court later this week.
On Tuesday, the President weighed in on the controversy, using the fatal accident to attack Democrats and accuse them of failing to support his immigration policies.
"So disgraceful that a person illegally in our country killed @Colts linebacker Edwin Jackson," he said.
"This is just one of many such preventable tragedies. We must get the Dems to get tough on the Border, and with illegal immigration, FAST!"
The Associated Press said investigators reported Mr Orrego-Savala was deported in 2007 and 2009, and was again living illegally in the US.
Trump claims that American judge's 'Mexican heritage' resulted in unfair treatment during 2016 lawsuit
Police said Mr Jackson, who grew up in Atlanta, and Uber driver Jeffrey Monroe, 54, were standing outside Mr Monroe's car along I-70 after Jackson became ill.
Both men were allegedly struck and killed by a pick-up truck driven by Orrego-Savala, police said. Investigators said they believe Mr Orrego-Savala, who lives in Indianapolis, was intoxicated and driving without a license.
A breath test administered at the crash scene found that Mr Orrego-Savala's blood-alcohol content was 0.239 per cent, or nearly three times Indiana's legal limit of 0.08 per cent, AP said.
World news in pictures

Show all 50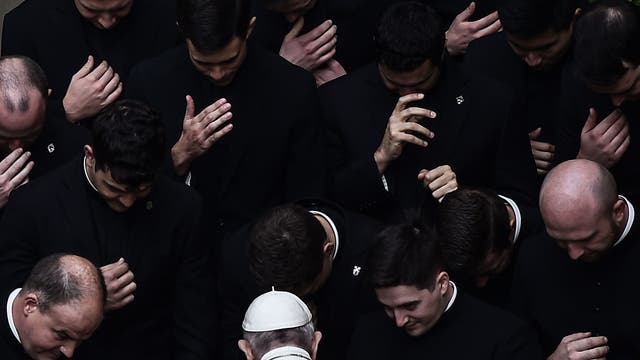 The news agency said an affidavit filed by cops showed that Orrego-Savala had previously experienced run-ins with the police for driving without a valid license and that he was walking away from the crash scene when an Indiana state trooper arrived and detained him.
On Monday, US congressman Todd Rokita said in a statement after police released details on Mr Orrego-Savala that "the loss of life at the hands of illegal immigrant criminals should make all Hoosiers [Indiana residents] sad and ultimately angry".
He claimed the fatal accident highlighted the need for building a US-Mexico border wall, "ending sanctuary cities, and stopping illegal immigration once and for all".
The deaths of Mr Jackson and Mr Monroe come two months after a California jury acquitted a Mexican man in the fatal July 2015 shooting of a woman on a San Francisco pier, a death that touched off a fierce national immigration debate.
Jose Ines Garcia Zarate, who was found not guilty of murder on 30 November in Kate Steinle's death, had been deported five times and was wanted for a sixth deportation when she was fatally shot. Mr Garcia Zarate said the shooting was accidental and occurred when picked up a gun wrapped in a T-shirt under a seat on the pier.
Join our new commenting forum
Join thought-provoking conversations, follow other Independent readers and see their replies