Elijah Cummings says constituents tell him they're scared of Donald Trump
Trump renews attack on black congressman Elijah Cummings and says he should 'investigate himself'
President says 'billions wasted' in Maryland congressman's district
Donald Trump has attacked a black US congressman about the city of Baltimore for the second time in less than a week.
Elijah Cummings, whose congressional district covers approximately half of the Maryland city, should use his role as House Oversight Committee chairman to "investigate himself", the US president claimed.
Billions of dollars sent to tackle crime and boost Baltimore's economy had been "stolen or wasted", Mr Trump tweeted.
He wrote that the city's "numbers are the worst in the United States on Crime and the Economy."
He added: "Billions of dollars have been pumped in over the years, but to no avail. The money was stolen or wasted. Ask Elijah Cummings where it went. He should investigate himself with his Oversight Committee!"
Trump 2020 launch: Fascist Proud Boys, baby blimps and Uncle Sam

Show all 30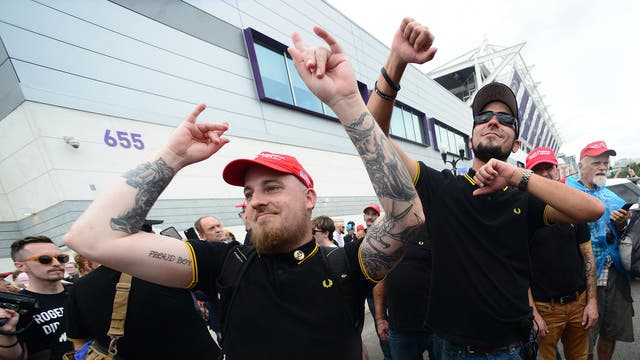 Mr Trump was criticised over the weekend for saying the congressman's majority-black district in the Baltimore area was a "rodent infested mess" where "no human being would want to live".
But when he was accused of race-baiting, the president insisted there was nothing racist about his comments.
Instead, he accused Mr Cummings of racism.
"If racist Elijah Cummings would focus more of his energy on helping the good people of his district, and Baltimore itself, perhaps progress could be made in fixing the mess that he has helped to create over many years of incompetent leadership," he tweeted.
He added: "His radical 'oversight' is a joke!"
The remarks followed a weekend of attacks against Mr Cummings, who is leading number of congressional investigations into Mr Trump and his administration.
Mr Trump claimed that the congressman's district, which includes Johns Hopkins Hospital, the Social Security Administration and the national headquarters of the National Association for the Advancement of Colored People, is "considered the worst run and most dangerous anywhere in the United States".
He later accused rival Democrats of trying to "play the race card".
He tweeted: "There is nothing racist in stating plainly what most people already know, that Elijah Cummings has done a terrible job for the people of his district, and of Baltimore itself.
"Dems always play the race card when they are unable to win with facts. Shame!"
Support free-thinking journalism and attend Independent events
Mr Trump has been repeatedly accused of racism in recent weeks after he attacked four Democratic congresswomen of colour known as "the squad".
He said Alexandria Ocasio-Cortez of New York, Ilhan Omar of Minnesota, Ayanna Pressley of Massachusetts and Rashida Tlaib of Michigan should leave the US "right now".
He added that if they "hate our country" they can go back to their "broken and crime-infested" countries.
All four Democrats are American citizens and only Ms Omar, who arrived in the US from Somalia at the age of seven, was not born in the US.
He has also repeatedly attacked Mr Cummings.
Earlier this week, he tweeted: "If the Democrats are going to defend the Radical Left 'Squad' and King Elijah's Baltimore Fail, it will be a long road to 2020."
Join our new commenting forum
Join thought-provoking conversations, follow other Independent readers and see their replies