Elijah Cummings says constituents tell him they're scared of Donald Trump
Trump launches vicious attack on senior congressman from 'rat-infested district', apparently regurgitating Fox News segment
President has regularly used the word 'infested' to abuse Democratic politicians of colour
Donald Trump has lashed out at a senior Democratic congressman, calling him a "brutal bully" from a "rat infested" district, less than one hour after a Fox News segment criticising the representative.
The president accused Elijah Cummings, who is a prominent critic of the Trump administration's immigration policy, of "shouting and screaming" at Border Patrol officials over conditions on the US-Mexico border.
He went on to claim Mr Cummings' Maryland district, which includes more than half of Baltimore, was a "corrupt mess" and said that "no human being would want to live there".
The attacks appeared to have been inspired by a Fox & Friends report that aired minutes before the president's outburst, which criticised living conditions in Mr Cummings' district.
Mr Cummings responded by urging the president to do more to address the "financial hardships that families across the nation, and in Baltimore, are facing."
Trump 2020 launch: Fascist Proud Boys, baby blimps and Uncle Sam

Show all 30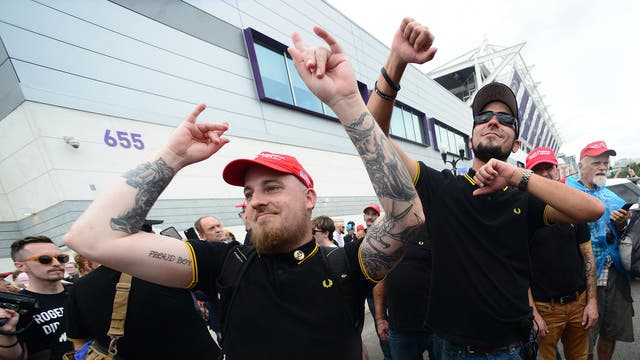 "Mr President, I go home to my district daily. Each morning, I wake up, and I go and fight for my neighbours," he wrote in a statement on Twitter.
"It is my constitutional duty to conduct oversight of the Executive Branch. But, it is my moral duty to fight for my constituents."
Although much of Mr Trump's attack appeared to be directly lifted from Fox News, the president went further in his criticism by suggesting that funding to the district had been "stolen" and should be investigated.
In the Fox & Friends segment, Kimberly Klacik, a Republican strategist, described Baltimore as "the most dangerous district in America".
A Fox anchor added: "Congressman Cummings was elected to represent west Baltimore. Living conditions at the border are better than most areas in his district. The city is lined with abandoned buildings and trash on the streets."
Saturday's outburst was the latest attack by Mr Trump on Democratic politicians of colour.
Earlier this month, the president was widely-criticised for tweets telling four congresswoman of colour to "go back and help fix the totally broken and crime infested places from which they came".
In 2017, Mr Trump attacked congressman and civil rights leader John Lewis by telling him to fix his "crime infested" district.
He also called congresswoman Maxine Waters "an extraordinarily low IQ person" in 2018, after she said she had "no sympathy" for Trump officials who had been publicly confronted and harassed in restaurants.
Mr Cummings represents Maryland's seventh congressional district, which is majority African American.
The district, like many in the US, has problems with unemployment, poverty and gun-related crime.
The Democratic congressman has often criticised Mr Trump, although he has downplayed talk of impeaching the president over the findings of the Mueller report.
However, he did speak out passionately against Mr Trump following Robert Mueller's testimony to Congress on Wednesday.
"I'm begging the American people to pay attention to what is going on," Mr Cummings said.
"Because if you want to have a democracy intact for your children, and your children's children, and generations yet unborn we've got to guard this moment."
He added: "It's not about not liking the president. It's about loving democracy. It's about loving our country."
Join our new commenting forum
Join thought-provoking conversations, follow other Independent readers and see their replies