'She knows how to win!' Trump bolsters his endorsement of Elise Stefanik to replace Liz Cheney
'The House GOP has a massive opportunity to upgrade this week from warmonger Liz Cheney to gifted communicator Elise Stefanik,' the ex-president wrote in a statement on Monday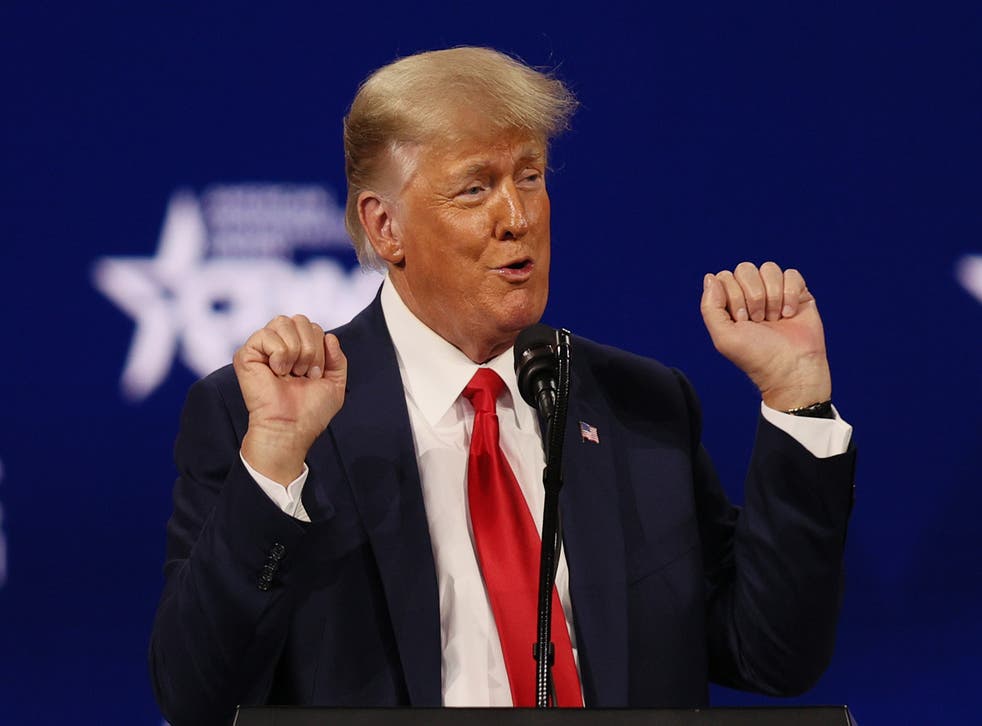 Leer en Español
Former president Donald Trump has reinforced his support for the congresswoman vying to take over Rep Liz Cheney's leadership position in the House GOP.
"The House GOP has a massive opportunity to upgrade this week from warmonger Liz Cheney to gifted communicator Elise Stefanik," Mr Trump said in a statement on Monday. 
"We need someone in Leadership who has experience flipping districts from Blue to Red as we approach the important 2022 midterms, and that's Elise!" he went on. "She knows how to win, which is what we need!"
Mr Trump had already voiced his support for Ms Stefanik last week, offering his "COMPLETE and TOTAL Endorsement for GOP Conference Chair." With his additional statement on Monday, he appeared to be giving an extra push to help the House GOP install her this week.
Ms Cheney, the daughter of former vice president Dick Cheney, has fallen out of favor with House Republicans in recent weeks as she has pushed back against Mr Trump's lies regarding the 2020 election and the 6 January Capitol riot. Ms Stefanik, a rising star in the party's pro-Trump wing, has emerged as the frontrunner to replace Ms Cheney as the No 3 House Republican.
Rep Kevin McCarthy, leader of the House GOP, confirmed on Sunday that he is supporting Ms Stefanik for the leadership position as well.
On Monday Mr Trump reiterated his support, citing a list of Ms Stefanik's conservative policy bonafides.
"Elise has intelligence, an endorsement from American Patriot Brandon Judd and the National Border Patrol Council, she has an A+ from the NRA, and she loves our Veterans," the ex-president wrote.
In fact, Ms Cheney is more conservative than Ms Stefanik on some issues. What she lacks is Ms Stefanik's main selling point for House Republicans: her unwavering support for Mr Trump. Ms Stefanik was a forceful defender of the former president during his first impeachment, and voted against certifying the election victory of President Joe Biden.
Ms Cheney, meanwhile, has become a vocal critic of Mr Trump since 6 January, and voted to impeach him in 2020.
"We Republicans need to stand for genuinely conservative principles, and steer away from the dangerous and anti-democratic Trump cult of personality," she wrote in an op-ed for The Washington Post last week.
The Republican caucus is expected to vote on Ms Cheney's fate this week, possibly as early as Wednesday. Sources within the GOP conference have told CNN that the vote will probably be conducted by secret ballot, and will only require a simple majority to pass, leaving little chance for Ms Cheney to retain her position.
Register for free to continue reading
Registration is a free and easy way to support our truly independent journalism
By registering, you will also enjoy limited access to Premium articles, exclusive newsletters, commenting, and virtual events with our leading journalists
Already have an account? sign in
Register for free to continue reading
Registration is a free and easy way to support our truly independent journalism
By registering, you will also enjoy limited access to Premium articles, exclusive newsletters, commenting, and virtual events with our leading journalists
Already have an account? sign in
Join our new commenting forum
Join thought-provoking conversations, follow other Independent readers and see their replies