Trump lashes out in 'racist' attack on Elizabeth Warren bill, benefitting White House staffer's husband
The bill would affirm the status of the Mashpee Wampanoag Tribe in Massachusetts, and is opposed by a company represented by a Trump staffer's husband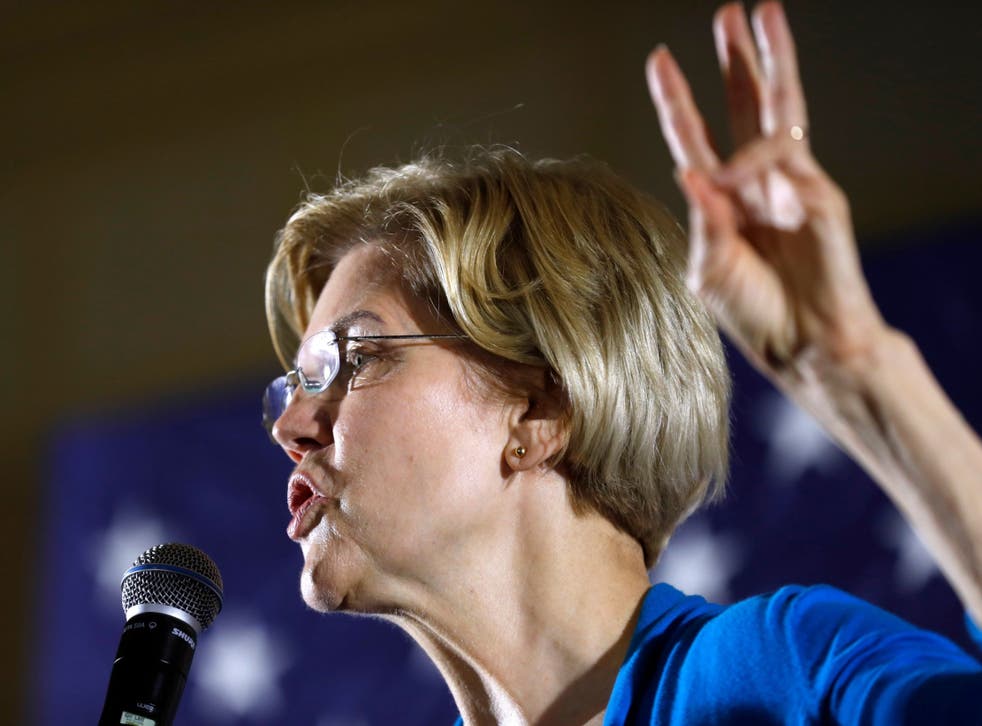 Donald Trump has lashed out at an obscure Native American rights bill supported by Elizabeth Warren, in an attack that has been denounced as racist and proof that the president is doing a favour for a staffer's lobbyist husband.
Mr Trump's attack came on Twitter, where he employed similar language to that used earlier by Matt Schlapp, a lobbyist who represents a management firm that owns a casino that would be threatened by the Warren-backed bill. Mr Schlapp also happens to be the husband of Mercedes Schlapp, the White House strategic communications director.
"Republicans shouldn't vote for HR 312, a special interest casino Bill, backed by Elizabeth (Pocahotas) Warren," Mr Trump wrote, referring to the bill number in the House, and to his racist nickname for the Massachusetts senator and Democratic presidential candidate. "It is unfair and doesn't treat Native Americans equally!"
Mr Schlapp, for his part, had tweeted hours earlier to highlight that the bill would benefit the Mashpee Wampanoag Tribe over his client, Twin River Management Group, which owns a casino in nearby Rhode Island that would compete with a planned casino the Mashpee want to build. His tweet also implicitly referenced Ms Warren's claim that she is distantly related to a Native American tribe.
Soon the "full House will vote to reward [senator] Elizabeth Warren with … wait for it … an INDIAN casino in Massachusetts," Mr Schlapp wrote.
The Democrat challengers to Trump in 2020

Show all 25
Mr Schlapp is a co-founder of Cove Strategies, a lobbying firm that has been paid $30,000 just this year to advocate behalf of Twin River Management Group in Washington and the White House on casinos and gambling issues, including HR 312 specifically.
Other lobbying companies hired by Twin River Management Group this year to lobby on those issues include Black Diamond Strategies, which includes among its staff Rick Wiley, the national political director for Mr Trump's 2016 primary campaign. Mr Wiley is not listed on Senate lobbying disclosure forms as working on these issues personally, however.
Soon after the president's tweet, HR 312 was pulled from the House floor, leading to claims that Mr Trump was acting out on behalf of Mr and Ms Schlapp.
Support free-thinking journalism and attend Independent events
"I'm sure this racist lie has nothing to do with the fact that Matt Schlap — Trump's staffer's husband — is lobbying against the bill," representative Ruben Gallego tweeted.
The bill in question would reaffirm the Mashpee Wampanoag Tribe reservation as trust land in Massachusetts. The Trump administration took steps last year that damaged the group's ability to move forward with its Taunton casino plans. The tribe, which was first recognised in 2007, needs Congressional approval of its status as a Native American tribe after the Interior Department took efforts to cut its federal tribal status last year.
Register for free to continue reading
Registration is a free and easy way to support our truly independent journalism
By registering, you will also enjoy limited access to Premium articles, exclusive newsletters, commenting, and virtual events with our leading journalists
Already have an account? sign in
Register for free to continue reading
Registration is a free and easy way to support our truly independent journalism
By registering, you will also enjoy limited access to Premium articles, exclusive newsletters, commenting, and virtual events with our leading journalists
Already have an account? sign in
Join our new commenting forum
Join thought-provoking conversations, follow other Independent readers and see their replies