Trump administration to spend $25,000 on soundproof 'privacy booth' for EPA chief Scott Pruitt
Top environmental administrator has already faced scrutiny for security spending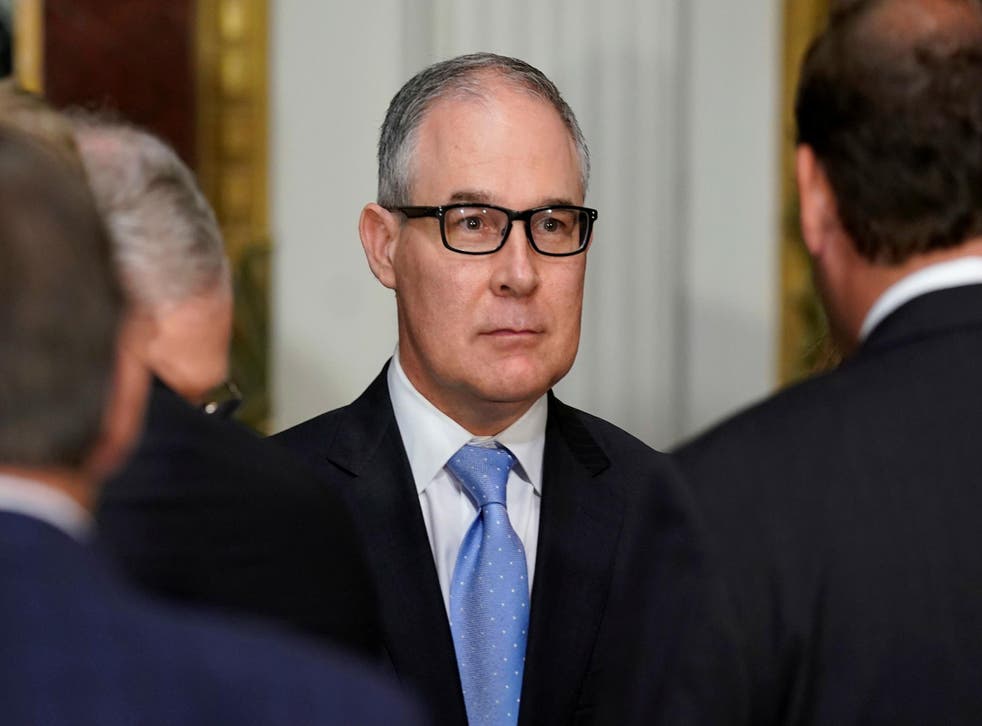 The US Environmental Protection Agency (EPA) has committed to spending nearly $25,000 on a soundproof booth for administrator Scott Pruitt to make phone calls.
A contract puts the federal government on the hook for a $24,570 "privacy booth" for Mr Pruitt. A spokeswoman for the agency said that the booth would ensure no one was spying on Mr Pruitt's communications.
"This is something which a number, if not all, Cabinet offices have and EPA needs to have updated," spokeswoman Liz Bowman told the Washington Post.
A salesman at the company that's providing the booth told the New York Times that the EPA requested an upgraded version of the booth that's more expensive than typical models and requires a custom order.
"They wanted a secure phone and computer room, essentially for sensitive information," salesman Steve Snider told the Times.
Mr Pruitt, a former Oklahoma governor and a staunch ally of the oil and gas industry, has already compiled a record of eyebrow-raising outlays for his personal protection.
10 photographs to show to anyone who doesn't believe in climate change

Show all 10
The cost of Mr Pruitt's security was nearly double the price tag for protecting his predecessors, according to documents obtained by E&E News. The EPA also requested additional funding to support a round-the-clock security detail for Mr Pruitt.
Given Mr Pruitt's record of clashing with the EPA during his tenure as governor of Oklahoma, often banding with the energy industry to sue the agency, his selection to head the country's preeminent environmental agency spurred outrage from environmentalists.
Environmental advocacy groups that tend to remain neutral on EPA administrator appointments took the unusual step of opposing him. The Sierra Club called choosing Mr Pruitt "like putting an arsonist in charge of fighting fires". Career EPA staffers, urged on by their union, contacted Congress to try and block Mr Pruitt's ascension in a rare show of political advocacy by government bureaucrats.
Since taking the helm, Mr Pruitt has pursued an agenda of rolling back or diluting environmental rules enacted under Barack Obama. Among the items he has targeted are regulations seeking to blunt climate change by limiting emissions from power plants, a directive aimed at limiting pollution in waterways and a requirement that companies disclose methane leaks. A court has blocked his attempt to halt the methane rule.
Register for free to continue reading
Registration is a free and easy way to support our truly independent journalism
By registering, you will also enjoy limited access to Premium articles, exclusive newsletters, commenting, and virtual events with our leading journalists
Already have an account? sign in
Register for free to continue reading
Registration is a free and easy way to support our truly independent journalism
By registering, you will also enjoy limited access to Premium articles, exclusive newsletters, commenting, and virtual events with our leading journalists
Already have an account? sign in
Join our new commenting forum
Join thought-provoking conversations, follow other Independent readers and see their replies