Trump administration broke law by not identifying parts of America with dangerous smog levels, judge says
But President Trump has said his administration is 'refocusing the EPA on its core mission: clean air and clean water'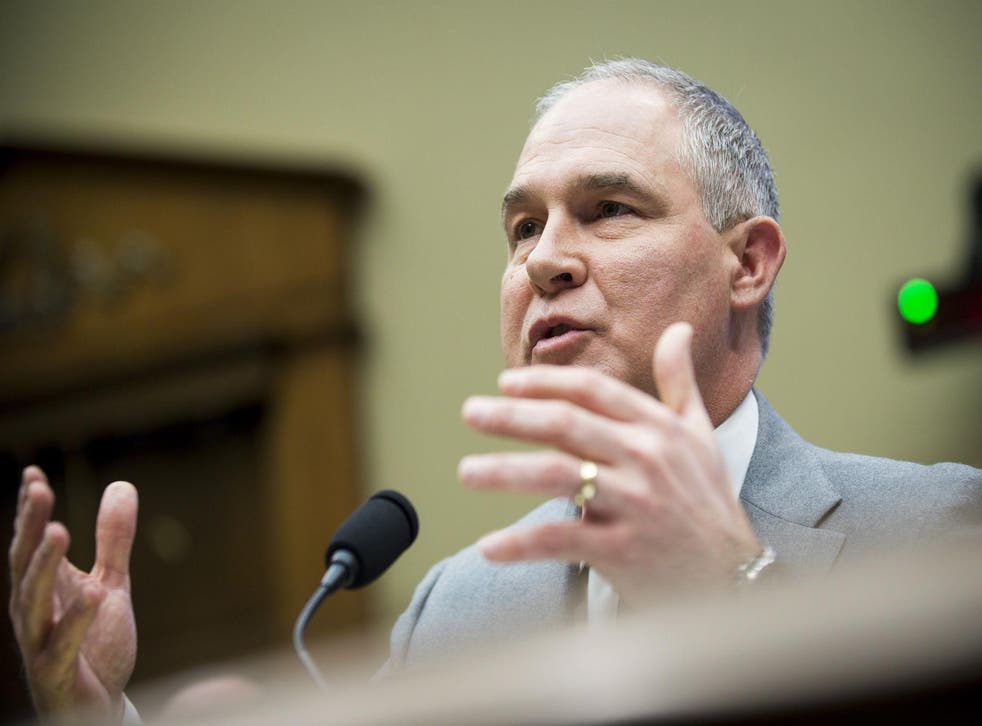 The Trump administration broke the law when it failed to meet a deadline to identify all parts of the US with dangerous levels of smog, a federal judge has said.
Federal judge Haywood Gilliam of the Northern District of California ordered the Environmental Protection Agency to complete the designations by the end of April.
EPA Administrator Scott Pruitt was supposed to announce by 1 October which parts of the country were in and out of compliance with smog standards adopted during the Obama administration.
Mr Pruitt later announced findings for areas that comply, but not for areas that do not.
The designations trigger a process that forces polluted regions to take steps to improve air quality.
"There is no dispute as to liability: Defendants admit that the administrator violated his nondiscretionary duty under the Clean Air Act to promulgate by October 1, 2017 initial area air quality designations," Judge Gilliam wrote, citing a January court filing by the Justice Department acknowledging that the EPA missed the deadline.
Donald Trump's first year: in pictures

Show all 29
The EPA and Justice Department did not immediately respond to The Independent's request for comment.
By not meeting the deadline, Mr Pruitt appears to betraying his "back-to-basics" agenda, which aims to refocus the agency on narrow goals such as achieving clear air and water.
"We can and we will achieve clean air and clean water and we will also have strong economic growth and job creation at the same time," reads a quote from Mr Pruitt on the EPA website.
In multiple speeches, Mr Trump has said his administration is "refocusing the EPA on its core mission: clean air and clean water".
"That's what I want - clean air," Mr Trump said last September. "I want beautiful clean air, and I want crystal-clean water, right? That's what we want."
Register for free to continue reading
Registration is a free and easy way to support our truly independent journalism
By registering, you will also enjoy limited access to Premium articles, exclusive newsletters, commenting, and virtual events with our leading journalists
Already have an account? sign in
Register for free to continue reading
Registration is a free and easy way to support our truly independent journalism
By registering, you will also enjoy limited access to Premium articles, exclusive newsletters, commenting, and virtual events with our leading journalists
Already have an account? sign in
Join our new commenting forum
Join thought-provoking conversations, follow other Independent readers and see their replies