Trump attacks the FBI but says he's loyal to police in speech to the Bureau
The President has said the organisation's reputation is 'in tatters' amid an investigation into whether the Trump campaign colluded with Russia
Alexandra Wilts
Washington DC
Friday 15 December 2017 19:53 Comments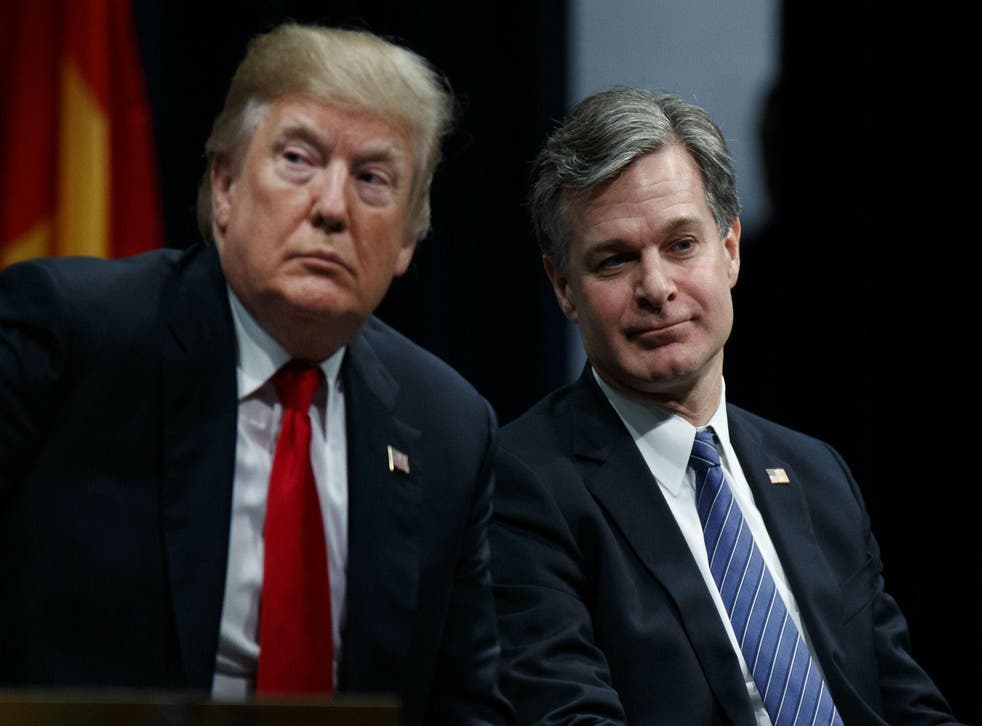 President Donald Trump hailed graduates of the FBI National Academy – just an hour after criticising the principal federal law enforcement agency.
In a speech during the graduate ceremony, Mr Trump lavished praise on local law enforcement and FBI agents – even though he has done nothing over the past year to hide his distaste for a federal investigation into his campaign's alleged ties to Russia.
"With me as your President, America's police will have a true friend and loyal champion in the White House – more loyal than anyone else can be," Mr Trump said.
The President has often referred to the Russia probe being led by Special Counsel Robert Mueller as "fake news". Mr Mueller was appointed as head of the investigation in May after controversy erupted following Mr Trump's firing of his first FBI Director James Comey, who was originally leading the probe.
Since dismissing Mr Comey, the President has publicly derided the FBI's reputation, as Mr Mueller seeks to determine whether campaign advisers for Mr Trump colluded with the Russian government. Multiple congressional committees are also looking into the matter.
Mr Trump has insisted that there was "no collusion".
"There is absolutely no collusion. That has been proven," the President told reporters on Friday before heading to Quantico, Virginia, where the FBI National Academy is located.
He also said "it's a shame what's happened with the FBI".
"But we're going to rebuild the FBI," he added. "It will be bigger and better than ever."
The biggest names involved in the Trump-Russia investigation

Show all 17
Mr Mueller, who served as FBI director during the George W Bush and Barack Obama administrations, has so far secured multiple indictments and guilty pleas as part of his investigation.
Earlier this month, the probe reached Mr Trump's inner circle, with ex-National Security Adviser Michael Flynn's admission that he lied to the FBI about his contacts with a senior-level Russian official. Mr Flynn's guilty plea indicates he is cooperating with Mr Mueller's inquiry and could provide damaging information.
In Quantico, current FBI Director Christopher Wray welcomed Mr Trump. While testifying before a congressional committee hearing in December, Mr Wray had hit back at a claim by the President that the FBI's reputation was "in tatters" after the way it handled an investigation into Hillary Clinton's use of a private email server while she was Secretary of State.
"My experience is that our reputation is quite good," Mr Wray told the committee. "There is no finer institution than the FBI and no finer people who work there."
During his turn to speak, Mr Trump congratulated the FBI Academy's graduates and made no mention of how he thought the FBI was "in tatters".
Instead, he reiterated his tough-on-crime stance and appeared to ramp up his anti-immigrant rhetoric.
"We believe criminals who kill police officers should get the death penalty," Mr Trump said.
He also mocked the visa lottery system, describing the system as if it was a lottery draw on television.
"They have a lottery. You pick people. Do you think the country is giving us their best people? No," Mr Trump told the crowd, which laughed in response. "What kind of a system is that? They come in by lottery. They give us their worst people, they put them in a bin, but in his hand, when he's picking them, is really the worst of the worst. Congratulations, you're going to the United States."
The programme that Mr Trump was referring to, the Diversity Immigrant Visa Program, awards up to 50,000 visas per year to people from parts of the world that have relatively few immigrants in the US.
The Trump administration has targeted the system, particularly after the Department of Homeland Security confirmed that a suspect in one of the New York terror attacks this year was admitted to the US in 2010 with a diversity immigrant visa.
Register for free to continue reading
Registration is a free and easy way to support our truly independent journalism
By registering, you will also enjoy limited access to Premium articles, exclusive newsletters, commenting, and virtual events with our leading journalists
Already have an account? sign in
Join our new commenting forum
Join thought-provoking conversations, follow other Independent readers and see their replies