Trump claims FBI texts are a 'bombshell' in wake of messages alleging Obama involvement
'Potus wants to know everything we're doing,' an FBI lawyer reportedly wrote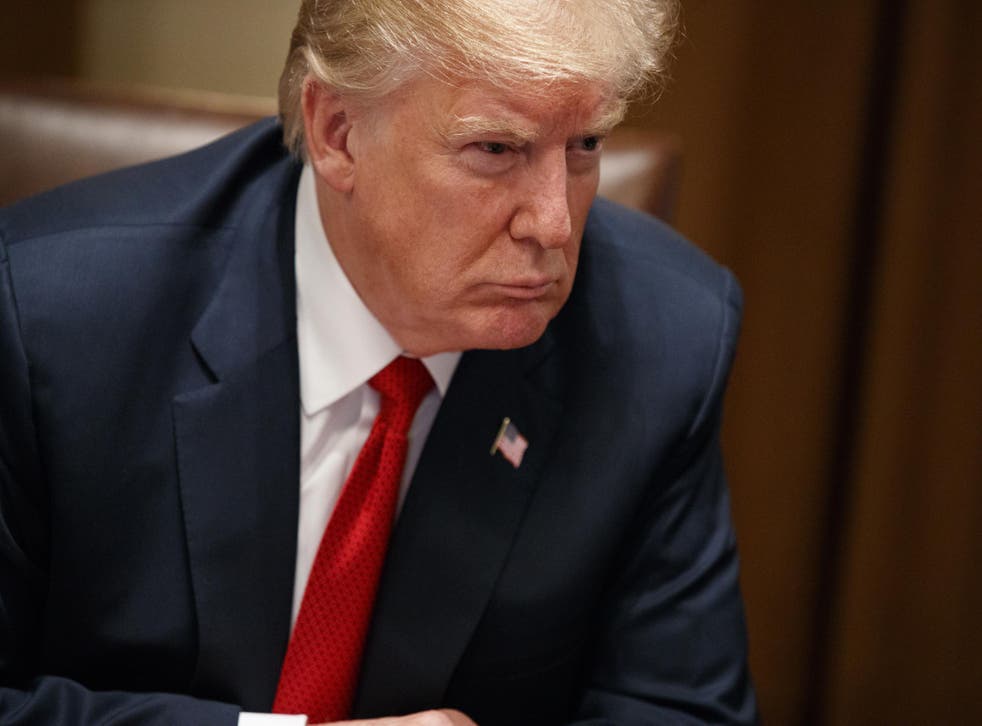 President Donald Trump has claimed that recently released texts between two FBI employees are a "bombshell".
The texts in question show that FBI lawyer Lisa Page wrote to agent Peter Strzok – her alleged lover – in September 2016 about preparing talking points for then-FBI Director James Comey.
"Potus wants to know everything we're doing," she said, using shorthand for then-President Barack Obama.
Fox released a report early Wednesday morning claiming the message "raises questions about Obama's personal involvement" in the FBI's probe of Hillary Clinton's private email server.
Mr Trump broadcast his thoughts on the issue that morning, tweeting: "NEW FBI TEXTS ARE BOMBSHELLS!"
It is unclear, however, whether the texts actually refer to the Clinton email investigation. The FBI investigation of Ms Clinton's use of a private email server as Secretary of State was closed in July of 2016, and only re-opened in October of that year. The text in question was sent on 2 September, 2016.
The biggest names involved in the Trump-Russia investigation

Show all 17
Congressional Republicans have descended on previous texts between Mr Strzok and Ms Page as evidence of anti-Trump bias in the FBI. Mr Strzok worked on the Clinton email investigation, and both he and Ms Page worked briefly on Special Counsel Robert Mueller's probe of possible Trump campaign ties to Russia.
Thousands of texts between the two were discovered during a Justice Department review of the Clinton email investigation. The Department released hundreds of these messages to Congress in December, and hundreds more last month.
Senator Ron Johnson, who chairs the Senate Homeland Security Committee, released the latest text messages to the public on Wednesday. Mr Johnson has previously claimed that Mr Stzrok and Ms Page's text messages showed they were plotting a "secret society" within the FBI. He later admitted the messages were likely a joke.
Mr Johnson's most recent report cites Ms Page's text from September 2016, and suggests that it had something to do with the email server investigation.
"This text raises additional questions about the type and extent of President Obama's personal involvement in the Clinton email scandal and the FBI investigation of it," the report says.
Mr Johnson's office did not respond to a request for comment.
Trump: 'Hillary Clinton lied many times to the FBI. Nothing happened to her. Flynn lied and they destroyed his life.'
Mr Obama told Fox in April of 2016 that he would not talk to Justice Department and FBI leaders about pending investigations.
​"I do not talk to the attorney general about pending investigations. I do not talk to FBI directors about pending investigations. We have a strict line,' ​he said. "​I guarantee that there is no political influence in any investigation conducted by the Justice Department or the FBI, not just in this case but in any case."
The September 2016 message from Ms Page came three days before Mr Obama confronted Russian President Vladimir Putin about alleged meddling in the US election – suggesting Mr Obama may have been interested in the FBI's investigation of that issue, instead.
Other texts reviewed by the Associated Press show the FBI employees expressing admiration for Mr Comey and contempt for Mr Trump. The pair used words like "idiot," ''loathsome," ''menace," and "disaster" to describe Mr Trump as a candidate, according to the AP.
Mr Trump, meanwhile, has repeatedly disparaged the FBI, and called the special counsel's investigation into his campaign a "witch hunt".
"After years of Comey, with the phony and dishonest Clinton investigation (and more), running the FBI, its reputation is in Tatters - worst in History!" he tweeted in December. "But fear not, we will bring it back to greatness."
Join our new commenting forum
Join thought-provoking conversations, follow other Independent readers and see their replies