Trump promises Parkland survivors: 'We're going to be very strong on background checks'
Mr Trump mentioned age and mental health as aspects of background checks he wants to review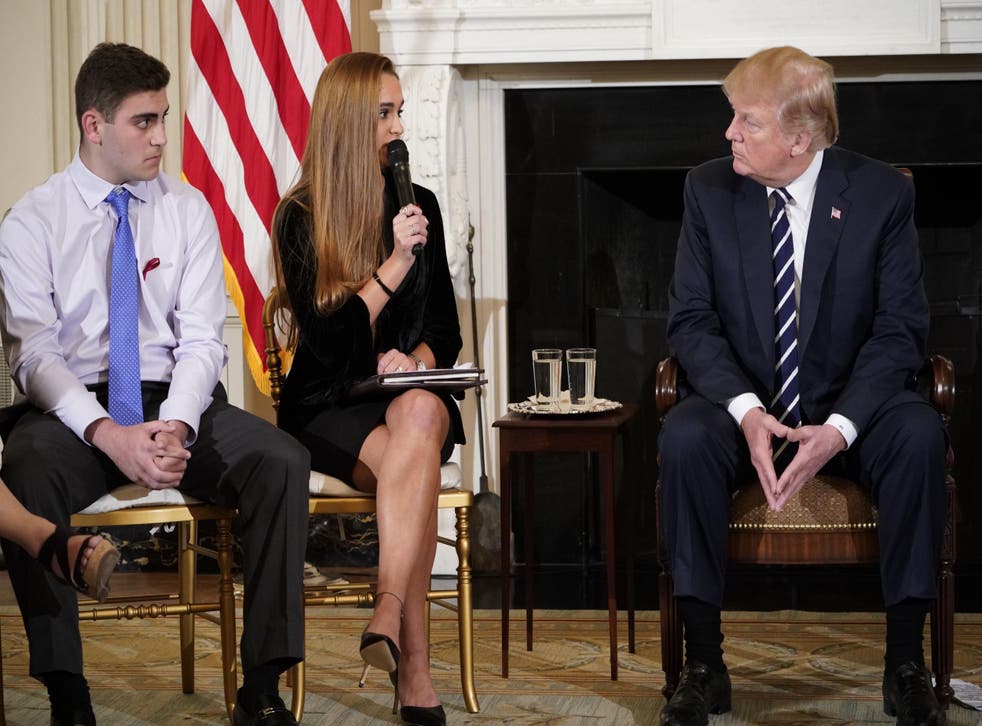 President Donald Trump has promised survivors of the Marjory Stoneman Douglas High School shooting that he plans on pushing for better background checks following the massacre in Florida last week.
Mr Trump made the pledge during a listening session with survivors of the shooting at the White House Wednesday. The event was also attended by parents of past school shooting victims, as well as by educators concerned about the safety of their schools.
'We're gonna be very strong on background checks," Mr Trump said. "It's not going to be talk like it has been in the past."
Mr Trump said that he plans on looking at age and mental health aspects of background checks.
"We cannot imagine the depth of their anguish, but we can pledge the strength of our resolve," Mr Trump said. "And we must do more to protect our children We have to do more to protect our children."
The listening meeting featured testimony from students who were in the building just a week ago when a 19-year-old shooter began his rampage. Those young people urged the President and Congress to work together to find a solution to the epidemic of gun violence in America. Some prescribed greater security and training at schools, while others in the room said that it is too easy for young and potentially disturbed people to get their hands on guns.
Florida shooting – in pictures

Show all 10
"I'm very angry that this happened, because it keeps happening," Andrew Pollack, whose daughter Meadow was killed in the shooting, said. "How many schools, how many children have to get shot? It stops here with this administration and me. I'm not going to sleep until it gets fixed."
"My daughter I'm not going to see again... [David Memorial Gardens] Cemetery, that's where I go to see my kid now," he continued.
Another speaker, Sam Zeif, told Mr Trump that he feared for his brother's life during the shooting last week, and said he lost a dear friend.
"I lost a best friend," Mr Zeif said. "Was practically a brother. And I'm here to use my voice because I know he can't. And I know he's with me, cheering me to be strong, but it's hard. And to feel like this, it doesn't even feel like a week. Time has stood still."
Mr Zeif continued to point out that other countries have experienced school shootings, and passed legislation to ensure that no more shootings followed. He referenced a school shooting in Australia in 1999, and pointed out that the country hasn't seen another school shooting since.
The Trump administration has been promising better back ground checks in the wake of the Parkland tragedy, and Mr Trump on Tuesday announced that he was directing his Justice Department to find a way to ban bump stock weapons accessories, which were used in last year's shooting in Las Vegas. That accessory, which was not used by the shooter in Florida last week, allows for near-automatic fire from semi-assault weapons that are easily obtainable in the United States.
Register for free to continue reading
Registration is a free and easy way to support our truly independent journalism
By registering, you will also enjoy limited access to Premium articles, exclusive newsletters, commenting, and virtual events with our leading journalists
Already have an account? sign in
Register for free to continue reading
Registration is a free and easy way to support our truly independent journalism
By registering, you will also enjoy limited access to Premium articles, exclusive newsletters, commenting, and virtual events with our leading journalists
Already have an account? sign in
Join our new commenting forum
Join thought-provoking conversations, follow other Independent readers and see their replies