Trump administration proposes rule to expand work requirements for food stamp benefits
The proposed rule follows after Congress refused to add a similar requirement to a law that Mr Trump is set to sign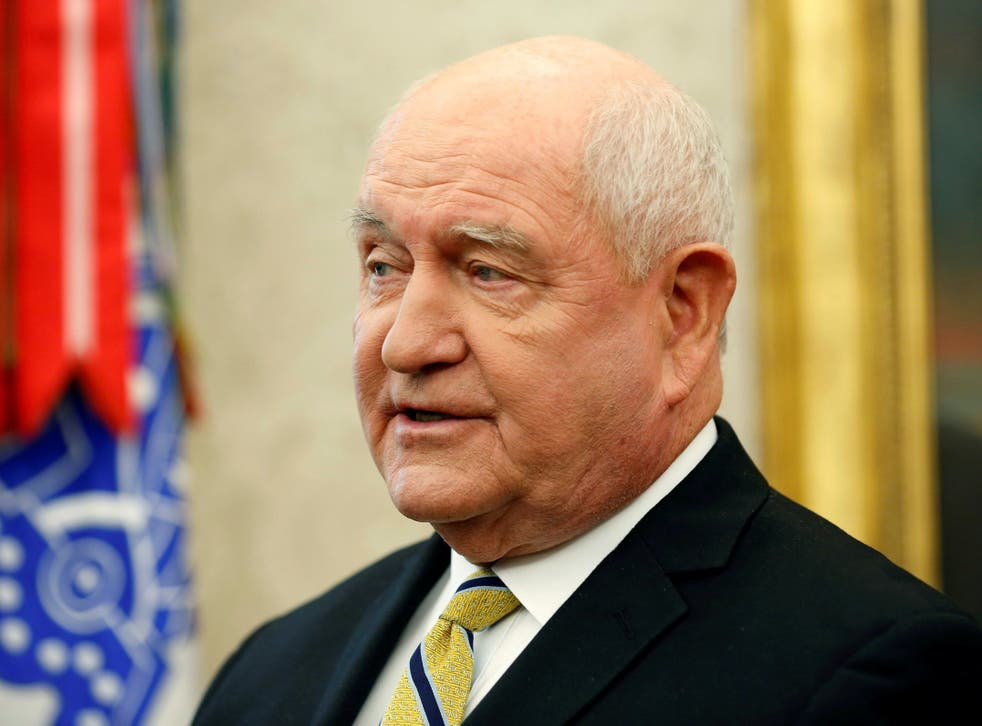 The Trump administration has proposed a new rule that would expand work requirements for recipients of food stamps, which help feed low-income families across the country.
The new rules for the Supplemental Nutrition Assistance Programme (SNAP) was announced by the US Department of Agriculture and comes on the same day that President Donald Trump is set to renew the farm bill, which had previously contained a similar work requirement provision that was slashed in Congress.
"A central theme of the Trump administration has been to expand prosperity for all Americans, which includes helping people lift themselves out of pervasive poverty," Agriculture Secretary Sonny Perdue said. The proposed rule "restores the dignity of work to a sizeable segment of our population, while it's also respectful of the taxpayers who fund the program."
Mr Perdue said that the rule would save the government $15 billion over 10 years.
The food stamp programme proposal is the latest attempt by the Trump administration to impose work requirements on assistance programmes, including the unprecedented step allowing states to require Medicaid recipients to find employment for coverage.
The administration has pointed to low unemployment rates in the country as a sign that Americans on assistance programmes should be given a nudge towards employment.
The proposed rule would expand on existing work requirements, which mandate that non-disabled, working-age adults without dependents need to have jobs to receive benefits. Those individuals can only receive benefits for three months in a three year period, unless they are working or enrolled in a training program for 20 hours a week.
World news in pictures

Show all 50
Those existing requirements can be waived by states in areas where unemployment is at least 10 per cent, or in areas where the Department of Labour has determined there is an insufficient number of jobs.
Some states, including Republican controlled states like Kentucky or West Virginia, have already begun phasing out or eliminating their waivers.
But the proposed rule would drastically cut the number of areas where waivers can be attained, with hundreds of thousands of beneficiaries potentially impacted by the new requirements.
All told, about three quarters of the areas eligible could lose their eligibility through the new policy.
Support free-thinking journalism and attend Independent events
Critics of work requirement rules argue that the policies will lead to loss in benefits for people who rely on the program, but live in areas with few jobs or might find it difficult to meet documentation requirements.
"In low-wage jobs, there is significant churn week-to-week, month-to-month, in hours," Rachel West, the director of poverty at the Center for American Progress, told CNN. "So many people cannot control their hours in today's labour market."
Register for free to continue reading
Registration is a free and easy way to support our truly independent journalism
By registering, you will also enjoy limited access to Premium articles, exclusive newsletters, commenting, and virtual events with our leading journalists
Already have an account? sign in
Register for free to continue reading
Registration is a free and easy way to support our truly independent journalism
By registering, you will also enjoy limited access to Premium articles, exclusive newsletters, commenting, and virtual events with our leading journalists
Already have an account? sign in
Join our new commenting forum
Join thought-provoking conversations, follow other Independent readers and see their replies