G7 summit: Leaders pressure Donald Trump on climate change pact - but President makes no promises
Climate change has been a topic of discussion throughout the president's first foreign trip
Andrew Buncombe
New York
,
Mythili Sampathkumar Comments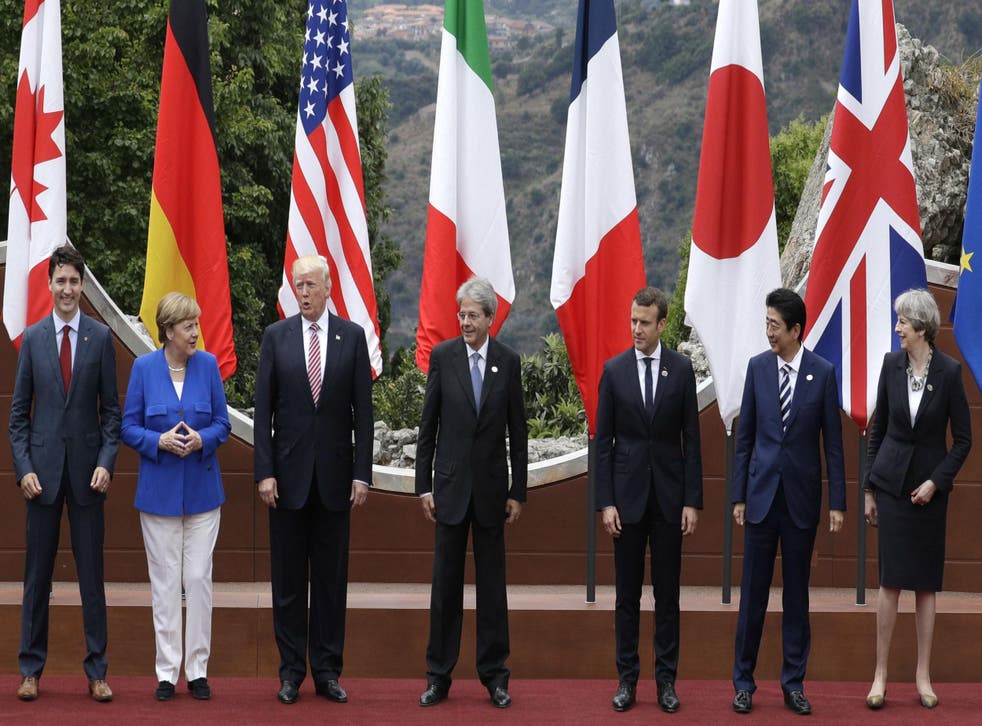 World leaders have pushed Donald Trump to join the rest of the world in combating climate change - but the President has made no promises despite the White House insisting his views are "evolving".
G7 nations had hoped the US leader, who has previously described climate change as a "hoax", would publicly back the Paris Agreement and the commitment to cut greenhouse gas emissions.
Rather, according to German Chancellor Angela Merkel, the leaders had a "controversial debate" on the subject.
​Alden Meyer, director of strategy and policy for the Union of Concerned Scientists, told The Independent that the mood at the meeting was "tense" around climate and migration discussions in particular.
Despite that, and despite repeated criticism that Mr Trump has turned his back on science, the US insisted that the President had gone to listen and learn to the other world leaders.
The meeting in Taormina, Italy, of the heads of the world's seven major industrialised economies, did secure widespread agreement on other issues, including Syria, Libya, and fighting terrorism.
The group ramped up pressure on internet service providers and social media to increase efforts to purge extremist content, four days after the terror attack in Manchester that killed 22 people, by toughening a final statement to fight terrorism, honing in on the role of companies like Google, Apple, Facebook and Amazon, sometimes referred to generally in Europe using the acronym Gafa.
"We will combat the misuse of the Internet by terrorists. While being one of the most important technological achievements in the last decades, the Internet has also proven to be a powerful tool for terrorist purposes," said the joint statement signed by the leaders meeting in Sicily.
However that co-operation did not stretch entirely to the issue of Global warming. "There is one open question, which is the US position on the Paris climate accords. All others have confirmed their total agreement on the accord," Italian Prime Minister Paolo Gentiloni said.
"We are sure that after an internal reflection, the United States will also want to commit to it," he added.
The White House's decision to go slow on making a decision about his commitment to the 2015 climate change agreement - something Mr Trump said he would withdraw from when he was campaigning - led the other leaders to mount their campaign of persuasion.
During the opening months of this presidency, he has shown he can change his position, especially when confronted by strong and unified global opinion.
For instance, he backed away from tough campaign talk about trade with China after a summit with President Xi Jinping and abandoned his criticism of Saudi Arabia.
The White House said as much in briefings to reporters after the meeting, the final stage on the president's nine-day foreign visit.
"He feels much more knowledgeable on the topic today," said Gary Cohn, the Mr Trump's top White House economic advisor. "He came here to learn, he came here to get smarter."
Lisa Murray's climate change photography

Show all 12
However, White House National Security Adviser HR McMaster said that Mr Trump would make his decisions based "on what's best for the American people" - bringing things back to 'America First' policy that energised the president's supporters during last year's presidential election campaign.
One specific issue Mr Trump has been consistent on is job creation.
He ran his 2016 campaign on a platform of job creation in rural areas of the US and EU leaders may be discussing how they have "decoupled" economic growth, job creation, and carbon emissions, said Mr Meyer.
According to senior White House officials, the president is particularly worried that the US will fall behind India and China in manufacturing and job creation. China has also become a leader in renewable energy investment, particular solar panels.
New investments in renewable energy outpaced new money in the oil and gas sector for the first time ever in 2015 to the tune of $350bn (£273bn).
A recent report by the Organisation for Economic Co-operation and Development (OECD) shows that the world's economies could boost economic growth by nearly three per cent by 2021 if they institute policies that would lower greenhouse gas emissions. By 2050 that growth could reach up to five per cent.
Mr Meyer said "it's clear [Mr Trump] is not up on markets and trends," however there are people around him who are more knowledgeable about electricity and renewable energy markets like Mr Cohn.
Several business leaders, including the directors of multi-billion dollar pension funds in the US, have urged Mr Trump to stay in the Paris Agreement.
Ben Van Beurden of Royal Dutch Shell told NPR that he wants the US to commit so that there is "predictability, consistency, and a level playing field" from which companies in his sector can operate going forward.
"It would be a mistake to sideline itself" from trends in energy markets, said Mr Meyer because it would make the US less competitive.
Practically all of Mr Trump's first foreign trip has been spent of discussing the US stance on climate change. French President Emmanuel Macron had discussed the matter when the two had a somewhat strained meeting in Brussels ahead of the North Atlantic Treaty Organisation (Nato) meeting.
Prior to that, Pope Francis presented the president with a gift during his visit to the Vatican: a 2015 papal letter of nearly 200 pages on the need for people to address climate change.
Whether these messages will resonate with Mr Trump remains to be seen.
Mr Trump is due to return to the US on Saturday.
Register for free to continue reading
Registration is a free and easy way to support our truly independent journalism
By registering, you will also enjoy limited access to Premium articles, exclusive newsletters, commenting, and virtual events with our leading journalists
Already have an account? sign in
Join our new commenting forum
Join thought-provoking conversations, follow other Independent readers and see their replies