Trump says he has 'a feeling' his outgoing economic adviser Gary Cohn will be back after tariffs disagreement
He's 'a globalist', the President says of Mr Cohn 
Alexandra Wilts
Washington DC
Friday 09 March 2018 03:25 Comments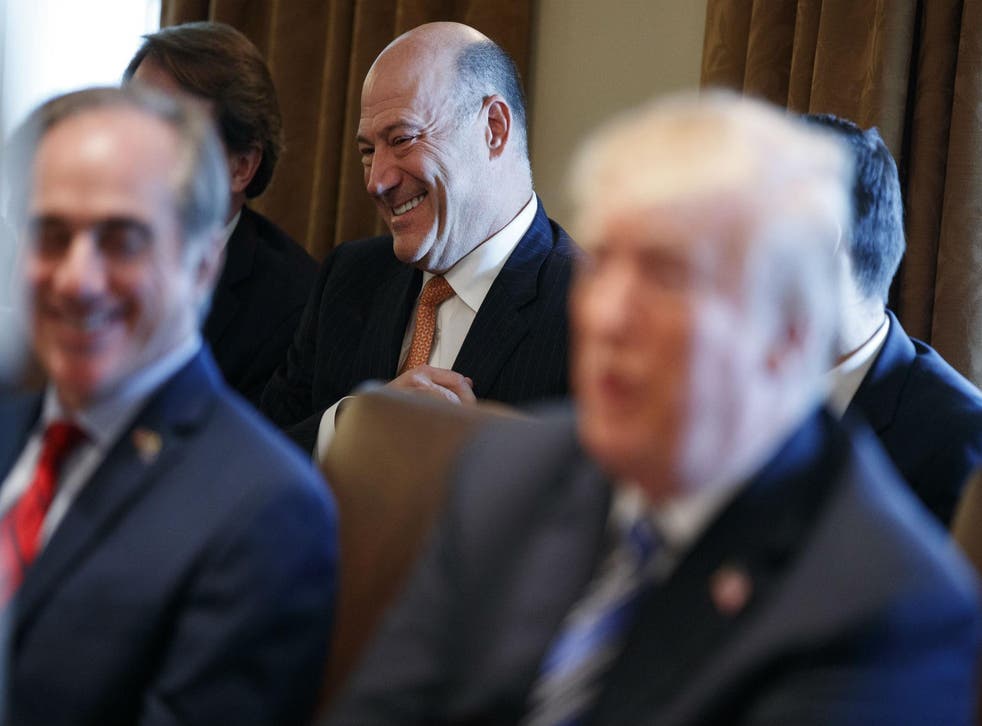 Donald Trump has said he has "a feeling" that his top economic adviser Gary Cohn will one day return to the White House.
Mr Cohn announced that he would resign this week, the latest in a string of high-profile departures from the Trump administration. The announcement came after a reported disagreement between him and Mr Trump over the President's proposed aluminium and steel tariffs.
"He's going to go out, and make another couple of hundred million, and then he's going to maybe come back…. I have a feeling you'll be back," Mr Trump said during Mr Cohn's last cabinet meeting. "I don't know if I can put him in that same position, though. He's not quite as strong on those tariffs as we want him to be."
Mr Trump also called the former Goldman Sachs president a "globalist".
"He may be a globalist, but I still like him," Mr Trump said of Mr Cohn. "He's seriously a globalist. There's no question. You know what? In his own way he's a nationalist, because he loves his country."
Mr Cohn, who was seated in a chair behind and to the right of Mr Trump during the meeting, responded: "Thank you, sir."
World news in pictures

Show all 50
Mr Trump on Thursday signed an order imposing sweeping new tariffs on steel and aluminium imports, despite warnings that doing so could begin a trade war.
The President has thanked Mr Cohn for his service as director of the National Economic Council.
He said earlier this week that he would soon be naming a successor to the billionaire banker and free trade advocate. "Will be making a decision soon on the appointment of new chief economic adviser. Many people wanting the job – will choose wisely!"
Mr Trump has tried to dispel rumours that there is chaos in the White House as his top officials continue to resign. Mr Trump's White House has a staff turnover rate of 34 per cent – a level that has not been seen for decades, according to the Brookings Institution think tank.
The President on Monday said "everybody wants to work in the White House".
"They all want a piece of that Oval Office; they want a piece of the West Wing," he asserted said during a joint press conference with the Swedish prime minister. "So many people want to come in [to the White House]. I have a choice of anybody. I can take any position in the White House and I'll have a choice of the 10 top people".
Register for free to continue reading
Registration is a free and easy way to support our truly independent journalism
By registering, you will also enjoy limited access to Premium articles, exclusive newsletters, commenting, and virtual events with our leading journalists
Already have an account? sign in
Join our new commenting forum
Join thought-provoking conversations, follow other Independent readers and see their replies