Trump pledges to campaign against Georgia's GOP governor as state election officials condemn fraud claims
His rally on the eve of the runoff election follows the release a recording of an hour-long phone call to Georgia's Secretary of State
Alex Woodward
New York
Tuesday 05 January 2021 03:40 Comments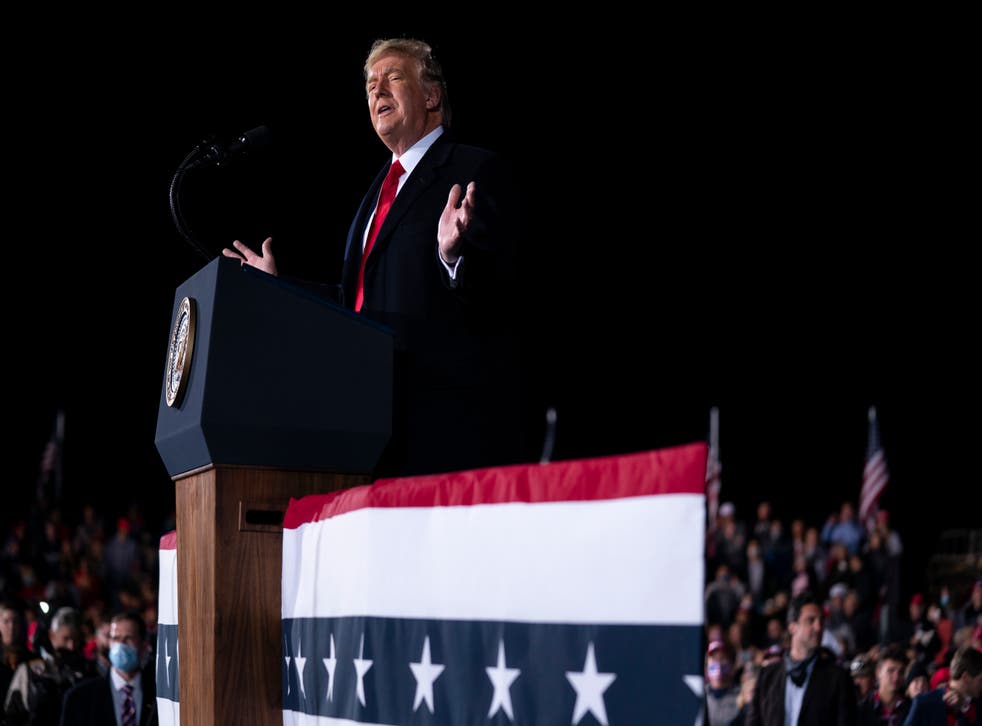 Leer en Español
Donald Trump has promised to campaign against Georgia Governor Brian Kemp and Secretary of State Brad Raffensperger - both Republicans - after the president's spurious attempts to overturn the state's presidential election results. 
"I'll be here in about a year and a half campaigning against your governor," he told a crowd in Georgia ahead of the state's crucial US Senate runoff election that could redefine the balance of power in Congress.
"And your crazy secretary of state," he said. "I can guarantee that."
His rally on the eve of the runoff election follows the release a recording of an hour-long phone call obtained by The Washington Post between Mr Raffensperger and the president, who pressured him to "find" enough votes to overturn Joe Biden's victory and made vague threats against the secretary of state if he refused to indulge the president's abuse of office.
The president's call regurgitated baseless claims of voter fraud and conspiracy theories amplified by his allies and on social media, rejected by Mr Raffensperger and his office's general counsel.
Read more: Follow live updates on the Georgia Senate runoff election
President-elect Biden won the state by more than 11,000 votes. Georgia election officials have performed three recounts of the results.
The president endorsed Governor Kemp against then-Democratic candidate Stacey Abrams in the state's 2018 election. Ms Abrams has spent the months following her loss to mount a massive voter registration and enfranchisement effort that ultimately helped swing the state to its Democratic victory.
"Your governor and secretary of state are petrified of Stacey Abrams," Mr Trump said from Dalton, Georgia on Monday. "What they've done to your state, that consent decree and these two people, they say they are Republicans, but I don't think they can be."
The president has repeatedly and falsely insisted that a legal settlement prevents election officials from verifying signatures on mail-in ballot envelopes. The consent decree signed in March addresses concerns for statewide standards for judging signatures on ballot envelopes, which are required.
Earlier on Monday, Georgia's Voting System Implementation Manager Gabriel Sterling, also a Republican, ran through a list of lies and debunked conspiracies that the president continued to rattle off during his rally that night.
Mr Sterling has repeatedly defended his state's election procedures from attacks by the president and his allies heaving disproven or unsubstantiated theories of widespread fraud.
Register for free to continue reading
Registration is a free and easy way to support our truly independent journalism
By registering, you will also enjoy limited access to Premium articles, exclusive newsletters, commenting, and virtual events with our leading journalists
Already have an account? sign in
Join our new commenting forum
Join thought-provoking conversations, follow other Independent readers and see their replies