Trump 'cheats at the highest level' on golf course, new book claims
'If you're playing golf with him, he's going to cheat,' says author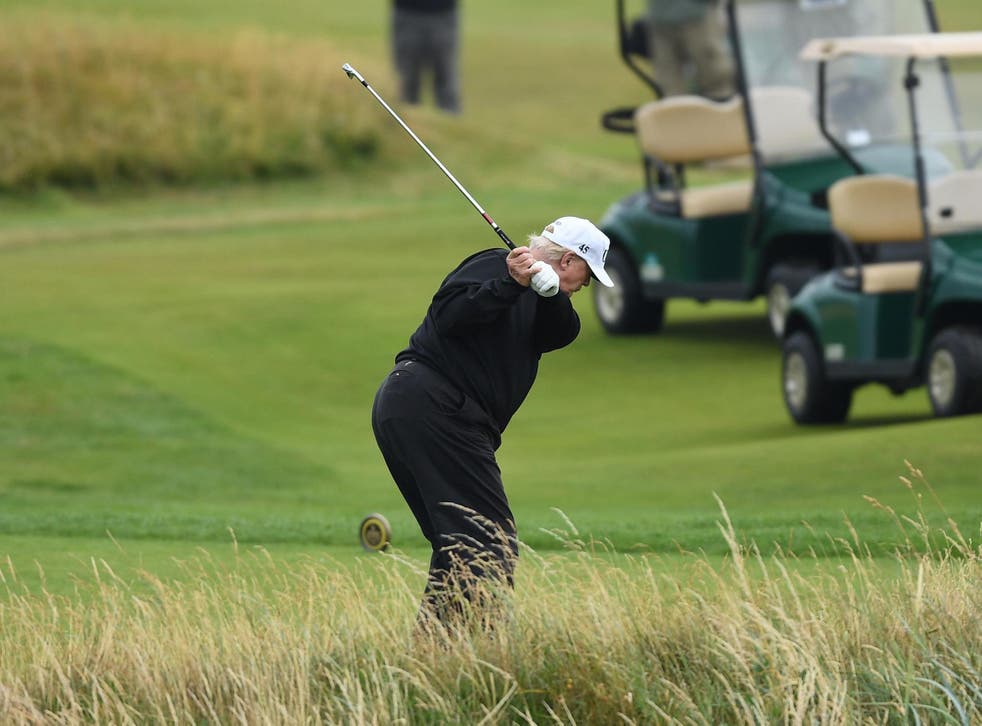 Professional golfers, caddies and celebrities have all said Donald Trump cheats at golf, according to a new book released on Tuesday.
Rick Reilly, a former Sports Illustrated journalist who has played with Mr Trump and has interviewed dozens of people familiar with the US president's alleged tricks and tactics, claims he "cheats whether you like it or not".
"To say 'Donald Trump cheats' is like saying 'Michael Phelps swims'," Mr Reilly wrote in the book Commander in Cheat: How Golf Explains Trump.
"He cheats at the highest level. He cheats when people are watching and he cheats when they aren't. He cheats whether you like it or not. He cheats because that's how he plays golf … if you're playing golf with him, he's going to cheat."
Neither Mr Trump nor the White House have responded to the claims after extracts appeared in the US media over the weekend.
Inside Mar-a-Lago - Trump's holiday home

Show all 20
LPGA player Suzann Pettersen told the author that Mr Trump's caddies often cheat on his behalf "since no matter how far into the woods he hits the ball, it's in the middle of the fairway when we get there".
Actor Samuel L Jackson said: "We clearly saw him hook a ball into a lake at Trump National [Bedminster, New Jersey], and his caddy told him he found it!"
Professional golfer Brad Faxon claimed he watched Mr Trump cheat quite openly, without any assistance. "So he drives up and drops where he should've dropped the first time and hits it on the green," he said.
Mr Reilly ridiculed the president's declared handicap. "If Trump is a 2.8, Queen Elizabeth is a pole vaulter."
The author also insisted Mr Trump "lies nonstop" about the number of shots he has taken, and even his score at the end of a round.
'These people are sick' Trump fires furious broadside at perceived enemies in Michigan rally
"His score always gets what I call the Trump Bump," Mr Reilly wrote in an extract that appeared in The Sunday Times. "He may wrap up a very sketchy 77 at noon. On the ride home, it'll be 75. By dinner, 72."
Mr Trump's Turnberry course in Scotland lost $4.5m (£3.5m) in 2017, its fourth consecutive year in the red. The loss was detailed in documents filed by the Trump Organisation last October.
Last month the president was criticised for promoting his Aberdeenshire course after he shared a tweet by the Trump Organisation which quoted praise of the Trump International Golf Club Scotland.
Join our new commenting forum
Join thought-provoking conversations, follow other Independent readers and see their replies