Donald Trump spends a 30th day of his presidency visiting one of his golf courses
Mr Trump has now spent 43 days of his time in office visiting one of his properties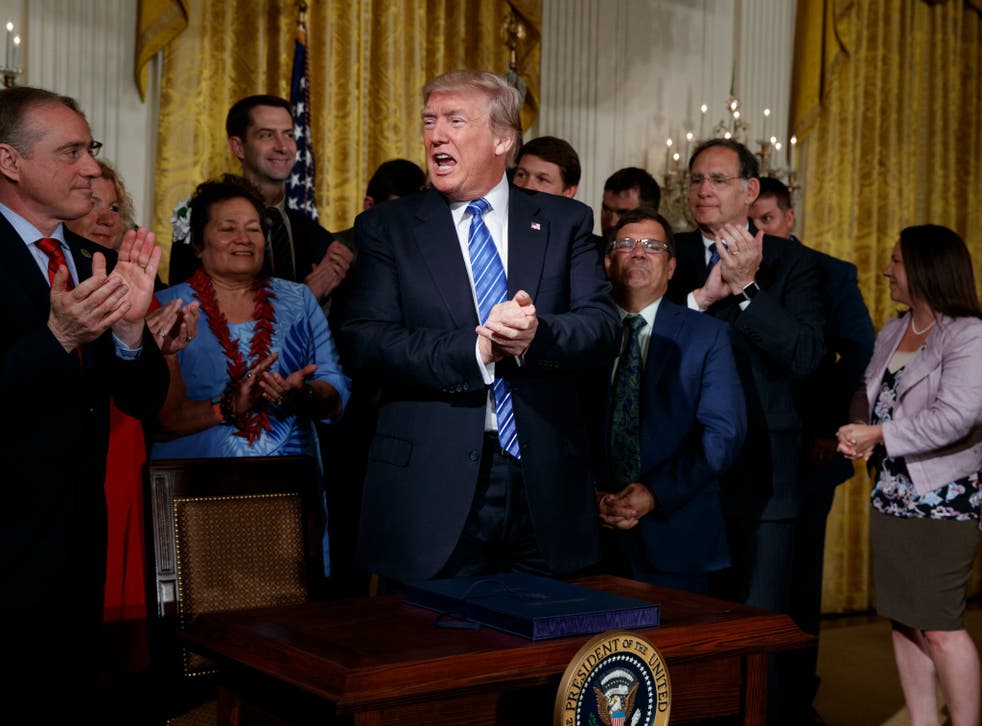 Donald Trump has spent a 30th day of his presidency visiting one of his golf courses, although it is believed he was there for lunch and meetings rather than a round of golf.
The visit to Trump National Potomac in Virginia marks the 43rd day - according to an NBC tracker - that President has spent at one of his properties during his term. The latest visit to the Potomac course is believed to be Mr Trump's ninth in that time.
Mr Trump's motorcade left the White House Saturday morning for an unannounced destination, eventually arriving at the course. he left around three hours later with no official word from the White on his activities.
The regular visits stand in marked contrast to Trump's insistence during last year's campaign that he wouldn't spend time playing golf or at his courses if elected president.
"You know what — and I love golf — but if I were in the White House, I don't think I'd ever see Turnberry [in Scotland] again. I don't think I'd ever see Doral again — I own Doral, in Miami. I don't think I'd ever see many of the places that I have," Mr Trump said last year.
"I don't ever think that I'd see anything. I just wanna stay in the White House and work my ass off, make great deals, right? Who's gonna leave? I mean, who's gonna leave?"
The controversial orders Donald Trump has already issued

Show all 9
Mr Trump has previously tweeted 26 times about Mr Obama's proclivity for golf during his predecessor's terms.
"Can you believe that, with all of the problems and difficulties facing the US, President Obama spent the day playing golf." Mr Trump tweeted in October 2014. "Worse than Carter."
At another point, Mr Trump lamented the taxpayer expense for Mr Obama's games, tweeting, "We pay for Obama's travel so he can fundraise millions so Democrats can run on lies. Then we pay for his golf."
Mr Obama eventually played 333 rounds of golf during his eight years according to CBS White House Correspondent Mark Knoller, who tracked Obama's games.
Register for free to continue reading
Registration is a free and easy way to support our truly independent journalism
By registering, you will also enjoy limited access to Premium articles, exclusive newsletters, commenting, and virtual events with our leading journalists
Already have an account? sign in
Register for free to continue reading
Registration is a free and easy way to support our truly independent journalism
By registering, you will also enjoy limited access to Premium articles, exclusive newsletters, commenting, and virtual events with our leading journalists
Already have an account? sign in
Join our new commenting forum
Join thought-provoking conversations, follow other Independent readers and see their replies